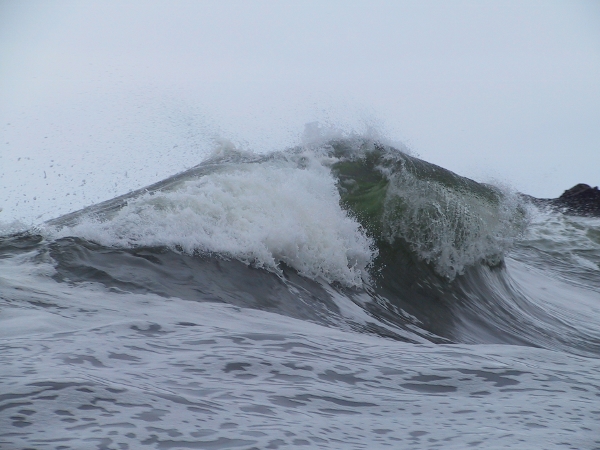 We purchased our first digital camera, a Canon PowerShot Pro90 IS, in 2002. Many of our pictures are taken from a boat, with the subject often at a distance. So we wanted a long lens to successfully get those distant shots. Since light conditions in the Pacific Northwest can be poor, and we'd often be using a long lens, image stabilization could make the difference between an interesting picture and a missed shot. We decided against an SLR for a couple of reasons: a good image-stabilized SLR lens was expensive back then, on the order of $2,500, and the complete camera packages were heavy and bulky. For our use, we wanted a reasonably compact, lightweight package that was easy to use, carry and stow. A minimal SLR setup, with a body and two lenses, is a fair bit of equipment to carry around. Also, since many interesting shots happen quickly, we might lose them because we didn't have the right lens on for the shot. The early SLRs had an additional disadvantage of not being able to shoot movies. The PowerShot cost about $1,000, was image-stabilized, could record movies, and had a wide zoom range from 37 to 370mm. With an inexpensive camera, we could afford to upgrade it every few years as technology improved, or if we damaged it. Although the PowerShot picture quality wouldn't be as good as an SLR, this seemed like the right way to go for our usage pattern.
Another problem with an expensive SLR camera is that losing or damaging one is a pretty significant financial loss. We frequently take pictures in extreme conditions, in pouring rain or in rough water while taking waves, and have damaged at least two cameras this way. For example, the wave pictured above was taken in a 9-foot dinghy in 40-knot winds off the northwest coast of Vancouver Island, and the one below was taken in the Broughton Archipelago during a winter snowstorm. And here is a video we shot of breaking ice into Princess Louisa Inlet during a winter visit. For the wave picture in particular, we would not have been comfortable taking camera equipment costing more than $4,000 out in those conditions (you might argue that we should not have been comfortable taking ourselves out there either). Ironically, we got a great picture almost because we didn't have good equipment.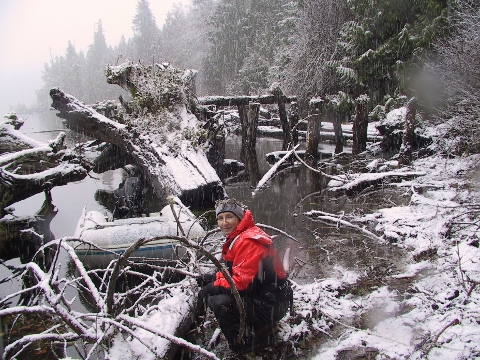 Over the years, capabilities have improved dramatically and prices have fallen. Here's the digital cameras we've owned:
In addition to lens and image stabilization, big improvements also have been made in quality and speed of electronic focus systems. Our current camera, a Canon PowerShot SX40 HS, is respectively fast, produces good pictures, and has an incredibly wide zoom range from 24-840mm. And at $400, if the camera is damaged by operating in extreme conditions, it's not the end of the world.
One thing we've found valuable is a lens hood. This helps protect the lens, keeping rain and snow off when taking pictures, and, without putting the lens cap on, we can quickly stuff the camera inside a coat for protection from weather or bumping.
We revisited the SLR decision with the second camera, but since then haven't bothered, and have generally just upgraded every few years. You can see the improvements in picture sharpness, color quality and white balance in this collection of our best and favorite pictures taken over the past decade.