After a decade of living aboard, one of the few aspects of our cruising lifestyle that we weren't satisfied with, and hadn't found a good solution for, was exercise. A few years ago, we tried Mark Lauren's You Are Your Own Gym bodyweight program and it's worked out very well for us. We enjoy the exercises, the program was a great fit for our lifestyle and limited space on board, and we're definitely much stronger than when we started. In fact, we're stronger than we can ever remember.
Before moving aboard, we had a small home gym in our Seattle house consisting of a treadmill, a leg extension/leg curl weight machine and a power tower for upper body strength. We got up early in the morning and used it every day for a couple of years, before James discovered that he could a great deal done working during that time. And he reports it was less tiring 🙂.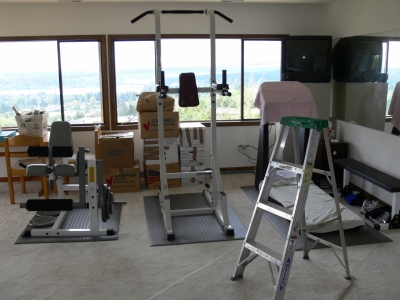 We tried to duplicate this setup, at least partially, when we built Dirona. We considered various places we might install a standard treadmill, such as underneath a removable custom floor in the guest stateroom or salon, but there just wasn't space for it. Folding treadmills and rowing machines were another possibility, but also didn't fit anywhere. We also looked at smaller exercise equipment, such as the Xiser mini-stepper, but those just didn't appeal to us enough.
We never did come up with a solution, but did find we stayed reasonably active while cruising the world through cycling, walking and hiking. This did little for our upper body or core strength though. Three years ago, we eventually got serious about solving the problem again and researched possible solutions.
Marc Lauren's You Are Your Own Gym (YAYOG) exercise program had immediate appeal because it uses bodyweight exercises that don't take much time or equipment. The program requires about 20 to 30 minutes per day, 4 to 5 times per week, and we could do it in the limited space on board. Also, the exercises are based on multiple short bursts of activity with a rest period in between that works very well for the two of us to exercise together. One of us exercises during the other's rest period. This allows us to efficiently share the limited exercise space on board, and it keeps us motivated by working out together.
The YAYOG program consists of strength training using your body's weight as resistance. Most of the exercises required no equipment at all, while some made use of standard household furniture, such as a door, table or chair. We found the boat was actually surprisingly well-suited for the program, particularly the overhead grab bars. For those exercise that required lifting or pulling ourselves, we started out using a knotted spare line strung over the door latch or overhead grab bars.






Exercising with a knotted line strung over the overhead grab bars and doorknob
On a subsequent return trip to the US, we bought an Ultimate Body Press suspension trainer to replace the line. We quite like the gear—it's strong, easier on our hands than just the line, and adjusts quickly between exercises. The Ultimate Body Press suspension trainer we got no longer is available, but the CHD Resistance Trainer is similar. We wanted one that could be adjusted to short lengths, as pictured at right below, and without a large connecting piece in the middle.






We eventually replaced the knotted line with a suspension trainer
We read the book and also purchased the companion YAYOG app, starting out with the beginner program, the easiest of the four levels provided. The app made it much easier to follow the program, with timers for the exercises, details of each with pictures, and also optional videos. It allows us to easily progress through an exercise set, know what is coming up, and see a demonstration of what to do. The app also keeps a history of our exercises, so we know where we are within the program and can track our progress. You could make do with just the app and not bother with the book, but the book is an easy and interesting read, and going through it helps understand the motivation behind the program and some of the finer details of the various exercises.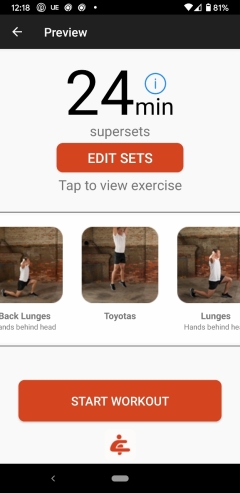 On the boat, we found we could do all but one of the exercises in the limited space we had. The only one we had trouble with was one called Toyotas that required jumping in the air. We didn't have the overhead space for that anywhere inside, and didn't want to go outside. So we substituted side jumps, where we jump sideways back and forth over an object. We also had a little trouble finding a way to do dips, as we didn't have two chairs we could place back-to-back easily. But we eventually found a way to do them in the corner kitchen sink as pictured below.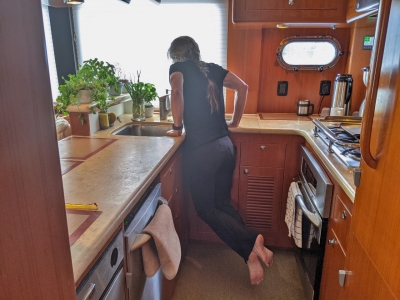 One of the tenets of the program is to perform a variety of exercises so that your body doesn't adapt to the motion, thereby diminishing the return on effort. Variety also keeps the program more interesting. As you progress through the program, new exercises are introduced and existing ones are made more difficult, and you never do the same exercise two days in a row. We've found this keeps us both interested and challenged. We've been following the program for just over three years now, and still enjoy it. We particularly appreciated the program during the Scottish Lockdown, when we didn't leave the boat for 79 days straight.
The exercises are deceptively challenging. The first day we tried the program, James tackled the upper body exercises with his usual gusto and didn't find them particularly difficult. But two days later, he was so sore he could barely lift his phone. And if some of the exercises are too easy, you can increase the difficulty by adding pauses at certain points in the movement, increasing leverage, performing them on an unstable platform, or by holding a weight, such as books, or a water jug. We don't actually do that ourselves, at least intentionally, although for some reason our cat Spitfire likes to climb on top of James while he's exercising.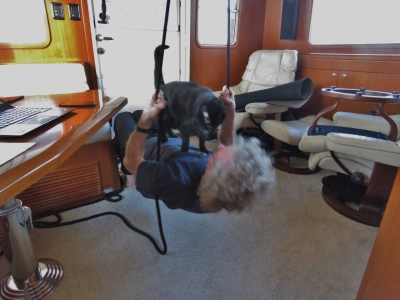 Our apartment building in Seattle has a fully-equipped gym, so we could just exercise there. But we like the efficiency and results of the YAYOG program so much that we've continued with it. James' new role is keeping him super-busy, but most days we still manage to find time to exercise for 20-30 minutes, mainly because we can do it relatively efficiently. Even the minor 5-15-minutes overhead of heading to the gym in our building would be enough to prevent our exercising some days.
While we can now do the jumping exercises in the apartment, we've found some of the exercises we could easily do on the boat are harder in the apartment, especially those using the boat's overhead grab rail. We bought a workout bench and a Bowflex power tower that has pull-up and dip stations, and built-in handles for row-type exercises. For a few exercises, we continue to use our resistance trainer, strung over the top bars as pictured at right below.






Our current home gym
One other issue with our new apartment lifestyle is that we're much less active overall than before, as we're not hiking or cycling at all yet. We probably will eventually, but we're pretty busy right now. We added High Intensity Interval Training (HIIT) to our workout for some explicit cardio, following the Body Coach's HIIT Home Workout for beginners.
The program consists of 30-second bursts of energy, such as running intensively in place, followed by a 30-second break. Apparently our cardio fitness is pretty poor and it's remarkable how difficult these simple 30-second bursts are, but we're getting better at it. We're using the Seconds app that the Body Coach uses, and find it excellent for tracking the workout.