In the decade we spent travelling the world in Dirona, we typically returned to Seattle two-three times a year. And on every one of those trips (when international), we brought back a lot of boat parts and spares in checked luggage. The gear usually weighed at least 200 lbs (90kg) in aggregate, and sometimes as high as 300 lbs (136 kg). We sourced items locally when we could, but anything 110V or 60Hz, such as a kettle, must come from North America. And many other items simply could not be obtained locally, or were prohibitively expensive.
We had most parts shipped to our local UPS store at 815 1st Ave in Seattle, where we've maintained a mailbox since we first moved aboard on our previous boat. Then we unpack and repack everything to minimize the volume in preparation for the return trip home. The UPS store has been more than just a mailbox to us, they have been like our representative in Seattle. The service has always been remarkably good.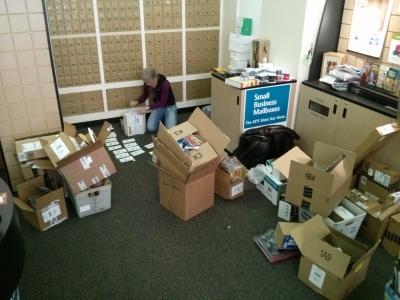 On our first couple of trips, we brought most of the parts back in cardboard boxes. This approach had several problems. The first is that a cardboard box always attracts a TSA security inspection, where the box is unpacked to inspect the contents, and repacked. The inspection is always done very carefully, and we've never had anything lost or damaged as a result. (We often wouldn't have even noticed were it not for tag they leave to indicate they'd inspected the contents, and the special TSA-labelled tape used to reseal a box.) But the potential for loss or damage increases with every touch of the contents, and the inspection can delay the luggage. On our very first return trip to the US, from Fiji, one of our boxes was delayed until the next day, we suspect due to the inspection.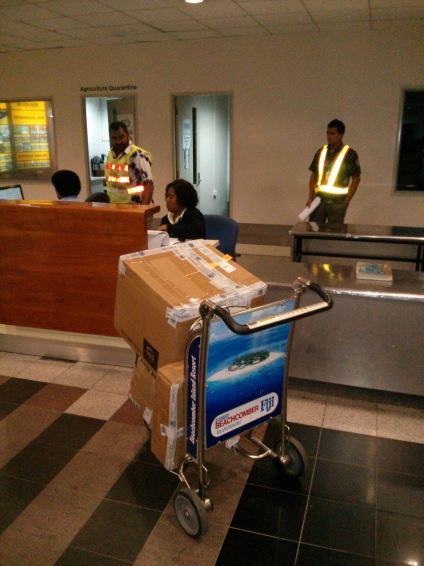 Another issue is that airlines really don't like cardboard boxes shipped as luggage. We typically have to sign a waiver indicating they are not liable for any damage, and cardboard boxes often don't come out on the carousel with the rest of the luggage. Instead, we have to pick them up in a separate place with the special luggage. These usually are the last to come out, so we end up delayed at the airport.
And finally, cardboard boxes aren't very durable when wet. If the luggage ends up sitting out in the rain, the box could break and the contents be lost or damaged.
We had an old Stahlsac dive bag on board that we started using. The Stahlsac is soft-sided and easy to manage, yet holds a huge amount and is wheeled for easy transport. This worked well, but still wasn't enough to hold everything.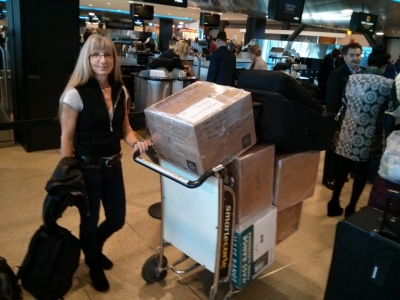 After doing some research, we bought an LL Bean extra-large rolling adventure duffle. The bags are relatively inexpensive, fold down nearly flat for stowage, but have a huge carrying capacity, even more than the Stahlsac. We've fitted a power washer, full-sized vacuum cleaner and even a new barbecue inside them.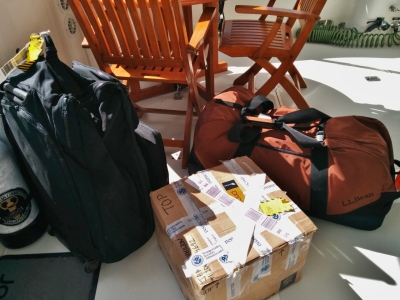 The LL Bean duffle, Stahlsac and a couple of smaller bags worked well to get most of our gear home over several years. On the outbound trip, we pack the smaller bags inside the two rolling bags and only check two bags. And on the return trip, we'd check all four bags, filled with parts and usually weighing about 65 pounds (30 kg) each.






Arriving with four mostly-empty nested bags, and departing with four bags stuffed full of parts and supplies.
This setup worked well for several years, but was a little unwieldy in that only two of our bags rolled. Also, the Stahlsac was getting pretty tired and the wheels weren't turning well. One year we were caught in an unusual Seattle snowstorm, where our scheduled Uber didn't arrive and no taxis were available, and we ended up having to drag our heavy bags through the snow to reach the LRT station for a train to the airport. This convinced us that we needed all the bags to be rolling, and that it was time to replace the Stahlsac. So we bought three more of the LL Bean duffles and use them exclusively for checked luggage.






Dragging our heavy bags through the snow in Seattle convinced us we needed all the bags to be rolling. So we bought three more of the LL Bean rolling duffles.
We like the LL Bean duffles a lot. They are durable, relatively inexpensive, and collapse nearly flat for stowage. But they do have one minor design flaw that is exposed mostly when they are packed tight with heavy, irregular-shaped items. The fabric wraps over a rigid support piece on each corner and too much pressure can burst the seam or wear through the fabric. Our first bag ripped open at one corner on its initial use. LL Bean promptly replaced it, and we've not had any other issues. We are careful to keep pressure off the corners and seams by stuffing laundry or other soft things in each corner to keep the fabric from rubbing on the rigid pieces. Despite this first failure, the bags are remarkably durable and we've not had a problem with any of the bags since.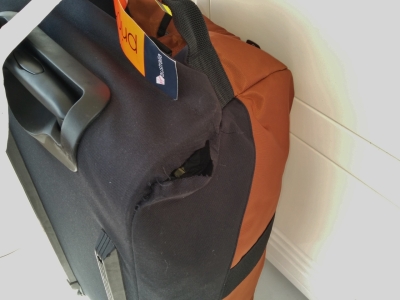 We also found the bags very useful on our recent road trip across the US, where we used two large rolling bags to carry all our clothes and gear. We kept one in the car with extra gear, and brought one into the hotel rooms with us. To keep things organized and not have to be constantly sifting through loose gear, we used packing cubes.