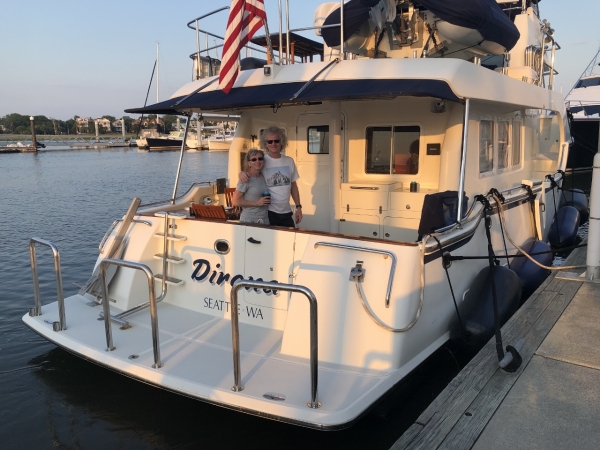 Although 2020 was a year of big and unexpected plan changes, for us, 2021 brought even more. We started the year living on our boat in Norway and ended it living in our apartment in Seattle. In between, we travelled 4,933 nautical miles across the North Sea, the Irish Sea and the Atlantic Ocean to return to the US; drove 5,157 miles across the country to Seattle; rented an apartment that we subsequently bought and, most unexpected of all, we sold Dirona.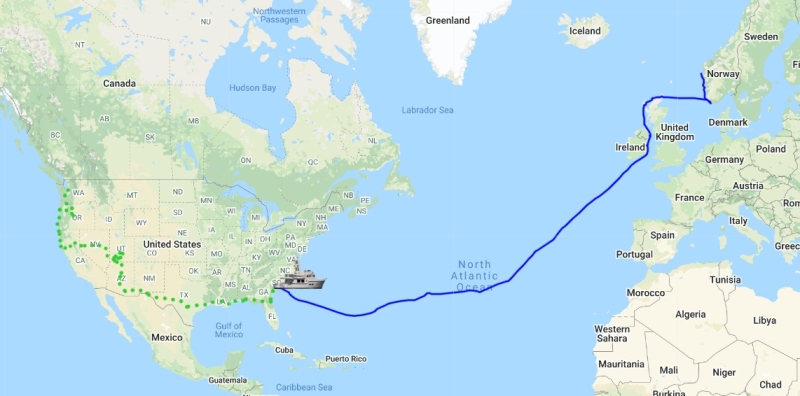 Continuing our Norwegian winter cruise south from Trondheim, we spent New Year's Eve anchored at the head of Geirangerfjord. Normally this wouldn't be allowed because we were right where the cruise ships moor, but this was the off-season, so there weren't any ships for us to interfere with.
We returned in mid-January to the beautiful city of Bergen, made even more so with a fresh coating of snow. While there, we enjoyed several walks through the winter landscape, particularly at dusk and dawn. We also refueled, restocked and learned about an awesome new piece of winter gear, shoe grippers, a wonderful invention that puts studs on the bottom of your shoes.






Left: New Year's Day in Geirangerfjord, Norway. Right: Moored in Bergen mid-January with fresh snow.
Our original plan for 2021 was to spend the summer cruising Sweden. But we didn't get past the small town of Farsund in southern Norway. As we worked our way towards Sweden and were only 160 miles away, Sweden closed their border with Norway for all non-essential travel and it remained closed for weeks. Closing this border is very unusual and, in this case, was driven by fears of the latest coronavirus variant.
When we entered Farsund harbour, we weren't planning to stay very long, but ended up trapped in ice for several weeks. So even without the Swedish border closing we would have been at least delayed. Farsund is reported to be an ice-free harbor, but the temperatures were unusually cold and we ended up surrounded in six inches of ice. It's definitely a bit strange to see kids playing on ice where we had been floating just a couple of weeks earlier. Farsund is a beautiful town and we very much enjoyed our time there, but a month later, with the Swedish border still closed, we decided we needed to review our travel plans.






Left: Enjoying what Norwegians call the "cozy season" in beautiful Farsund. Right: Trapped in the ice at Farsund.
We were finding the pandemic had been driving up the complexity of cruising and crossing borders considerably. Some European borders were closed entirely for non-essential travel, while others were open but only in a limited fashion, often requiring EU citizenship or residence. Further complicating things, we'd been traveling for the past few years in Europe with few immigration restrictions because Jennifer holds a UK passport and so was an EU citizen. Post-Brexit, that advantage was gone and we were restricted to a maximum of 90 days in a rolling 180-day period, not just in a single country, but across most of Europe.
We feel lucky to have enjoyed four years cruising Europe, but with the increased friction of cruising during COVID, and no longer having the EU passport, we eventually decided to cruise the east coast of North America for a year or two before returning to Europe.
Once the ice melted, we departed Farsund, Norway for Orkney, Scotland on the first leg of our journey home to the US. Conditions were blissfully calm, especially considering we were crossing the North Sea in late February, and the overnight, 291-nm passage was a relaxing and easy one. We finished the run with an exciting entry through Pentland Firth, reaching a record 17.4 knots in Dirona, as the strong current flushed us through into Longhope.
We anchored at Longhope, Orkney in the exact same place as four years earlier, and settled in for the ten-day quarantine required for international arrivals. We were happy to be back in Scotland, and to have made progress on our trip home.






Left: Dirona reached a record 17.4 knots entering Scotland in the Pentland Firth currents. Right: Celebrating the completion of our ten-day quarantine in Longhope, Orkney, Scotland.
After completing quarantine at Longhope in Orkney, we returned to Stornoway to refuel, provision and accept several deliveries. Perhaps because we hadn't been home to Seattle for well over a year by then, Stornoway was starting to feel a bit like home, and it was great to be back. The town is one of the few places we've visited three times over the past four years. It's a super-convenient place to provision, and when times are better and tourism is allowed, there's a lot to see in the region.






Left: Back in our home-away-from-home of Stornoway, Scotland. Right: Scenic Stornoway Harbour.
Our next stop was beautiful Strangford Lough, a 58 sq mi (150 km sq) sheltered basin in Northern Ireland with at least seventy islands. The area is steeped in history, containing several centuries-old castles that were filming locations for the HBO Game of Thrones series. With wonderfully sunny and calm weather much of the time, we spent two weeks exploring the area on foot and in the tender. And the Easter Bunny, who has been following us around the world, found us there too.






Left: 15th-century Audley's Castle in Strangford Lough, Northern Ireland. Right: The Easter Bunny found us in Northern Ireland.
In mid-April we made a day run through the Irish Sea to Dun Laoghaire, outside Dublin, in beautifully clear and calm conditions. We were in the exact same berth as our previous visit in late 2017, inside the harbour's huge protective piers. Our second visit was as enjoyable as the first. The weather was clear and calm most days, and we took several walks, including to the end of each harbour pier. We also explored the outlying area, this time on foot and by tender instead of taking trains and taxis. And we continued to monitor the weather and prepare for the upcoming North Atlantic crossing.
We progressed on our journey home in late April with a 1,330-mile, 8-day run from Dublin to Horta in the Azores, a Portuguese holding about 925 miles west of mainland Europe. Horta has long been a stopover for ships crossing the Atlantic Ocean. Explorers and settlers arrived in the 15th century, followed by trading ships in the 16th through 19th centuries, and most recently, ocean-crossing pleasure craft. It is a tradition for visiting boaters to paint a mural celebrating their trip, and every flat surface around the harbor is covered in them.






Left: One of the two protective piers at Dun Laoghaire harbour, outside Dublin. Right: Boater's murals in Horta.
Following a two-night stop in Horta, we made a 2,933-mile, 19-day passage directly to Charleston, SC, arriving almost a month to the day after departing Dublin. En route, we crossed 12,000 miles on our incredibly reliable John Deere 6068AFM75 main engine.
We'd plotted a route to the US through the Azores High, far south of the more direct great-circle route, to avoid the progression of storms that regularly move northeast across the Atlantic from the US east coast. This added hundreds of miles to our journey, and generally achieved our goal. But one large storm system extended far enough south to give us a fairly rough ride for a day or so. And shortly after we found ourselves heading towards what would become tropical storm Ana, the first named storm of the season.
We were crossing three weeks before the start of storm season, so we weren't expecting to see dangerous weather. But for the past few years, tropical storms have been starting early. To avoid this system, we went much further south, extending the 2,537-mile crossing to 2,933 miles. This added three days to our trip, but avoided any dangerous weather.
In early June, after barely a week in Charleston, we loaded Spitfire and our luggage into a rental car and set off on a 5,157 miles (8,299 km) road trip to Seattle. We had a fabulous four-week trip, covering fourteen states: South Carolina, Georgia, Florida, Alabama, Mississippi, Louisiana, Texas, New Mexico, Arizona, Utah, Nevada, California, Oregon and Washington.
We particularly enjoyed Grand Canyon, long high on our list of places to visit, and also Zion, Bryce Canyon and Capitol Reef National Parks in Utah, a state we'd never visited before. After driving through Northern California and it magnificent forests of coastal redwoods, we reached the Pacific Coast in Oregon. The beautiful and diverse Oregon coast has long been a special place for us. As a child, James lived in Eugene, Oregon and made many family trips to the coast. And two decades later, it was where we took our first vacation together back in 1983.






Zion National Park, left, and Bryce Canyon National Park, right, in Utah.
Spitfire did remarkably well on his first road trip. Although he's rounded the world in Dirona, he doesn't spend much time in cars and we weren't sure how he'd take to the road. But he settled right into his new bed in the car and was eating and using his cat box comfortably. And after a thorough investigation of each new hotel room, he settled in just like he was home. It was wonderful to have him along with us.






Left: The dramatic Oregon coast. Right: Spitfire taking in the scenery during our road trip across the US.
When we left Charleston, we were planning to return to Dirona near the end of July. But James had recently stepped into a new job more easily done from Seattle. So partway through our road trip, we decided to get an apartment in Seattle. To add to the excitement, we rented it sight unseen while on the trip (well, we did see on-line pictures), and took possession five days after arriving in town.
When we moved from our house in Seattle onto the boat back in 2009, we sold all our furniture and didn't keep anything in storage. So we were starting completely from scratch, arriving in the new apartment with only the luggage we had from our road trip. We slept the first night on the floor, received a mattress the next day (highly recommended), and have slowly been accumulating furniture and houseware.






Left: Our new apartment in Seattle. Right: Slowly building a household from scratch.
We're living in the same neighborhood, Belltown, that we lived in before leaving Seattle in 2012 on our trip around the world. Bell Harbor Marina, where we lived aboard for nearly four years, is less than a mile away. It's nice to be back in familiar territory, and we're loving the downtown lifestyle with dozens of restaurants within walking distance.
We returned to Dirona and Charleston in early August, in what was initially going to be one of several trips back to the boat, likely every two to four months. But James' work is sufficiently busy and the east coast sufficiently distant to make that approach seem impractical. The next plan was to put Dirona in dry storage for a year or, more likely, two.
Over the next few weeks we ended up just not being able to live with the thought of leaving Dirona to deteriorate in storage for a couple of years, and reluctantly concluded it was time to sell. In early September, the yacht broker who would sell Dirona delivered the boat to their Florida location to prepare it for market. It was very strange to see Dirona underway without us for the first time since we took delivery in early 2010.
Dirona in Florida, the first time underway without us since we took delivery in 2010 (Frank Coles photo).
We enjoy major league sporting events, and it's one of several aspects of living in Seattle that we're really liking. The fall brought the return of two of our favorite sports, football and ice hockey. We attended several Seattle Seahawks NFL games and Seattle Kraken NHL matches, including the Kraken's first-ever home opener. The Seattle Kraken are the latest NHL expansion team and play in a beautiful, new high-tech facility, Climate Pledge Arena. And both teams play within walking distance of our apartment.
We are enjoying our new home, with its ever-changing view to Elliott Bay and the constant ship traffic, while we stock up with furniture and household items. We also are still finding ways to be outside on our patio as the temperature falls, and to take advantage of what Norwegians call the "cozy season".






Left: NHL expansion team Seattle Kraken take on the Minnesota Wild at Climate Pledge Arena. Right: Enjoying the "cozy season" at home in the warm glow of a patio heater.
In mid-December, coincidentally two days apart, we closed on the purchase of our apartment and sold Dirona. We admittedly felt a little sad to sell Dirona, our home for the past twelve years, but we're loving our new apartment and are having a great time living in Seattle. And although we don't have any definitive plans right now, we do expect to return to adventuring of some form in twelve to twenty-four months. And we will continue to update the web site with current events, technical articles and videos of past trips.
Click below to view previous annual summaries: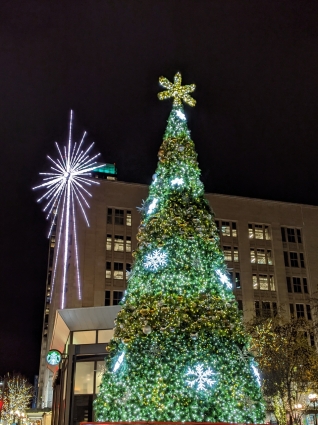 Seattle Star and Westlake Center Holiday Tree.