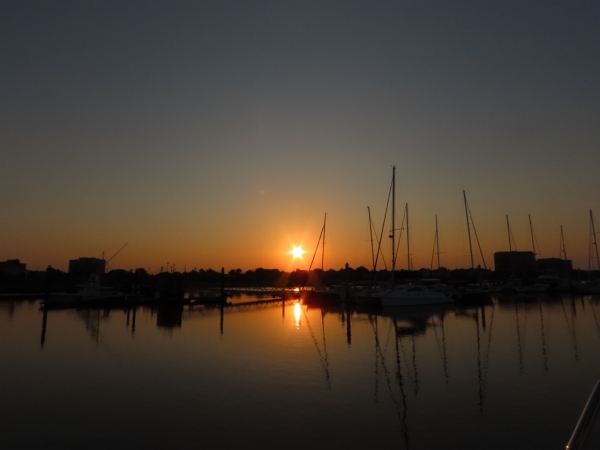 We really enjoyed our first week back in the US at Charleston City Marina after our month-long passage from Dublin via Horta. It was hard to believe that a few months earlier we were in Farsund, Norway and frozen in with ice so thick we could walk on it and now we were in Charleston, pictured above, with a water temperature of 86F (30C) and an air temperature of 79F (26C).
That week after landing in Charleston was a busy one, where we tackled two major boat projects: replacing the main engine exhaust gaskets and unblocking a plugged sanitation house. We also took delivery of many more packages, including several items for our upcoming road trip across the US to Seattle.
Below are highlights from May 28th through June 7th, 2021. Click any image for a larger view, or click the position to view the location on a map. And a live map of our current route and most recent log entries always is available at mvdirona.com/maps.
5/28/2021
New Digs

One of the many items we ordered from Amazon was a bed for Spitfire. Here he is enjoying his new digs.
Window Covers

We've not had to put our sun protection window covers on since Florida in 2017. Here Jennifer is lubricating the snaps prior to install.
Exhaust Gasket

Today we opened up the exhaust system to determine the cause of the leak. We removed all the insulating cladding and found the lower flange of the wrinkle belly (flex coupling) was leaking and the next flange below that one is also very loose and leaking even more. In both cases the nuts and bolts below the exhaust cladding appear to have backed off and those two flanges have started to leak. We'll order some gaskets on order then re-install the exhaust parts and properly torque them.

The exhaust cladding is getting a bit tired from years of vibration and the impact of the exhaust leak, so we will drop off the two worn pieces and have new ones made at Ballard Insulation in Seattle who did the original parts. The hard part of this job is cleaning up the light coating of soot all over all the engines and flat surfaces in the engine room. It's a bit of a mess and some of it has been ground into the floor of the engine room so it'll take some work to get everything clean again but it's all solvable without much complexity. Just some work.
Publix

Replenishing our produce supply from the excellent selection at Publix grocery store.
Shore Amps

With the air conditioning running, we're really making us of the shorepower supply (graph at right). It's been four years since we've been plugged into a 60Hz supply and 50 amps on a single power connection feels like luxury. Over the past four years we've been running on as little as dual 8-amp connections.
Dirona

Relaxing in the cockpit on our second night in Charleston. Photo courtesy Steve Hemingway of Nordhavn 63 Asturias.
5/29/2021
Day Head

The day head was not flushing properly. We took it apart and found the joker valve was hardened up and not sealing. It's still not flushing properly, so sadly, it's likely a problem between the head and the blackwater tank.
Carry Bag with Slideouts

Spitfire inspecting his

Maskeyon carry bag

. This is the first new bag he's ever had. It's a cool design where all four sides expand in much the same way that some recreational vehicles have slide-outs to get more space.
Travel Kettle

Testing our new

travel kettle

and

coffee filter holder

for our upcoming road trip across the US to Seattle. Both are made of high-temperature silicone, collapse flat, and store in the small black case at left.
5/30/2021
Fueling

Taking on 1,573 gallons of diesel using the super-convenient in-slip fueling at Charleston City Marina. We were expecting to need 1,569 gallons, which is only 4 gallons or 0.3% less than we actually took on. The Maretron pressure-based fuel-level sensing system is quite accurate (see

Fuel for the Crossing

).
17.4 Gallons

We're well along in filling the port side, and the starboard side is sitting at a remarkably low 17.4 gallons.
5/31/2021
Drain Auger

Our dayhead plugged for the first time ever. We

investigated it earlier

and got some bad new: the head is not plugged, the hose between the head and the blackwater tank is. Here James is working on the plug with a

drain auger

.
Hose Blockage

James worked the drain auger first from the day head side and then from the blackwater side, and the news continued to get worse: the obstructed area was approximately midway between and appeared to be a couple of yards long. There was no way to force it out, although we spent several hours trying. We reluctantly cut an access point into the hose roughly in the middle of the obstruction and you can see we were in the middle of the obstruction. It's absolutely solid calcified build-up.
Calcified

We've been working to remove the obstruction from the dayhead wastewater hose. Here you can see an example of what is happening: a stone-like calcium build-up has formed as thick as a 1/4 inch on the inside of the pipe. And for some reason, it's broken free and all piled up at a low spot in the plumbing. There really shouldn't be low spots in wastewater plumbing, but boats can sometimes make these design rules hard to follow.

Once we got the pipe fully clear between the head and our access point, we then worked to clear the pipe between the blackwater tank and our access point and then reattached the access point using a hose coupler. Ideally there wouldn't be a coupler in the wastewater line, but since this is a low spot, if it plugs again the coupler allows easy service.
Trevor Pavone

After a pretty miserable day spent clearing the wastewater line blockage, we found a bag of delicious treats with a wonderful note from Trevor Pavone and family, who are building Nordhavn 6082 Another Road.
6/1/2021
Gaillard-Bennett House

The beautifully-restored Gaillard-Bennett House in Charleston, originally built about 1800. The property also has a wonderful garden of similar footprint to the house. We walked past the house en route to picking up a rental car.
6/2/2021
Wine Glasses

One of our many orders to Charleston was to replace our aging wine glasses and crockery. Unfortunately two of the wine glasses arrived broken, but Crate and Barrel promptly sent us replacements.
Superyacht

The dock we are moored on at Charleston City Marina, called the "Megadock", is busy with boats coming and going, including several superyachts. This impressive sailboat just arrived.
6/4/2021
Exhaust Gaskets

The replacement exhaust gaskets arrived today. We had a tough time sourcing them but Dwight Allen, General Service Manager at

Cascade Engine Center

, helped us out. These are high-quality gaskets rated at 1150°F (621°C).
6/5/2021
Preparing Upper Gasket

Technically these gaskets should work fine installed dry, but here James is applying a thin layer of Permatex high-temperature exhaust sealant.
Placing Bolts

The first phase of reassembling our exhaust: attaching the wrinkle belly upper flange.
Preparing Lower Gasket

Getting ready to install the 4-inch-to-5-inch adapter lower flange gasket.
Tightening Bolts

Tightening the lower flange bolts on the 4-inch-to-5-inch adapter.
Middle Gasket

Tightening up the wrinkle belly lower flange.
Leak Test

Ensuring that there are no leaks as the exhaust comes up to temperature.
Oil Change

Performing the 46th oil change on the main engine at 12,425 hours.
Scrubbing Floor

With the exhaust leak fixed, we can now get to work on scrubbing down the floors and cleaning all the soot-covered surfaces in the engine room. This was by far the biggest part of the exhaust job. Changing the gaskets was quick, cleaning up the mess the leaking flange gasket had caused took much longer.
All Clean

A happy James with our engine room back to its normal look.
Bow Movement

The Charleston City Marina pumpout boat,

Bow Movement

. We loved the name, reminscent of the father-and-son two-boat pumpout team in the Seattle area,

PumpMeOut

, where the boats are named

Number 1

and

Number 2

.
Charleston City Marina

Evening view from our aft camera to busy Charleston City Marina. We're really enjoying our time here. It's hard to believe that a few months back we were in Farsund, Norway and

frozen in with ice

so thick you could walk on it and we're now in Charleston where the water temperature is 86F (30C) and the air temperature is 79F (26C).
6/6/2021
Crab

Spitfire may be nearly 18 years old, but he can still pounce like a kitten when he spots some prey. Here he's chased a small crab underneath our cockpit table and it trying to get a good angle to flush it out.
Water Maker Wiring

Opening the wiring for our pilot house water maker control panel to implement remote flush through our control system. Ideally the water maker should be flushed weekly to maintain the membranes or the system should be pickled. Since we'll be away from the boat for 6-8 weeks with our road trip plus time in Seattle, we opted to enable remote flush so we can flush the system from Seattle or wherever we happen to be.
Wing Engine Remote Start

We like to run our engines every three weeks to get oil up on all parts and avoid condensation build-up and interior engine rusting. The generator and the main engine have

auto-start support

, so if the shore power fails, one of these engines will be started to protect our batteries, fridge and freezer loads.

It is unlikely that either of them will start while we are away, since the power is very reliable in Charleston City Marina. But, as a side-effect of autostart being installed on these two engines, they also have remote start, meaning both the generator and the main can be started with the push of a button from anywhere in the world. We seldom use this, since we're so rarely away from the boat for more than three weeks at a time, but it's nice to have.

Since we have at least a couple of periods where we'll need to be in Seattle for longer periods of time over the next few months, we will use this remote start capability. And we decided to add remote start to the wing engine as well. Here James is enabling this support on the wing through the Northern Lights Wavenet control panel.
6/7/2021
Water Maker Remote Flush

After making the hardware changes yesterday to support remote watermaker freshwater flush, this morning we added a new checkbox to one of our control system pages to flush the water maker. Here we are testing to ensure it works.
Wing Engine Control

Today we added a button to our Power Control web page to allow the wing engine (right) to be started remotely using the wiring and hardware changes we made yesterday. We now have the ability to start any or all of our three engines remotely from anywhere in the world.
Main Engine Air Filter

We clean our main engine air filter every 3 months or 500 hours. It's a gigantic filter, so never very plugged up at all. This time we found it in really rough shape. What had happened is that when the exhaust started leaking on the Atlantic crossing, it put a thin layer of soot all over the engine room which was annoying and took a long time to clean, but didn't pose mechanical risk to the boat. What we didn't realize is all that soot was completely plugging up the air filter and likely leading to less-efficient operation.

Normally when we clean the filter, we just vacuum off the exposed dirt, occasionally back-spray it with a light spray of compressed air. But it's a real mess this time, so we went with a full clean. For a full clean, we use K&N filter cleaner, spray on the cleaning chemicals, wait 10 minutes, wash the filter out thoroughly, dry it in the sun and finally, spray on the thin oil red oil coating that increases the effectiveness of the filter system. We don't need to do that often, but we definitely did this time, and the filter is back to its normal nice, clean state.
Click the travel log icon on the left to see these locations on a map, with the complete log of our cruise.

On the map page, clicking on a camera or text icon will display a picture and/or log entry for that location, and clicking on the smaller icons along the route will display latitude, longitude and other navigation data for that location. And a live map of our current route and most recent log entries always is available at mvdirona.com/maps.