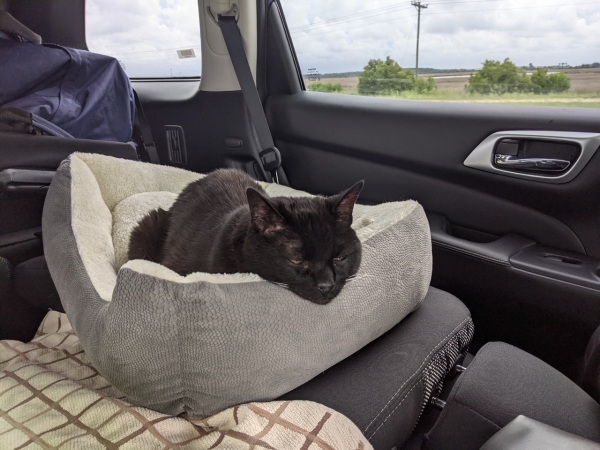 In early June, we loaded Spitfire and our luggage into a rental car and set off on a 4,200-mile (6,760 km) road trip from Charleston, SC to Seattle, WA. We spent the first two nights in Florida, first in Jacksonville and then in Pensacola, after passing from South Carolina through Georgia and traveling 598 miles (961 km).
Spitfire did remarkably well on his first road trip. Although he's rounded the world in Dirona, he doesn't spend much time in cars and we weren't sure how he'd take to the road. But he settled right into his new bed in the car and was eating and using his cat box just like at home. And after a thorough investigation of each new hotel room, he seemed happy and relaxed there as well. It's wonderful to have him along with us.
Below are highlights from June 8th and 9th, 2021. Click any image for a larger view, or click the position to view the location on a map. And a live map of our current route and most recent log entries always is available at mvdirona.com/maps.
6/8/2021
Rick Hendrick

One of the over 100 dealerships in the Hendrick Automotive Group, founded by NASCAR Cup race team owner Rick Hendrick. We're just departing the Charleston area on our road trip across the US to Seattle.
Spitfire

Spitfire enjoying traveling without waves. He's adapting to road travel extremely well.
Basil Thai

Delicious takeout from Basil Thai in Jacksonville, the first stop on our cross-country run.

Today we traveled 241 miles (387 km) from Charleston and were in three states: South Carolina, Georgia and now Florida.
6/9/2021
Bento

Spitfire enjoying breakfast from his

Go Pet Bento

travel food bowls as we head west on Interstate 10 towards Pensacola, Florida. We bought the stacking food bowls for the road trip and they've worked out super-well to allow us to easily feed him underway and move any uneaten food between the vehicle and the hotel.
Echo River

A portion of Florida Power & Light Company's vast, 500-acre (202-hectare) Echo River solar farm, completed in May of 2020. About 330,000 panels supply 74.5 megawatts, enough to power 15,000 Florida homes.
Chick-Fil-A

Chick-Fil-A makes a great chicken sandwich. We love

their ads

, featuring cows scrawling on billboards "Eat Mor Chikin."
Escambia Bay

About to cross Escambia Bay over the six-lane Escambia Bay Bridge near Pensacola, completed in 2007. The original four-lane bridge was destroyed in 2004 when Hurricane Ivan knocked 58 spans off the bridge and misaligned another 66 spans.
Chimney

We stopped for the night in Pensacola, FL after a 357-mile (574km) from Jacksonville FL and went for a driving tour of the area. This is the remains of the Hyer-Knowles Planing Mill Chimney in Pensacola, built in 1854 as part of a steam-powered sawmill. When the Confederacy withdrew from the area in 1862 during the US Civil War, they destroyed all the mills so the Union could not use them. This chimney was the only surviving part of the sawmill.
Bay Bluffs Park

Walking the steps and boardwalk down the bluffs to water level at Bay Bluffs Park in Pensacola.
Pensacola Bay

View to Pensacola Bay from the bottom of the boardwalk. It's not that hot at 80F (27C), but the humidity is really high and it feels much hotter.
Heron

Heron about to grab a fish head discarded by a fisher at Palafox Pier in Pensacola.
El Asador

The first time we've

eaten at a restaurant

in 15 months, at Taqueria El Asador in Pensacola, Florida. It's outside, so we're still not technically in a restaurant, but it's a start. The order window was perpetually lined up and the restaurant had two large propane tanks repurposed as barbecues full of meat on the broil, using charcoal imported from Mexico. The tacos were delicious, the best we've had for a long time.
Click the travel log icon on the left to see these locations on a map, with the complete log of our cruise.

On the map page, clicking on a camera or text icon will display a picture and/or log entry for that location, and clicking on the smaller icons along the route will display latitude, longitude and other navigation data for that location. And a live map of our current route and most recent log entries always is available at mvdirona.com/maps.