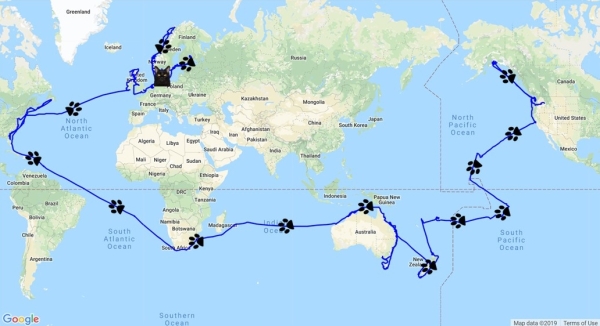 When we first started planning our boat trip around the world, we expected that cruising internationally with our cat Spitfire would limit the countries we could visit, because we did not want to subject him to lengthy quarantines. In reality, the French territory of New Caledonia was the only destination that we opted not to visit due to quarantine requirements. In the seven years since we left Seattle in 2012 to travel around the world, Spitfire was only quarantined a single time, for ten days in New Zealand.
Entry rules vary between countries, but the most common requirements are that pets have a recent international health certificate, be microchipped and be vaccinated against rabies. Some locations, such as Hawaii and New Zealand, have a strict import process that also requires a titer test to show proof of immunity to rabies. These treatments, tests and import approvals can take several months, so if you are considering travelling internationally with your pet, get started early with a microchip and rabies vaccination. These are a good thing to do anyway, so the effort is not wasted if you end up not requiring them. Obtain stamped or signed paperwork for any vaccinations and be sure to keep the originals.
We also recommend reading Where There Is No Pet Doctor by David Lavigne. We bought it mostly for medical purposes, but it turned out to have an excellent section on preparing a pet for international travel. For example, from it we learned that the microchip Spitfire had was US-specific. Countries such as New Zealand now have scanners that will read a US chip, but the scanners in many countries won't detect it. We got Spitfire an international chip to be on the safe side.
And after a couple of scares where a government veterinarian's scanner malfunctioned, notably on arrival into Hawaii, we bought our own scanner, a Datamars Micromax that reads international microchips. We've never had to use it, but the scanner is good insurance for just over $100.
Cruising internationally with a pet definitely adds some logistic complexity to the trip, but we love having Spitfire with us and the overhead is more than worth it.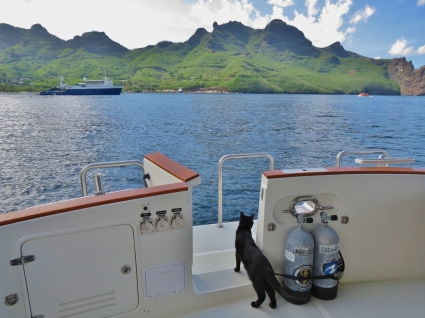 Entry Procedures
The majority of the countries we visited had well-documented entry procedures for pets, but most were oriented towards travel on commercial carriers, where arrival times are predictable and the travel duration is measured in hours. When arriving by boat, travel dates are weather dependent and the trip duration is measured in days or weeks. We sometimes had to negotiate with officials to allow for longer travel windows. We researched in advance the clearance requirements and fees, then contacted local officials to confirm our understanding. A record of our correspondence with officials smoothed our entry on several occasions.
New Zealand was, not surprisingly, the most difficult country to enter with Spitfire. Australia's requirements were similar to New Zealand's, and in fact were worse as the quarantine period was longer. But if arriving from New Zealand, the process was much easier. Unexpectedly, travelling between two US ports was second-most in difficulty and overhead. Bringing a pet from the mainland US into Hawaii quarantine-free required about 4-5 months advance preparation, most spent in waiting for test results. The waiting period has since been reduced, but still does require a minimum of about six weeks prior to entry.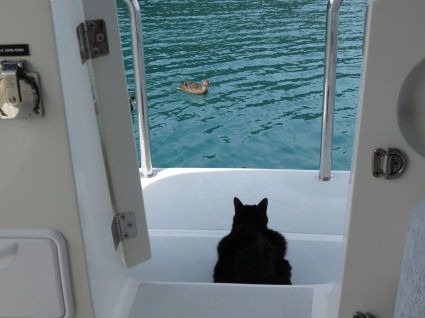 We only formally imported Spitfire into Hawaii, New Zealand, Australia and Europe. These were the only places we took him ashore, either for boarding or veterinary visits. More detail about the processes can be found at the end of this post. In the remaining destinations, we didn't import Spitfire, so he was not allowed to leave the boat. We generally don't allow him ashore anyway, so this wasn't a hardship.
Some destinations where we didn't import him required no formalities other than declaring him, while in others we needed to show an international health certificate and proof of rabies vaccinations. Barbados was the only country where we had any issues with Spitfire being aboard and is an example where a paper trail with an official was helpful. On arrival into Barbados, we were told we needed an import permit for Spitfire. But we earlier had received an email from a Barbados Ministry of Agriculture Veterinary Officer stating we could bring Spitfire into the country without formality so long as he remained on board. We produced the email and that resolved the situation. Later in our stay, two Barbadian Customs Officials sighted Spitfire on board and came to investigate a possible illegal importation. The paper trail was key to resolving that one.
| | |
| --- | --- |
| Anse Amyot, French Polynesia | Torghatten Mountain, Norway |
Preferential and Unwritten Rules
In travelling with Spitfire, we learned of several cases where countries with onerous animal entry requirements have preferential rules when travelling from certain other countries with less strict rules. For example, pets brought by yacht into Australia when we arrived generally required a minimum of thirty days in quarantine (this has since been reduced). But qualifying pets coming from New Zealand could enter quarantine-free, and New Zealand's minimum quarantine period was only ten days.
Another example is that pets cannot be imported into the United Kingdom by private yacht at all, except from Ireland, in which case no formalities are required. And Ireland follows standard EU quarantine-free pet entry procedures. This is one of several reasons we landed in Ireland to enter Europe.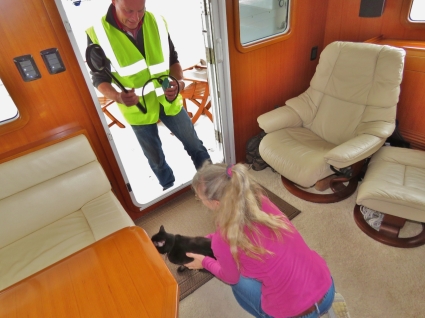 We've also learned that many countries have two sets of rules pertaining to pets, a well-documented process for formal import and a, typically less-restrictive and poorly-documented, set of requirements for confinement on board. For example, you actually can bring a pet into the United Kingdom by pleasure craft from countries other than Ireland, but only if they are confined on board and not allowed ashore.
New Zealand and Australia also allowed pets to be confined on board without import, but the process was highly restrictive and not useful for us. In New Zealand boats would have to remain at anchor in the same port the entire time in the country. In Australia a boat could move between ports and anchor or land on a dock, but while docked biosecurity would need to inspect the vessel every two days at the operator's expense (AU$90 for the first half hour and $45 per 15 minutes thereafter). And regardless of whether the boat was at anchor or in port, biosecurity would need to remove his waste weekly, also at the operator's expense. Further, biosecurity required 48 hours advance notice of any port movement. These rules were too restrictive and expensive for our travel plans, but if still applicable, might work for shorter stops in those countries.
Cruising Internationally with Cats
In Cruising with Cats we described our experiences and recommendations for cruising with cats on board. At the time, we were still living in the Seattle area, but much of the advice applies to cruising internationally.
The Tidy Cats Breeze System we discussed has continued to work well for us, particularly in cruising the South Pacific where cat litter can be a problem to obtain. We left Hawaii with a 2-year supply that required little storage space. We stow the used pads inside a plastic bin in an outdoor locker and dispose of them ashore when available. We've not been able to source the product anywhere outside the US, so we bring a supply back with us in our luggage on return trips.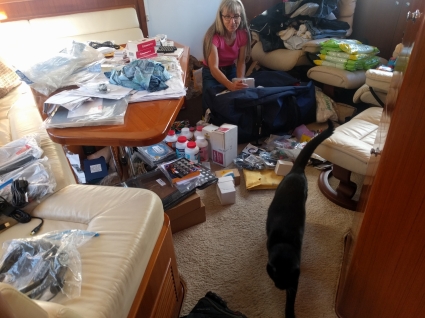 Spitfire seems to enjoy living aboard and finds plenty of things to catch his interest both inside and outside the boat. In the South Pacific, he particularly enjoyed fishing. His system was to wait on the swimstep until something small landed there, then "catch" it.
He also loves to investigate new spaces and whenever we open a locker or storage area he is inside to fast that we've begun to joke about having spare cats—every dark corner seems to have two big yellow eyes looking back at us.
And whenever we arrive at a new destination, he's often out on deck getting a "first smell".
| | |
| --- | --- |
| The Fishin' Magician at work French Polynesia | "Spare" Spitfire |
| | |
| --- | --- |
| "First smell", coming into Tonga | "First smell", arriving at Stornoway in Scotland |
As we described in Cruising with Cats, we monitor Spitfire's location frequently, either underway, at anchor, or at a dock, and keep him inside if we are sleeping or away from the boat. This is particularly important if we're in a location where he has not been imported and isn't allowed ashore. If we're at a dock in such cases and he really wants to be outside, we'll put him in a harness and leash so he can't get ashore.
And in case he does escape our monitoring and become lost ashore when cruising internationally, he wears a large tag with our email addresses, phone number, and a message indicating we'll cover the cost of care and keep if he is found.
| | |
| --- | --- |
| Wearing a harness and leash at Port Denarau in Fiji | Detailed identification tag |
James needs to return to Seattle for work three to four times per year. Sometimes Jennifer stays behind with Spitfire, but more typically we return together and Spitfire goes to "the resort" (a boarding cattery). We've done this only in New Zealand, Australia and Europe, where we've imported him and he can go ashore. All these regions generally have excellent boarding facilities for animals that consist of private rooms, often with dedicated outdoor spaces. We hate leaving him behind, but a transatlantic flight in the cargo hold wouldn't be easy on him either.
None of the catteries required a rabies vaccination, but some required proof of proper import and all required that his other shots were up-to-date. The three-year FVRCP shots that we administered in Hawaii were valid for New Zealand and Australia, and another set we had done in Boston carried us through to the first couple of years in Europe where we eventually had new shots done.
| | |
| --- | --- |
| Spitfire's indoor-outdoor "chalet" at the Lochermill Boarding Cattery near Glasgow. | The two-floor cat condo at the Pusehuset Kattehotell near Trondheim, Norway |
Health
Based on recommendations from Where There is No Pet Doctor, we do carry medication on board for Spitfire should we have an emergency but haven't yet had to use any. He has generally has been happy and healthy throughout our trip, but we have had a couple of serious health issues that fortunately occurred when we were near a major center. One was in Sidney, Australia and the other was near Southampton, UK. In both cases we were able to bring him promptly to a vet and the issue was resolved.
At sea, Spitfire can get seasick when seas are rough. Jennifer usually follows soon after, so we generally try to avoid those conditions. Having less in his stomach helps a lot, in fact, he almost never gets seasick if he hasn't eaten a large amount at one time. If we're going out on a trip where we expect rough weather, we limit his food intake to just small amounts steadily over the course of the day.
Spitfire doesn't like sliding around when he's sleeping (we feel the same way :)), and will adjust his sleeping position to wedge himself in more securely as needed. At rest or in calm conditions at sea, he'll sleep pretty much anywhere, often upside-down. In light seas, he'll brace his paws against a wall. As conditions get rougher he'll wedge into a corner, such as the pilothouse shelf above the master stateroom steps. And in extreme conditions, he curls up into the master stateroom sink and don't shift an inch. This is how he spent much of a bouncy 1,394-mile passage into head seas from Fanning Island to French Polynesia.
| | |
| --- | --- |
| Wedged into a corner shelf in rough weather | Curled up in sink on the passage to Nuku Hiva |
As we passed through different countries, Spitfire saw a lot of vets, and each one had recommended that his teeth be cleaned as his gums were quite red and inflamed. We were somewhat reluctant to do this, as the full anesthesia required for this procedure is riskier the older the animal is. We did eventually have his teeth cleaned in Brisbane, and decided to start brushing them ourselves afterwards. We've been using a Petosan electric toothbrush that does an excellent job and is much faster than a standard pet toothbrush. Spitfire isn't thrilled about the process, but he tolerates it. And his teeth sure are clean and white, with healthy-looking gums.
Spitfire was nine years old when we left Seattle and is sixteen now, but he still has plenty of energy and is surprisingly playful. Earlier this year he was diagnosed with chronic kidney disease and now needs to be on a special diet, but that has been easy to obtain in Europe, as has good veterinary care. He continues to do well, seems happy on the boat, and we hope for many more happy years of travel with him.
| | |
| --- | --- |
| Playing with a toy in Sweden this spring | "First smell" of Helsinki in June this summer |
Destination Notes
Of all the places we visited on our trip around the world, we only needed to formally import Spitfire into Hawaii, New Zealand, Australia and Europe. So long as he remained on board, most of the other countries we visited had no requirements other than showing his international health certificate with proof of rabies vaccination. Having original vaccination and health certificates on hand was critical in a number of cases.
An international health certificate is endorsed by the government veterinary organization in the issuing country and is recognized internationally. In the US, a regular veterinarian performs the health exam and issues the certificate, and then the USDA endorses it. In other countries, such as Australia, a government veterinarian performs the exam and issues the certificate.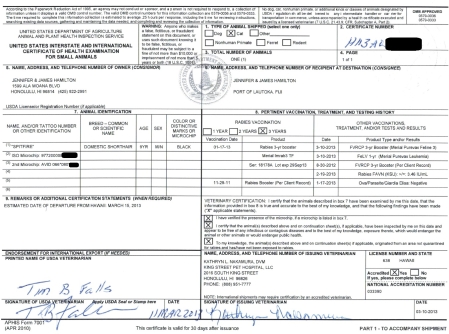 We obtained another international health certificate upon departing Australia that lasted us back to the US. Even though the health certificates were several months old by the time we reached some countries, all accepted it based on the fact that Spitfire hadn't been ashore in the interim and that, in most cases, all the countries we'd visited were rabies-free.
Below are our experiences and tips for specific countries. We contacted each of these countries via email and telephone and typically had lengthy discussions to ensure we understood their requirements and, where necessary, to negotiate with officials to allow for longer travel windows.
Hawaii
Spitfire entered Hawaii quarantine-free in their "5 Day or Less Quarantine" program. To qualify, pets needed two vaccinations against rabies, at least 30 days apart, and a rabies titer test. At the time we entered, we had to wait 120 days after Hawaii received the test results before Spitfire could enter, but this has since been reduced to 30 days.
We cleared in at Hilo, which was much easier with pets. The procedure for landing in Honolulu was that quarantine would meet us at the boat and transport him to the airport for release. We would have to supply a travel crate and travel separately to the airport to retrieve him. In Hilo, a government vet came to the boat to clear him in on board.
Hawaii also required a health-certificate be issued and parasite treatments given no more than 14 days before arrival. If the treatments had expired before we arrived, not unlikely when making a 2,000-mile ocean passage, we could arrange for a mobile vet to re-do them in Hawaii. The health certificate and parasite treatments we obtained in San Francisco prior to departure were still valid when we reached Hawaii after an eleven-night passage, so we didn't require this. But it would have been much easier and less expensive to arrange for a mobile vet service on board in Hilo rather than at the airport in Honolulu.
Hilo also is about 200 miles closer to San Francisco, and landing there meant we could cruise down-wind through the Hawaiian islands to Honolulu.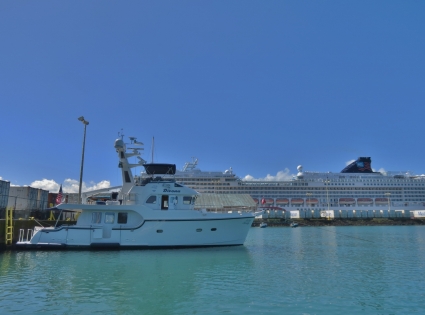 Fiji
To bring Spitfire into Fiji, even if he was kept on board, required a rabies vaccination, titer test, FVRCP vaccinations and monthly parasite treatments. We also could not visit any countries with a high incidence of rabies in the six months prior to arrival. We were able to use all the tests and paperwork results for entering Hawaii, and could administer the topical parasite treatments ourselves on board, so this wasn't much overhead.
Fiji also levied a bond of approximately $500USD to be refunded when customs sighted the pet on exit. We've heard reports that it could be difficult to "find" the appropriate customs officials to recover the deposit on exit. We used an agent for clearance into Fiji, who posted the bond on our behalf and reclaimed their funds after we'd left.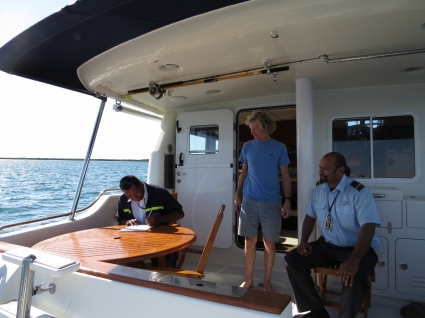 New Zealand
To enter New Zealand and qualify for their ten-day quarantine program, we needed to apply for an import permit in advance. We did this while in Hawaii before crossing the South Pacific. The process required rabies vaccinations, a titer test, and USDA endorsement of all the paperwork. We were able to use all the test results and rabies shots we'd already done to enter Hawaii, so we just needed to complete the paperwork.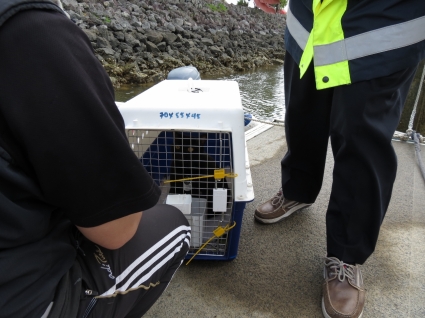 New Zealand's import process was oriented towards commercial air travel, with predetermined dates and short travel durations. We had to negotiate dispensation for travel time, as it would take us several months to reach New Zealand from Hawaii. Part of the dispensation stipulated that we only visit rabies-free countries in the interim, and they did check our passports to verify this. The other stipulation was that we have parasite treatments done and a health examination performed at our last port of call before arriving, with a government vet endorsement. We did this in Vanuatu prior to departing for New Zealand.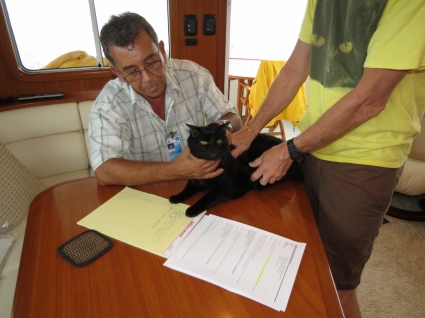 Australia
Australia has a similar import process as New Zealand. When we crossed the South Pacific in 2013, pets arriving by yacht generally required a minimum of thirty days in quarantine (this has since been reduced). Because we arrived from New Zealand, however, the process was much simpler.
To bring Spitfire from New Zealand into Australia quarantine-free, all he needed was an approved veterinarian to treat him for parasites, perform a health examination and issue a certificate documenting this within 72 hours of our departure. To qualify for this program, he must have been properly imported into New Zealand, have resided in New Zealand for at least 90 days prior to our departure, not have been in quarantine during the previous 60 days, and we had to travel non-stop directly to Australia,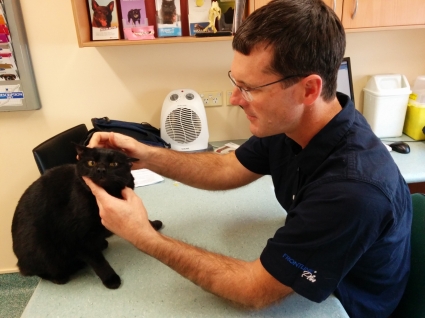 Most of the process around Spitfire dealt with import—Australia was the only country that required we formally export him. On departing Australia, we needed to have him vaccinated for rabies and other diseases, and obtain a government-endorsed international health certificate documenting this to show to subsequent countries. But the only way to get that documentation is via formal export from Australia to a specific country, required for taking any live animal out of the country. And the health certificate would only include the information required by that destination country. So we needed to select a country whose requirements we could meet and that would cover the requirements of the subsequent countries we would visit over the next year while crossing the Indian and Atlantic oceans (we chose Bermuda).
One obstacle here was that the documented process required departure from the country within 48 hours after the export certificate has been issued. This would have been logistically challenging as we were having the vaccinations and paperwork issued in Darwin, but we would be departing Australia several weeks later from Dampier, about 1,000 miles to the south. Fortunately an undocumented process allowed the actual departure from the country to be longer than 48 hours, with approval from the government vet, if we confined Spitfire aboard the entire time.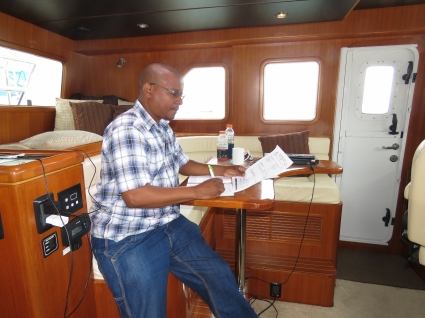 Europe
Inter-country pet transport within Europe is made considerably simpler with the EU Pet Travel Scheme. Pets can travel quarantine-free between participating countries with a Pet Passport that documents their microchip number and proof of rabies vaccination. Some countries may have additional restrictions however, and we check the requirements of each county that we plan to visit.
For example, pets can only enter the UK on approved commercial transport (except from Ireland), and pets arriving in Sweden must be explicitly declared to customs via an on-line system. The Swedish Coast Guard was one of the few border patrol organizations that asked to see Spitfire's Pet Passport when they boarded. Some countries may require additional parasite treatments or other health certificates, but we've not encountered that on our European travels thus far.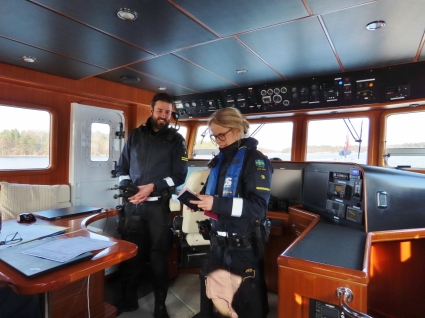 EU Pet Passports are easy to obtain, but only within the EU. The pet must first be imported into the EU and then most local vets can issue the passport with the import paperwork. The import process from the US was fairly straightforward. A local vet completed an EU Health Certificate that documented Spitfire's microchip and proof of rabies vaccination, and this document was then endorsed by the USDA. When we arrived into Ireland, a government veterinarian scanned Spitfire's microchip and endorsed the EU health certificate to approve the import. Many countries require advance notice of a pet's arrival for import—Ireland requested five days' notification before we landed.
The EU Health Certificate was valid for travel within the EU four months from the import date, so we didn't get a Pet Passport until we reached Scotland two months after landing in Ireland. But it was a straightforward process. We got a second Pet Passport later in Amsterdam, in case the first became invalid for travel due to a no-deal Brexit.
| | |
| --- | --- |
| Veterinarian in Scotland filling out Spitfire's EU Pet Passport using the Darwin rabies vaccination certificate endorsed by the Australian Department of Agriculture and the the EU Health Certificate showing proof of import. | We got a second Pet Passport later in Amsterdam, in case the first became invalid for travel due to a no-deal Brexit. |