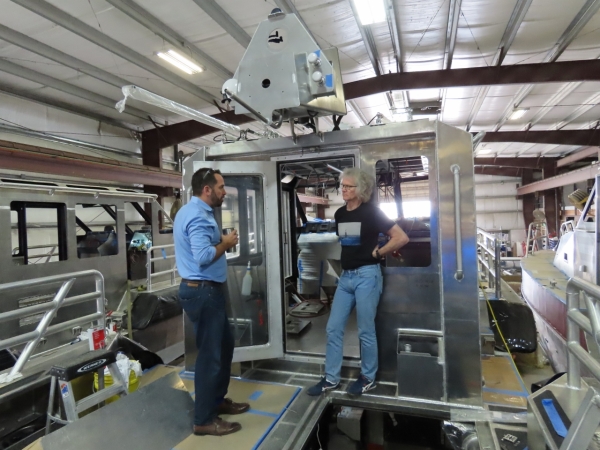 Following METS, we spent a relatively quiet week in Amsterdam, completing a few boat projects and hosting some visitors. In early December, we returned to the US for a couple of weeks where James spent a week at the AWS re:Invent conference in Las Vegas and a couple of days at the AWS data centers on the east coast. On the weekends surrounding those two stops, we attended an NFL game in Miami, toured the Metal Shark Boats shipyards in Louisiana and Alabama, and visited the National Air and Space Museum in Washington DC.
Below are highlights from November 22nd through December 22nd, 2019. Click any image for a larger view, or click the position to view the location on a map. And a live map of our current route and most recent log entries always is available at mvdirona.com/maps.
11/22/2019
Victron MK3

James investigating the Victron VE.Bus interface. We're interested in being able to remotely power on and off the

Victron 240V inverter

.
11/23/2019
Proportional Control

Today we attempted to callibrate the proportional control on our

Kar-Tech

, but couldn't get it working. So we tried callibrating the wired Steelhead pendant as a test of the proportional system. That didn't work either. (Proportional control adjusts the speed of response based on how much the trigger on the remote is pulled.)
Proportional Valve

Since we

couldn't callibrate

the proportional control on either remote, we suspected a problem with the proportional valve. Here James is wedged in at the starboard forward corner of the lazarette, behind the hydraulics reservoir (left) and the freezer (right) to replace the valve with a spare.
11/24/2019
Soul Train

City Marina is a tight squeeze for a big catamaran like Soul Train. But in this case, the boat was too wide to fit between the piers.
Adjusting Docks

The harbourmaster at City Marina in Amsterdam is an expert at fitting boats in. When

Soul Train

couldn't fit into the slip, he brought someone down with a large wrench to detach the side dock and slide it over to make space. Problem solved.
11/25/2019
Inverter Control Switch

As part of our project to remotely control the

Victron 240V inverter

, we investigated a mechanical control via the remote panel in the pilot house. Here we are able to turn the inverter on and off by directly driving the remote panel circuit board. We also were able to get status information and turn the inverter off and on by programming directly against the

Victron VE.Bus

interface.
The Chicken Club

Delicious rotisserie chicken at The Chicken Club in Amsterdam's Rokin district, a one-stop train ride from Amsterdam Centraal Station.
Kalvertstraat

Winter decorations along the shopping street Kalvertstraat.
Rokin

We love how so many Amsterdam streets have their own unique winter light displays. This is looking north along Rokin. The sign for the Rokin metro station for our train home is visible on the right.
11/26/2019
Windshield Wipers

On investigating a windshield wiper problem, the wiper arm literally fell apart in our hands due to corrosion. We're now in the market for four Exalto EX2108 adjustable length pantograph wiper arms. It's always fun to search for ten-year-old boat parts.
11/27/2019
Toscano

A great meal of Scampi and Bolognese over a bottle of Chianti at Toscano on Haarlemmerdijk.
11/29/2019
Mark Mohler

Lunch at Harlem Soul Food on Haarlemmerdijk with Mark Mohler of Nordhavn 62

Gray Matter

. We last saw Mark two years ago

in San Francisco

and it was

great

to see him again and catch up.
Mark, Caren & Alan

At City Marina in Amsterdam with, from left,

Mark Mohler

of Nordhavn 62

Gray Matter

and Alan Hannebauer and Caren Holtby of Nordhavn 57

'r Tidewalker

, based in Sydney, British Columbia. Alan and Caren were passing through on their way to Berlin and stopped by to meet on

Dirona

. We enjoyed meeting them and had a great time talking boats, travels, and Canadian trivia.
Christine and Mark

An excellent meal in great company at Mojo Japanese Kitchen overlooking the Amsterdam canals. With us are Christine Guo and Mark Mohler of Nordhavn 62

Gray Matter

who are visiting from Paris. We were first moored next to

Gray Matter

in the

San Juan Islands in 2011

and last moored adjacent in

Brisbane in 2014

. We've visited with Mark since then, but haven't seen Christine since 2015.

Since we left Seattle, Mark and Christine have taken Gray Matter from San Francisco across the Pacific to live in Brisbane for several years. Last year they moved back to the US and are based in Boston with Gray Matter moored at Charlestown Marina in Boston where Dirona was in the summer of 2016.
Het Catshuys

Spitfire checking out his new digs at the Het Catshuys, where he'll be staying for a couple of weeks while we make a trip to the US.
12/1/2019
Stadium Hotel

The view north over the pool from our room at the Stadium Hotel in Miami. We stopped here for a couple of nights en route to Las Vegas to catch a Miami Dolphins NFL football game.
Miami Dolphins

A great time watching the Miami Dolphins take on the Philadelphia Eagles. The Dolphins haven't been playing so well this year, so we weren't expecting much of a game. But the Dolphins won in a very closely-fought match.
12/2/2019
Peter DeSantis

Peter DeSantis, VP of AWS Global Infrastructure and Customer Support Vice President, on-stage in Las Vegas for Monday Night Live, the first keynote of re:Invent 2019. It was an excellent presentation focused on the infrastructure that forms the foundation for all of AWS. Peter's talk is at

Monday Night Live with Peter DeSantis

.
Cris Collinsworth

Monday Night Live

had a slight football theme this year, with Peter DeSantis wearing a Seattle Seahawks shirt and having an opening skit where Peter was a little disappointed that his talk was during the Seattle Seahawks Monday Night Football game. Throughout the talk, notable football commentator Cris Collinsworth, who is also an AWS customer, provided "play-by-play".
12/3/2019
Andy Jassy

Andy Jassy, CEO of Amazon Web Services, on the stage during his keynote at re:Invent 2019 in Las Vegas. The conference drew an astonishing 65,000 attendees this year. Andy's talk was, as always, incredibly action-packed, going through the most important of the new AWS products and services. Andy's talk is at

AWS re:Invent 2019 – Keynote with Andy Jassy

.
re:Invent House Band

The re:Invent House Band playing as part of Andy Jassy's keynote at re:Invent 2019.
12/5/2019
re:Play

Thursday night at the re:Invent after-party re:Play at the Las Vegas fairgrounds. It wasn't warm, but it was fun to move between the three live stages where bands were playing throuhgout the evening.
Jamestown Revival

Texas-based Jamestown Revival entertaining the crowd at

re:Play

2019, the re:Invent after-party.
12/6/2019
Beck

American singer-songwriter Beck on stage at Intersect, an AWS-hosted musical festival held over the weekend at the same venue as

re:Play

.
Intel Drone Show

A jellyfish drawn in the sky during the fabulous Intel Drone Light show at Intersect. The technology behind the show is quite impressive—we were lucky to be able to see the purpose-built drones and speak with the pilot and show designer. It's an innovative approach, where 500 independent drones execute a choreographed display forming and reforming shapes like the jellyfish pictured and a gigantic Intel emblem. In the normal case, the pilot actually doesn't do anything during the show and is just there as a range safety officer so that if something goes wrong, the faulty systems can be safely downed.
12/9/2019
Metal Shark Jeanerette

With our friend, Metal Shark Boats President Chris Allard, on a tour of their Jeanerette, Louisiana boat yard. If you have ever been just a bit too close to a high-value US Navy facility or in areas protected and patrolled by the US Coast Guard, there is a very good chance you will have seen a Metal Shark Boat at speed. These boats are used in coastal patrol missions in Navys, Coast Guards and law enforcement organizations world-wide.

When we visited nearly four years ago, the Jeanerette yard was in the process of completing a US Coast Guard order for 477 next-generation Response Boat—Small (RBS), one of the largest buys of its kind in the history of the USCG. They've long-ago delivered all boats in that contract, but still are building many a year for deliveries around the world. Metal Shark is becoming more well-known outside of military and law-enforcement as one of the primary suppliers for the New York City ferry system where they have delivered 150-passenger, 85-foot and 350-passenger, 97-foot high-speed catamarans.
Metal Shark Franklin

At the Metal Shark shipyard in Franklin, Louisiana. This yard went operational in the summer of 2014. Unlike the original yard in Jeanerette, this one is on the water with direct access to the Gulf of Mexico. This allows them to build boats bigger than can efficiently be moved on public roadways. Metal Shark is one of the primary suppliers for the New York City ferry system where they have delivered 150-passenger, 85-foot and 350-passenger, 97-foot high-speed catamarans.
Hull

The machinery room inside one hull of an aluminum catamaran that Metal Shark is building at the Franklin yard for a private owner. Most catamaran hulls we've seen can barely hold an engine—this one can hold most of Dirona.
12/10/2019
Metal Shark Alabama

In June of 2018, Metal Shark acquired a 35-acre shipyard north of Mobile, Alabama and is currently constructing three steel 120ft x 35ft river towboats for Florida Marine Transporters. Two of the builds are visible in the foreground.
12/11/2019
Packages

Washington, DC was the last stop on our whirlwind US trip through Miami, Las Vegas, Lafayette and Mobile. Here James was attending work meetings and a friend had accepted some packages for us that we'll bring back in our luggage. It looks like a lot to bring back, but not as bad as our

summer trips to Seattle

.
12/14/2019
Luggage

It usually seems almost impossible that we'll fit all our packages into our luggage, but the volume always decreases substantially when we upack the boxes. Here's our three large suitcases, plus a rolling carry-on for valuables or other items we don't want to check.
National Air and Space Museum

Before an early evening flight out of Washington to Amsterdam, we visited the National Air and Space Museum Steven F. Udvar-Hazy Center. Featured are an SR-71 Blackbird (pictured in foreground), the Space Shuttle Discovery (visible in background), a Concorde, the B-29 Superfortress bomber Enola Gay (delivered first atomic bomb), and an F-14 Tomcat.
12/15/2019
Back on Dirona

All our luggage made it back to Dirona with us. Time to unpack.
12/17/2019
New UPS

One of the items we brought back with us from the US was a new UPS, an

APC BE850M2

to protect the nav computer from power loss and voltage surges. The old one, a ten-year-old APC Back-UPS ES 750, had suddenly

dropped the load this August

, bringing down the computer and corrupting our on-board telemetry database. We

replaced it with a previously-used spare

(also ten years old). The replacement unit had a weak battery, but was functional. We could replace the battery, but decided to replace the entire UPS, since it's a critical component and was getting old.

Fortunately the APC UPS Daemon software we use to gather telemetry on the device was compatible with the new UPS, so the main work was just digging out the old one and replacing it with the new one.
12/19/2019
Removing Built-In Vacuum

One of the options we'd selected when purchasing

Dirona

was the standard built-in vacuum, a Nu-Tone CV350, installed port-side in the lazarette. But we haven't been very happy with it—the air-driven power head frequently rusted up or seized and we were constantly messing with it.

This July in Stockholm we bought back from the US a Shark Navigator upright vacuum as a test and have been super-impressed with the amount of dirt and dust it continually pulls up each time we vacuum. We brought a spare Shark Navigator back with us from the latest US trip, so it's now time to remove the "backup" Nu-Tone vacuum and free up the space for storage.
Spares

It's a bit unusual to have both a spare vacuum and a spare power-washer. But both are important to us and we can't buy 120V, 60Hz appliances in most of the places where we spend time. In the space left by

removing the built-in vacuum

, we were able to store the spare power-washer and vacuum that we brought back on our recent trip to the US.
Spitfire

James replaced two daisy-chained Ethernet switches with a single, 16-port all-POE switch (a

NETGEAR GS116LP

) that we brought back with us from the US. As always, Spitfire is interested in the new configuration.
12/20/2019
240V Inverter Control

A few weeks back we investigated ways to

remotely control the Victron 240V inverter

. Today we added a relay to drive the remote panel circuit board and updated our control system software to turn the inverter on and off. The inverter draws 40 watts when idle with no load, so one application of this feature is to turn the inverter off when it's not in use.
12/22/2019
Happy Holidays

Wishing you all a Happy Holidays and best wishes for the New Year from City Marina IJDok in Amsterdam.
Click the travel log icon on the left to see these locations on a map, with the complete log of our cruise.

On the map page, clicking on a camera or text icon will display a picture and/or log entry for that location, and clicking on the smaller icons along the route will display latitude, longitude and other navigation data for that location. And a live map of our current route and most recent log entries always is available at mvdirona.com/maps.