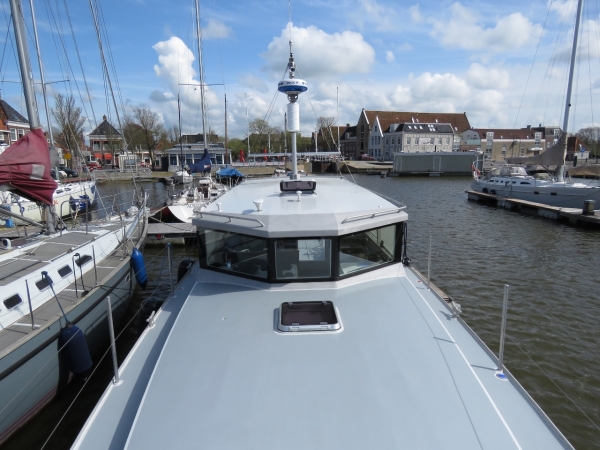 On the way to our berth at Harlingen in The Netherlands, we passed Britt, a 58-ft Artnautica. The boat shares some design features with the Dashews' FPB (FPB 781 Cochise), the most notable being it's fairly narrow for the length and features an unfinished aluminum exterior. Not long after arriving, we met Rob Westermann who owns Britt, and he invited us aboard to have a look. We love an opportunity to tour interesting boats.
The first thing noticeable when approaching Britt from the stern is the folding transom. Underway, it's a standard height transom but, at rest, it folds down creating a near wide open stern to the swim platform. When seated in the cockpit, many ocean going boats with high transoms leave you feeling kind of enclosed. Having the transom drop down, opening up the aft end of the boat, really works well.
We love eating outside so really liked Britt's cavernous cockpit and, where there is a big cockpit, there is a like-sized lazarette. It's difficult to have too much stowage space on a boat. Britt has a very big laz with ample storage space which is also where the the hydraulics for the rudder are mounted.
At the forward end of the cockpit is an entrance hatch down into the engine room through a full workshop with a tool box below the counter and enough counter space to be able to mount a vice. On the wall inside the engine room is a nicely organized DC electrical panel
Also in the engine room, the single Beta Marine 90 hp diesel is mounted with lots of space for easy service. Hydraulic stabilizers on each side use a robust, twin-actuator design that looks easy to service.
Behind the engine is small generator and outboard of the generator is a Kubola diesel boiler for a nice and toasty interior.
The interior of the Artnautica 58 features a combined pilot house (operating station), galley, and salon with another well laid-out electrical panel beside the helm. The finishing is modern and it's a great setup for two people with guests. Forward of this area is a large den or office that could also be used as a sleeping space. Forward of that is the master stateroom with double bed and fully equipped head.
From above deck, it's easy to walk forward to the windlass and and, looking back, you can see it's a nice open forward deck in front of the windows of the operating station, salon, and galley. Just behind the anchor locker at the bow is a massive storage area. It's kind of a boat version of a basement proving lots of storage space or room for more machinery.
Britt is a light design that doesn't draw much water, doesn't require much air draft, and has comfortable interior spaces. It's equally at home inland on the canals or offshore in the, often rugged, North Sea.