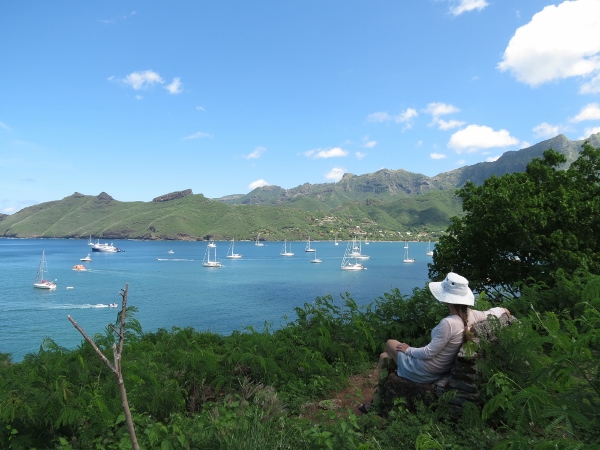 We arrived in Baie de Taihoae on Nuku Hiva, in the Marquesas Islands of French Polynesia, 31 days and 2,550 nm after leaving Honolulu (trip log map). We had stopped at Palmyra Atoll and Fanning Islands for 11 days, for a total of 20 days at sea. We left Honolulu with 2,350 gallons of diesel and consumed 1,964 gallons en route, 1,864 to the main engine and about 100 to the generator.
Conditions were mostly in our favor on the 950-mile run from Hawaii to Palmyra, but were against us on the 1,394-mile run from Fanning Island to Nuku Hiva. On that last leg, the wind blew steadily on the bow 15-25 knots, typically around 17 knots, with an opposing current of 1.0 to 2.3 knots, mostly in the 1.7-knot range. Overall, our average speed for the entire run was 5.61 nm/hour with a fuel economy of 4.13 gph or 1.36 nm/gal.
To clear into the country, we had worked with an agent, CMA CGM Papeete. This helped in several ways. First, non-EU citizens must either post a bond equivalent to return airfare home, or purchase a refundable ticket in order to enter the country by boat. CMA CGM provided a bond exemption so long as we had proof of health insurance and that the insurance would cover the costs of flying us back home in an emergency (our Divers Alert Network travel insurance was sufficient). Second, diesel fuel can be purchased duty free, but the exemption must be processed in Papeete. CMA CGM's local agent got us cleared through the day we arrived and we received our fuel exemption the day after. Third, we needed to pre-order with the local fuel dock in Taiohae for large quantaties of diesel, as they only have a 13,200 gallon capacity and we'd use 10% of their fuel. And finally, while Jennifer can speak a bit of French, having someone to help with translation was useful as well. Coralie Mante of CMA CGM Papeete was very responsive and helpful in preparing for entry, and Kevin of Yacht Services Nuku Hiva was fast, efficient, and friendly in processing us on arrival.
We took on 1,170 gallons of diesel at the fuel dock, but could have taken 1,364. They were short on fuel, so we couldn't quite fill. Tying up to the fuel dock was interesting. The fuel dock has a cement wall and the surge was substantial, so a side-tie risks damaging the boat. Instead, boats needing small amounts of fuel often ferry them by dinghy in jerry cans. Those needing larger amounts typically med-moor to the wall, where the boat is anchored and backed into the dock and tied standing a few feet off the wall. In the picture below, we've got a 75-foot line from each stern corner to a bollard ashore, and a large Aere inflatable fender protecting the swim platform. The fuel hose runs from the dock, over the swim platform and into the cockpit.