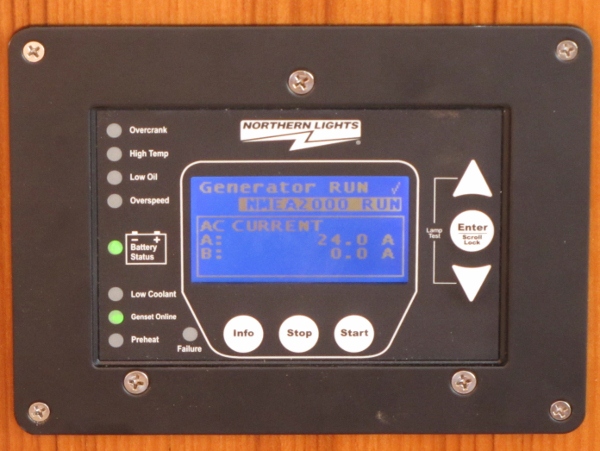 This year at the Miami Boat Show, Northern Lights announced their new Wavenet generator digital monitoring system. Wavenet was installed on Dirona a couple of months prior to the announcement in Miami to test out the gear on a busy NMEA 2000 network in real boating conditions. I was pretty impressed with Wavenet from the beginning, but sometimes that excitement fades with time or the new gear ends up being a service problem. After a half year in service, we're still as hooked as we were on the first day.
Our main engine is a full electronic John Deere 6068AFM75 and this engine makes available on the SAE J1939 bus a huge variety of information including engine RPM, coolant temperature, percent load, fuel pressure, fuel consumption rate, oil pressure, boost pressure, torque, alternator voltage, and number of hours. We use a Maretron J2k100 J1939 to NMEA 2000 gateway to get all this data delivered to boats central NMEA 2000 backbone.
We really like having all this data available and we use it constantly when underway. But we had no data available from our Lugger L844D wing engine and Northern Lights M843NW3.3 generator. Wavenet solved this problem without any adapters or other electronics, and makes available on the NMEA 2000 bus: generator output, AC voltage, line frequency, tachometer, water temp, oil pressure, alternator voltage, and engine hours.
I would have happily paid the price of Wavenet just for the generator telemetry data to NMEA 2000, but the system also includes optional remote panels that display all the data available and, in addition, support remote one-touch start/stop. Each panel is a simple, 1 wire installation. Put a tee in the NMEA 2000 cable, attach the drop cable to the Wavenet remote panel and its operational. We ended up installing three remote panels: at the electrical panel to replace the original generator control panel, another above helm, and a third in the salon. I love being able to just reach over from my seat in the salon, without getting up, and turn off the generator, or see the current output or how long it has been running.
| | |
| --- | --- |
| | |
Technically Wavenet only supports Northern Lights generators but, if you have a Lugger wing engine as many of us with Nordhavns do and you ask the folks at Northern Lights really nicely, I suspect they would be willing to offer Wavenet for your Lugger as well. Since we have hydraulic bow and stern thrusters with the wing engine providing primary hydraulic pressure, we start and stop the wing engine quite frequently. It's great to be able to reach up from the helm and press start as we approach a marina. I don't have to hold down pre-heat and then start. Just touch start on the Wavenet remote panel, it signals the on-engine control unit which takes the engine through the proper preheat and start cycle. When we are done with the wing, we just touch stop on the remote panel. It's a very nice setup for those that use the wing frequently as we do.
For safety reasons, we chose to keep the standard analog wing engine controls to ensure the engine is available even if the NMEA 2000 or Wavenet systems fail.
A side benefit of having both the wing engine and the generator controlled by Wavenet is any remote can control either engine. It turns out that I frequently turn the generator off and on with the panel that I originally installed to control the wing engine.
The three main venet wins from my perspective: 1) all engine and generator data available on NMEA 2000 bus, 2) supports remote monitoring, and 3) supports one touch remote start/stop. More on Wavenet at: http://www.northern-lights.com/PDFs/news/L575M_wavenet.pdf.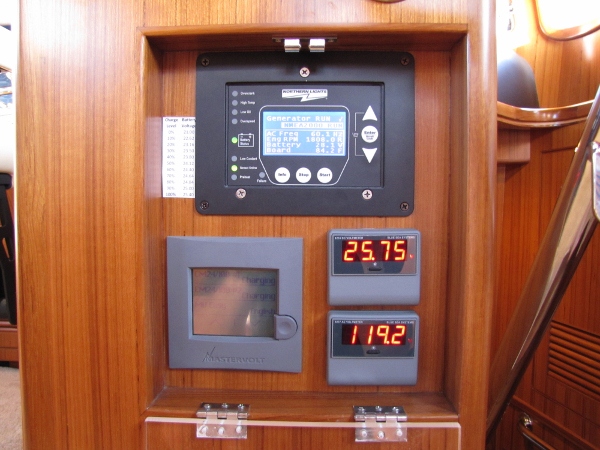 Update 2019.03.12: We continue to use use and really like the Wavenet controller but Northern Lights has replaced it with a new controller that is very similar but slightly more robust and with a few feature updates: Northern Lights Tough Series Controller.