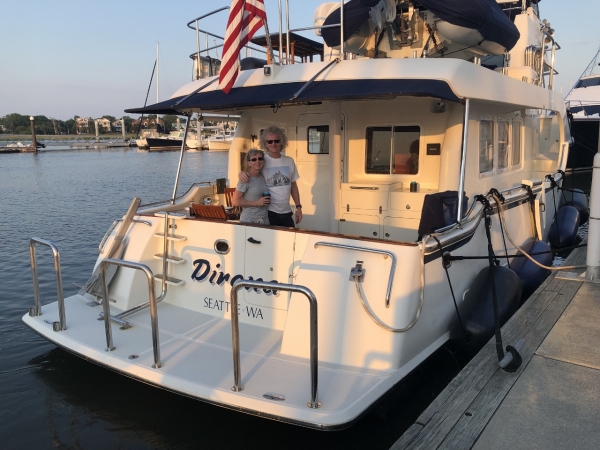 We completed the final leg of our passage from Horta to Charleston in the same conditions as we started, with light winds, calm seas and great speed. In the middle, we had two weather systems to contend with, including the first named storm of the year, tropical storm Ana. With the storms behind us, the last week at sea was enjoyable and uneventful from a weather perspective, but we did discover a problem with our main engine accessory drive belt. This required stopping the main engine and running on the wing engine briefly to replace the drive belt.
Ship traffic slowly picked up as we approached the US, and we heard our first US Coast Guard radio transmission in four years when still 300 miles out. We cleared through underway via the US Customs mobile app and were able to get our first COVID-19 vaccinations within two hours of landing. We also took Spitfire to the vet for a thorough examination, and took delivery of dozens of Amazon packages. It's great to be home.
At 2,922 nautical miles, this was our third-longest passage (compared to 3,689 nm from St. Helena to Barbados and 3,023 nm from Australia to Mauritius). We'd routed the passage to run south of the near-steady procession of intense low pressure systems flowing eastward from the US Atlantic coast. This strategy had been successful in keeping us out of dangerous weather, but did add hundreds of miles to the trip compared to a direct run.
The summary data for the passage from Horta to Charleston is:
Fuel consumed: 2,519 gallons (9,535 liters)
Fuel left on arrival: 178 gallons (674 liters)
Total distance: 2,933 nm
Overall fuel economy: 1.16 nm/g (0.31 nm/l)
Overall speed: 6.35 kts
Total travel time: 19 days, 5 hours
Fuel rate: 5.45 gal/hour (20.65 l/hour)
Average RPM: 1718
We arrived into Charleston almost a month to the day after departing Dublin. The overall statistics for the entire Atlantic crossing, from Dublin to Charleston with a two-day stop in Horta, are:
Fuel consumed: 3,670 gallons (13,892) liters)
Total distance: 4,263 nm
Overall fuel economy: 1.16 nm/gal (0.31 nm/l)
Overall speed: 6.54 kts
Total travel time: 27 days, 4 hours
Fuel rate: 5.36 gal/hour (21.31 l/hour)
Average RPM: 1723
Below are highlights from May 23rd through 27th, 2021. Click any image for a larger view, or click the position to view the location on a map. And a live map of our current route and most recent log entries always is available at mvdirona.com/maps.
5/23/2021
700 Miles

We're only 700 miles out of Charleston now, and should be there in four days.
Storm Ana

Subtropical storm Ana, the first named storm of the season, to our northeast near Bermuda. We're really glad to have put several hundred miles between us and that system. We figure it cost upwards of 500 additional miles, but from the size of that storm, worth every one of them.
7.7 Knots

Our speed has been as low as 5.5 knots in the past 12 hours, but we're currently humming along at 7.7 knots with a fuel economy of 1.13 nm/gallon. The winds are less than 5 knots and our pitch and roll is a comfortable 5.8° and 6.1° respectively.
8 Knots

We're now up to 8 knots. If we can maintain this, we'll arrive in three days (but there's absolutely no way we will maintain 8 knots.)
5/24/2021
Sunrise

We're seeing some really beautiful sunrises and sunsets on this trip.
Gas Can

We've not seen much of anything in the water on this run, but did see a gas can today.
400 Miles

Only 400 miles left to to reach Charleston. Conditions are good and we're comfortable, but we're looking forward to getting in.
5/25/2021
USCG Radio

Amazingly, we're picking up US Coast Guard radio broadcasts more than 300 miles out of Charleston.
Spring Hawk

A sudden flurry of traffic with the cargo ship Spring Hawk overtaking us from astern en route to Wilmington (bottom target), the tanker Morning Glory passing astern en route to Houston from Antwerp (top target), and the 62-ft (19m) sailing yacht Shaima en route north from the Bahamas.
JS Ineos Insight

Our next traffic sighting was also a multi-ship one, this time with two large ships passing on front and behind. The tankers JS Ineos Insight heading to Houston, TX and Yasa Golden Marmara en route to Galveston, TX.
5.8 Knots

Conditions are excellent, but we're making only 5.8 knots at 1634 RPM with a fuel economy of 1.10 nm/g, which is far below what the boat normally gets.
8.2 Knots

Conditions certainly are variable. Seven hours ago we making only 5.8 knots with a fuel economy of 1.1 nm/g, now we are doing 8.2 knots at 1895 RPM with an even better fuel economy of 1.18 nm/g, but still far below what the boat normally gets.
5/26/2021
Calm

Wonderfully calm conditions about 225 miles out of Charleston at 1am, with less than 5 knots of wind.
8.5 knots

Conditions remain excellent with only 2 knots of wind (well, excellent if you're passagemaking in a power boat :-)) and clear skies. We're making 8.5 knots at 1.19nm/gallon and expect to arrive tomorrow morning.
Under 200 miles

We're less than 200 miles from Charleston now. It's exciting to see the US coast so close on the chart.
Deadline Mode

Now that we're a day out of Charleston, we've set our "

drive to lights

" system into deadline mode to arrive at the marina at 8am. Instead of indicating we should speed up or slow down based on a fuel economy goal, the system now guides us to arrive on at 8am.
Celery

The last of our celery with shrimp salad pita pockets for lunch today. It's amazingly fresh for being purchased in Dublin five weeks ago.
Hidden Failure

In a great example of one failure hiding another, we both noticed some black dust around the front of the engine and both assumed it was due to the

exhaust leak

. But when bigger pieces such as the long narrow one roughly at center started showing up, we noticed it, picked it up, and found that it was rubber rather than soot. If it weren't for that larger piece, we might not have noticed. The rubber is obviously from the main engine accessory drive belt.
Running on Wing

To check on the main engine accessory drive belt, we need to stop the main engine and run on the wing. With only had 20 hours of run time left to reach Charleston, it would be easy to just hope that the belt could hang on that long and not go to work on the 180°F main engine in the 117°F engine room. But if the belt breaks, coolant stops flowing and the engine overheats very quickly and it's possible to do serious damage before an operator acts on it because it happens so quickly. So we started up the wing and shut down the main to investigate. The wing tachometer is visible, showing 2342 RPM, below the main engine tachometer.
Belt Separating

It's a good thing we did check on main engine accessory drive belt condition. It was in rough shape.
Belt from Top

Another view to the main engine belt from the top. It's in astoundingly poor shape. None of the idlers appear to have bearing problems, but there's no way a belt this new should fail. We only have a used belt in stock, since we just changed this one. We've got a couple of more belts on order, but we need to investigate what caused this failure in more detail. It's possible that a new belt stored 12 years could break down, so it's conceivable that its just a belt failure, but we won't conclude that until we check everything else carefully.
Used Belt

We don't have a new belt in stock, so we put the best used belt back on. It's in very good condition and should last well. We'll watch closely to see if there's any signs of wear, and we've got a couple of belts on order. Once we get those, we'll put a new belt on and very carefully check for any sources of problems.
Spare Cat

We found another "

spare cat

" underneath the master stateroom berth where we stow the spare main engine accessory drive belts.
Gulf Stream

About to cross the Gulf Stream on our final night before arriving into Charleston. All the PredictWind-recommended tracks angle slightly north of the direct path as we cross the current.
Spearhead-Class

A US Navy Spearhead-class high-speed catamaran heading south at speed against the Gulf Stream. Most boats would run outside the main stream, but they're not paying the fuel bill, so 17-knots upstream it is :-).
Grey Water Sensor

Our grey water tank sensor was tangled in hair and not reading properly. We cleaned it up and it's now functioning properly again. The grey water sensor seems to hang up every 4-6 months.
100 Miles

We just crossed under 100 miles left to go and are seeing lot of traffic, likely fishing boats.
Watermaker

Dirona's water maker is equipped with a media filter (essentially a small sand filter similar to those used for swimming pools) prior to the pre-filter. This has the upside of allowing our media filters to last an entire year, and we just have to backflush the media filter every couple of months. It's due today and so it's being back-flushed overboard. the slight color visible in the water means it's not quite clean yet.
3.7 Knots

We initially were doing over 7 knots as we entered the Gulf Stream, but now have slowed to a crawl at 3.7 knots. Fighting the Gulf Stream is slow work.
5/27/2021
Q Flag

Raising our Q flag as we approach the US coast to indicate we require clearance. This is the first time since 2016 that we've raised a Q flag without another country's flag as well.
7.9 Knots

Our speed picked back up once we escaped the Gulf Stream and we're now doing 7.9 knots in the flood current.
ROAM

Reporting our arrival through ROAM (Reporting Offsite Arrival—Mobile), the US Customs and Border Patrol reporting app.
Welcome

Conversing with the skipper of another pleasure craft who radioed to welcome us home.
Clearing Through

Normally US Customs would clear us through via a video conference using the ROAM app, but it wasn't fully functioning that day. They instead interviewed us by phone and we're now cleared in.
Empty Fridge

A very empty fridge, especially compared to how

full

it was when we departed Dublin a month earlier.
Pilot

Charleston pilot boat heading to sea. We're seeing a ton of traffic now, mostly pleasure craft, as we near Charleston.
Fort Sumter

Flag-raising at Fort Sumter, where in 1861 confederate soldiers fired the first shots of the American Civil War on the Union-held fort and captured it the next day.
Arthur Ravenel Jr. Bridge

The cable-stayed towers of the the Arthur Ravenel Jr. Bridge. The bridge opened in 2005 and at 1,546 feet (471 m) is the third longest cable-stayed bridge in the Western Hemisphere.
Safe Harbor Charleston

Approaching the Safe Harbor Charleston marina, our home for the next few weeks.
Back in US

We're definitely back in the US—nowhere else in the world have we seen center-consoles with such massive horsepower. This boat has 3,135 HP from its 5 V8 engines.
Vaccinations

Getting our first COVID-19 vaccinations within 2 hours of landing. It's great to have that process finally underway.
Vet

Spitfire having his blood pressure checked at Charleston Harbor Veterinarians via a cuff on his tail. He's been having trouble with his hind legs collapsing, so we took him in for a full examination and bloodwork. We suspected possible low potassium levels, a common problem for cats with kidney disease, but all his blood readings were close to normal. He's still playful, and gets around fine, but he's getting a lot more cautious since sometimes his legs let go.
Wortham House

Passing the garden at Wortham House on our way back from the vet. The

striking property

is listed in the Garden Conservatory of America's top 50 American Gardens.
Flying Fish

We found one more flying fish in the cockpit as we set out the table.
Amazon Packages

We had a lot of Amazon packages waiting for us at Safe Harbour Charleston. Here we are returning to Dirona with our first load.
Second Load

Our second load of Amazon packages.
Last Load

The final load of packages for the day. We've got lots more coming over the next few days though. It's great to be back in the land of 2-day and overnight shipping.
Charleston

Enjoying our first evening back in the US at Charleston after a big day of clearing through, getting vaccinated, taking Spitfire to the vet and unpacking dozens of Amazon boxes. Picture courtesy of Nordhavn 41-11 owners Pierce and Janet Guyer, who stopped by to welcome us home.
Click the travel log icon on the left to see these locations on a map, with the complete log of our cruise.

On the map page, clicking on a camera or text icon will display a picture and/or log entry for that location, and clicking on the smaller icons along the route will display latitude, longitude and other navigation data for that location. And a live map of our current route and most recent log entries always is available at mvdirona.com/maps.