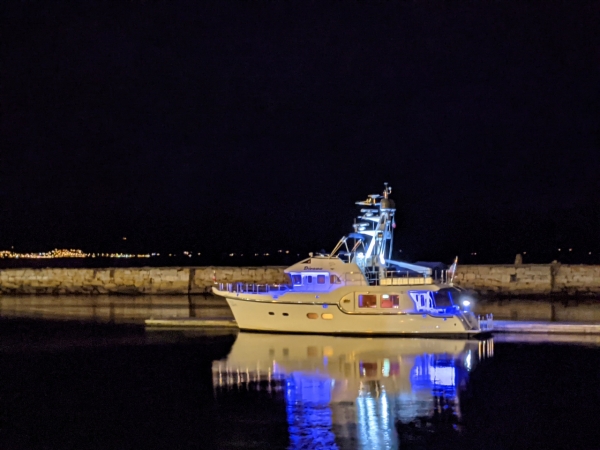 Dirona spent five weeks in Trondheim in 2018 as part our making of a trip back to the US, and we really enjoyed Norway's third-largest city with its university-town vibe. We were on our way south during our previous visit, and this would be our turn-around point on our second Norwegian cruise. Although we didn't spend long in Trondheim on our return visit, it was great to be back. We would have loved to stop into some of the great restaurants and bars we'd visited last time, but our next restaurant visit won't be for quite some time still.
Below are highlights from December 20th and 21st, 2020. Click any image for a larger view, or click the position to view the location on a map. And a live map of our current route and most recent log entries always is available at mvdirona.com/maps.
12/20/2020
Skansen Berth

Our berth in the Skansen guest harbour in Trondheim with one 16-amp shorepower available.
Skansen Views

Views from our berth in the Skansen guest harbour at Trondheim (clockwise from top left: forward, aft, starboard and port).
Web Cam

Blog reader Michel sent us a link to a Trondheim web cam showing Dirona moored at the Skansen guest harbour with the city in the background.
Oil Disposal

We've built about 13 gallons (50L) of waste oil since Stornoway. Trondheim has a convenient disposal station at the head of the dock.
Garbage

In addition to disposing of waste oil, we also emptied our garbage in Trondheim.
Dusk

Dusk in Trondheim at 3:40pm, viewed from our berth in the Skanse guest harbour. We're two days from shortest day of the year in Trondheim with only 4.5 hours of daylight. The sun rose at 10:02am and set at 2:32pm
Ferry Terminal

Pirbadet, Norway's largest indoor water park, aglow at night with the new Brattora marina in the foreground.
Sculpture

Sculpture along the Trondheim waterfront made in form of oversized cup anenometers that spin in the wind.
Roft

We ate at Roft on our last visit and would very much like to stop in again. But our next restaurant visit won't be for quite some time still.
Kanalhavn

Looking down Kanalhavn, Trondheim's inner canal, where we stayed for a month on our

previous visit

in 2018. We didn't want to deal with a time-restricted railway bridge opening this time around, so stayed outside in Skansen instead.
Skansen Bridge

Walking under the Skansen railway bridge in Trondheim back to

Dirona

. This is the bridge we'd need to pass through to reach the inner berths in

Kanalhavn

.
12/21/2020
Dirona

Dirona moored at Skansen guest harbour in Trondheim. It's 7:30am, but the sun won't be up for three more hours.
Njord

The Kystvakt (Coast Guard) vessel Njord arrived last night opposite our berth at Skansen.
Holiday Display

Holiday light display at Stiftsgardsparken in Trondheim as we walk to Avis to pickup a rental car.
Avis

At Avis in Trondheim to pickup a rental car to make another

road trip to Sweden

. As an EU citizen and accompanying family member, we can stay in the Schengen immigration area for an unlimited time period. But we can't stay longer than 90 days in Norway, and most other Schengen countries, without registering as residents. We've decided not to do that, and instead exit the country briefly to Sweden.

This trip will be a lot faster than the 400-mile (650km) road trip to Torsby, Sweden from Bergen, as Trondheim is only 65 miles (104km) from Storlein, Sweden.
Vaeretunnelen

Passing through the 1-mile 1.6 km Vaeretunnelen outside Trondheim.
In Hell

We are now in Hell, and it doesn't look so bad. The word means prosperity in Norwegian and is the name of the town next to the Trondheim airport.
Border Check

We didn't pass any border checks on our last trip to Sweden, but a few miles from the border the police were stopping westbound vehicles. We weren't expecting to have any problems returning back to Norway, but it did make us a bit nervous.
Border

About to cross the border from Norway into Sweden. Unlike our previous crossing, this border was much more obvious.
Sweden

As usual, there were no checks on the border from Norway to Sweden, and we are now are in another country. It still seems so strange not to have a passport check when crossing a country border.
Customs Border

After purchasing gasoline in Sweden to document we'd been out of the country, we returned back to Norway. Since both countries are in the Schengen immigration zone, no immigration checks are required when crossing the border. But those with goods to declare need to handle that here.
Returning to Norway

Approaching the police checkpoint on our return to Norway. They are checking for COVID-19 compliance.
Ice and Snow

Enjoying the Norwegian ice and snow now that we're safely back in country.
Norwegian Customs

As we were approaching Meraker, this car suddenly appeared behind us with police lights flashing. We'd been pretty careful with our speed, but must not have been paying attention in this section. But it wasn't police, it was Norwegian Customs checking that we weren't smuggling goods back in from Sweden. As soon as they were satisfied we hadn't done any shopping, we were back underway.
Offloading

A truck was offloading at the commercial docks opposite Skansen guest harbour when we returned. With the top and side of the trailer lifted out of the way, a forklift can easily pick up the pallets inside.
Click the travel log icon on the left to see these locations on a map, with the complete log of our cruise.

On the map page, clicking on a camera or text icon will display a picture and/or log entry for that location, and clicking on the smaller icons along the route will display latitude, longitude and other navigation data for that location. And a live map of our current route and most recent log entries always is available at mvdirona.com/maps.