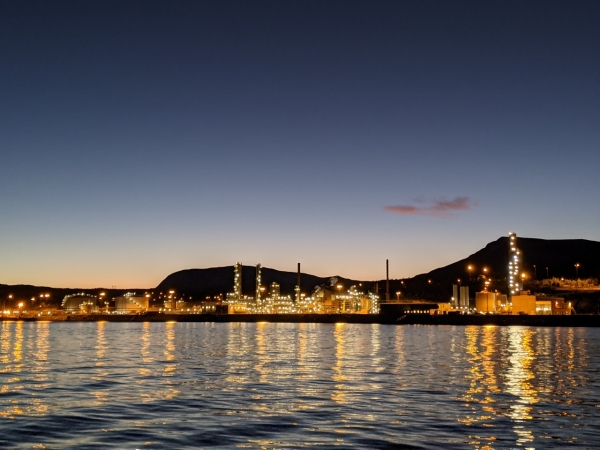 From Atlanterhavsvegen, we traveled 117 miles north towards Trondheim in five short runs. Conditions were surprisingly calm each day, and we enjoyed beautiful light reflections during our morning runs in the dark and evening happy hour in the cockpit, and also some spectacular sunsets.
Below are highlights from December 15th to 19th, 2020. Click any image for a larger view, or click the position to view the location on a map. And a live map of our current route and most recent log entries always is available at mvdirona.com/maps.
12/15/2020
Window Washing

Washing the salt off the pilot house windows shortly after departing the anchorage off Karvag.
Bergsoya Anchorage

Our anchorage off the island of Bergsoya in Kvernesfjordenin in 75 ft (23m) on 275 ft (84m) of rode. The anchorage is completely exposed to the southwest, but we expect only light winds from the northeast for the next couple of days.
Sandnestindan

View southwest to 2,923-ft (891m) Sandnestindan from the anchorage at Bergsoya.
12/16/2020
Vaagland Batbyggeri

The

Vaagland Batbyggeri

in Skalvikfjorden, one of the many Norwegian shipyards, builds steel fishing vessels and other work boats for local and international customers. Most recent was the 203-ft (62m) fishing vessel

Gier

.
Skalvikfjorden Anchorage

Our anchorage at Skalvikfjorden in 65 ft (20m) on 250 ft (76m) of rode.
Happy Hour

With a calm evening, we had happy hour on the bow to view the shoreside lights.
12/17/2020
Bow Watch

Bow watch passing through the shallows in Lesundet. With 8ft of tide, we saw a minimum depth of 16 ft.
Mellandsvagen Anchorage

Our anchorage in 34 ft (10 m) on 175 ft (53 m) of rode off the Mellandsvagen Nature Reserve, protected in 1988 due to its importance for migratory birds.
Warning Buzzer

The wing engine low oil and high temp warning buzzer has rarely just gently buzzed since new. When it was new it almost never happened but it's been getting more frequent and is becoming annoying, so we decided to investigate today.
Wing Wiring

While investigating the wing oil pressure and temperatures

warning buzzer

sometimes just barely triggering, we found an overheating butt connection at the alternator. This is almost certainly unrelated to the warning buzzer problem but we replaced the wire and terminations. The warning buzzer hasn't triggered since, but it's an intermittent issue and we suspect that this wiring problem isn't related.
12/18/2020
Equinor Tjeldbergodden

Petroleum processing plant at the Equinor Tjeldbergodden industrial facility aglow in the early morning.
Bystingsholmen Anchorage

Our anchorage of the island of Bystingsholmen off Trondheimsleia in 58 ft (18 m) on 200 ft (61 m) of rode.
Sewage Odor

We've been noticing an occasional sewage odor in the guest stateroom, and suspected an open anti-siphon valve. The anti-siphon hosing for the guest stateroom head and the blackwater tank is located behind the starboard guest stateroom locker, so here we have emptied the locker and removed the shelves for access.
Anti-Siphon Hoses

The anti-siphon hoses for the guest stateroom head and the black water tank, behind the starboard guest stateroom locker. These aren't that easy to gain access to, but this is only the second time in eleven years.
Anti-Siphon Valves

As suspected, the anti-siphon valve for the guest stateroom head (bottom) had hardened and was leaking, producing the sewage smell. We replaced it with a spare and that resolved the problem.
Happiness Is

… a warm engine. Spitfire loves sleeping on the tray above the engine after we've just been underway.
12/19/2020
Lensvikbukta

Approaching Lensvikbukta, 20 miles out of Trondheim, our intended anchorage for the night.
Lensvikbukta Anchorage

Our anchorage in Lensvikbukta (Lensvik Bay) in 110 ft (34m) on 315 ft (96 m) of rode.
Dirona

Mari Elin sent us this photo of Dirona anchored in Lensvikbukta, 20 miles out of Trondheim.
Click the travel log icon on the left to see these locations on a map, with the complete log of our cruise.

On the map page, clicking on a camera or text icon will display a picture and/or log entry for that location, and clicking on the smaller icons along the route will display latitude, longitude and other navigation data for that location. And a live map of our current route and most recent log entries always is available at mvdirona.com/maps.