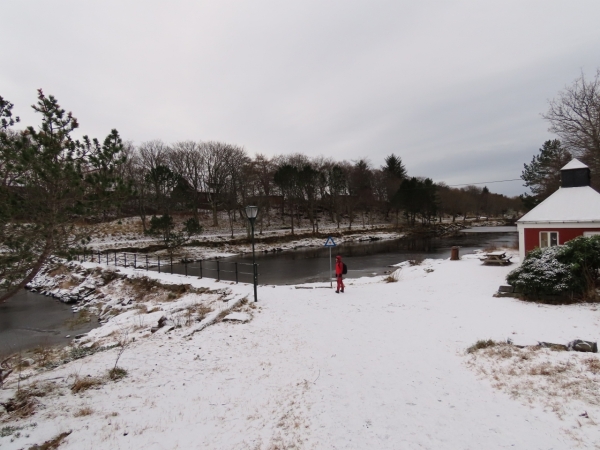 After heading south from Trondheim, we made two brief stops before spending Christmas Eve and Day in Kristiansund. We walked through town on Christmas Eve, including a pass through the Mellemvaerftet shipbuilding museum, and woke up on Christmas Day to a beautiful snowfall. That morning we made an extensive tour of the area by tender, then walked through Kringsja Park in the afternoon. Kringsja is full of lakes, beautifully-constructed raised walking paths and ocean views, and with the day's snowfall was a wonderful place for a Christmas Day walk.
Below are highlights from December 22nd through 25th, 2020. Click any image for a larger view, or click the position to view the location on a map. And a live map of our current route and most recent log entries always is available at mvdirona.com/maps.
12/22/2020
Skansen Lighthouse

Passing the Skansen Lighthouse as we depart Trondheim after a successful mission to Sweden.
Blackwater Tank

Over the last year, our black water tank is no long able to pump down to the bottom. It's not a big problem, in there is still plenty of capacity in the tank, but we decided to investigate it today. We removed the tank level sensor, cleaned it up, and it is reading fine. So that isn't the problem.
Boat Yoga

The blackwater pump is in a particularly difficult to access location, but the good news is that before today we've never had to. Upon investigation, the pump is working fine, but since it has been 11 years, we replaced the valves while we were there. Our current working theory is the in-tank pickup pipe is corroded through, leaking air, and no longer allows pumping to the bottom. That will be difficult to correct. The system remains operational, so we're not sure when we'll get to that one.
Valslagvagen Anchorage

Our anchorage in sheltered Valslagvagen in 43 ft (13m) on 180 ft (55m) of rode. The shallow entrance to the the bay takes care to navigate, but is well-marked.
Visitors

Local residents from the nearby fishing resort came by to wish us Merry Christmas and deliver a welcome gift of seasonal treats.
Treats

The local residents dropped of a wonderful selection of delicious home-baked treats, plus fruit, chocolate and bottle of German liqueur. We were really impressed at their thoughtfulness and generosity.
12/23/2020
Ulvsnestangan Bridge

Passing under the Ulvsnestangan Bridge as we head south from Valslagvagen.
Stokkbukta Anchorage

Our anchorage in Stokkbukta in 67 ft (20 m) on 250 ft (76m) of rode.
12/24/2020
Omsund Bridge

Approaching the Omsund Bridge across the the strait Omsundet as we near Kristiansund.
Apartments

Waterside apartments in Kristiansund aglow with holiday lights.
Kristiansund Anchorage

Our anchorage in Kristiansund Harbour in 77 ft (23 m) on 225 ft (69m) of rode. It's a fabulous spot with holiday lights all around.
God Jul

"God Jul" (Merry Christmas) sign in the hill above Kristiansund to our southeast.
Kaibakken

Christmas tree at the bottom of the light-decorated street Kaibakken, viewed from our anchorage in Kristiansund harbour.
North Web Cam

Dirona

on the

Radhuset

web cam, sent to us from German blog reader Ulrich Sonneborn. The view is from west to east, with the harbour ferry just coming onto the dock at the bottom of Kaibakken.
Boat Wash

It's Christmas Eve in Kristiansund and the crew of the Gaso Jarl are out washing their boat. Norwegians take their ship maintenance very seriously.
Terningen

The fast ferry Terningen arriving into Kristiansund. We've seen that ship a lot recently. This will be their last trip before the Christmas holiday.
Kristiansund Berth

Kristiansund harbour is marked as an anchorage on our charts, but after a few hours at anchor, the harbour authority said it wasn't allowed and asked us to move. They found a berth for us a little to the north (at the top of the chartplotter screenshot), still with great views into the harbour. We don't have power or water here, but we didn't at anchor either.
Klippfiskkjerringa

A sculpture of Kristiansund's symbol, Klippfiskkjerringa (fish-wife), at the foot of Kaibakken.
Maintenance Hole Cover

Kristiansund's symbol, Klippfiskkjerringa, is on most of the maintenance hole covers in town.
Pullers

This commercial marine supply store in Kristiansund had an astonishing variety of pullers on display. The next window showed a similar variety of wrenches of all shapes and sizes.
Dirona

View to our berth in Kristiansund alongside a barge, with the tender tied of on our starboard aft quarter. We'd already launched it at anchor, so just secured it there to move to the berth.
Mines

During the World War II occupation of Norway, the Nazis had a base at Kristiansund and heavily mined the surrounding waters. After Germany surrendered, those soldiers remaining were forced to clear those mines. These three mines outside the ferry terminal in Kristiansund likely are from that effort.
Anchors

Kristiansund is a major supplier to the offshore oil industry. This yard had literally dozens of brand new 4,400-pound (2,000kg) oil rig anchors.
Kranskjaeret

The marina Kranskjaeret in the Kristainsund inner harbour just north of our berth. We could have gone there, but we prefer the harbour view where we are.
Thomas Fearnley

The former Redningsselskapet (Rescue Society) ship

Thomas Fearnley

at Mellemvaerftet, Norway's only working shipbuilding museum. The vessel was built in 1938 and the RS sold it in 1967.
Mellemvaerftet

One of several outdoor displays on traditional shipbuilding at the Mellemvaerftet shipbuilding museum in Kristainsund.
Kristiansund

Kristiansund aglow with holiday lights during a Christmas Eve Happy Hour, with a holiday star in the hills at upper left.
12/25/2020
Christmas Snow

Snowfall Christmas morning. We're really enjoying our winter in Norway.
Ocean Pride

The offshore supply ship Ocean Pride, viewed on a Christmas Day tender tour of the Kristiansund area.
Kristiansund Base

Looking way down Bremsnesfjorden to an oil rig moored at the docks of

Kristiansund Base

, a multi-purpose base and a oil-industry supply specialist.
Sub Sea Services

What appears to be undersea pipeline stacked outside

Sub Sea Services

near Kristainsund. The company specializes in drilling, production vessels and subsea applications.
Ocean Art

The distinctively-painted offshore supply vessel Ocean Art moored at Kristainsund.
Tender

Bundled up for a Christmas Day tender ride around the island of Nordlandet in Kristiansund.
Skala

Beautiful aluminum footbridge across a surge channel to the islet Skala at the eastern tip of Nordlandet.
Torpedo Battery Nordlandet

Ruins of Torpedo Battery Nordlandet on the eastern tip of the island. Built to protect the entrance to Kristainsund, this was one of nine torpedo batteries the occupying Germans constructed along the Norwegian coast during World War II.
Skarven

Ferry crossing Korndesfjorden with snowy 2,939-ft (896m) Skarven in the background, viewed from eastern tip of Nordlandet.
Anna's Footsteps

Portion of a cliff-side trail to the Kvitnesset lighthouse at the northeast end of Nordlandet. The trail is named "Anna's Footsteps" after a former lighthouse keeper. Visible near the cliff wall are rock climbing ropes.
View Homes

Modern view homes perched on the cliffs on the northeast side of Nordlandet.
Abyss

Kristiansund-based

Abyss

operates one of Norway's largest fleets of work boats, ROV and diving/service vessels. They provide above and below the water service in the oil, aquaculture, and sea contractor industries.
Dunkarsundet Marina

Snow-dusted launch ramp at the Dunkarsundet Marina.
Kvernberget

The 446-ft (204m) mountain Kvernberget on Nordlandet is the highest in the Kristiansund area, and a popular day hike for its great views. The mountain also contains a drinking water reservoir. We're not sure what this distinctive-looking structure is, likely it is related to the water reservoir.

Update: Blog reader Ron Hellmann tells us this is a VHF Omnidirectional Radio Range (VOR), an aircraft navigation system operating in the VHF band.
Divers

Returning to Kristainsund harbor we were surprised to see about a dozen recreational divers in the channel, marked with orange floats.
Erik Bye

The 67-ft (20.4 m) Redningsselskapet (rescue service) ship Erik Bye, named after the 20th-century Norwegian artist.
Warehouse

Brightly-painted traditional warehouse along the Kristiansund waterfront. It's hard to date this building, but much of Kristainsund was destroyed in World War II bombing.
Slippery

Walking up a slippery snow-covered road in Kristiansund. Most of the vehicles have studded-tires or at least winter tires, and seem to have little problem with these roads that we're even having trouble walking on.
Kirkelandet Church

Kirkelandet Church was considered one of the most daring modern church buildings in the country when completed in 1964, and was nominated for Norway's "Building of the Century 1905-2005". Architect Odd Ostbye broke with traditional church architecture in this modern replacement for the earlier Nordlandet Church that was destroyed during German World War II bombing.
Carl Gustaf Backstrom

Memorial to Kristiansund city engineer Carl Gustaf Backstrom at Vanndamman Park.
Vanndamman Park

The lakes at Vanndamman Park once provided the water supply for Kristiansund and form part of a popular and extensive park area called Kringsja. It was an ideal setting for a Christmas Day walk.
Varden Watchtower

The old Varden Watchtower on the hill of the same name has 360° views to sea and Kristiansund. The tower was used between 1742 and 1892 to look for enemy activity in times of war and for ship's pilots to see ships during times of peace.
Varden

View to sea from the hill Varden in Kringsja Park. Even better views can be had from the tower, but it was closed, likely due to the pandemic.
Kringsja Park

Kringsja Park in Kristiansund is full of beautifully-constructed raised walking paths. It was a real treat to be walking along them in the snow on Christmas Day.
Havstien

Walking right along the coast along the trail Havstein (The Sea Path) in Kristiansund's Kringsja Park.
Evening Lights

Evening lights reflecting into the lakes in Vanndamman Park as we loop back to Dirona. We really enjoyed our Christmas Day walk.
Festiviteten

Kristiansund's dramatic theater building, Festiviteten, was built in 1914 and is home to Norway's oldest opera company.
Click the travel log icon on the left to see these locations on a map, with the complete log of our cruise.

On the map page, clicking on a camera or text icon will display a picture and/or log entry for that location, and clicking on the smaller icons along the route will display latitude, longitude and other navigation data for that location. And a live map of our current route and most recent log entries always is available at mvdirona.com/maps.