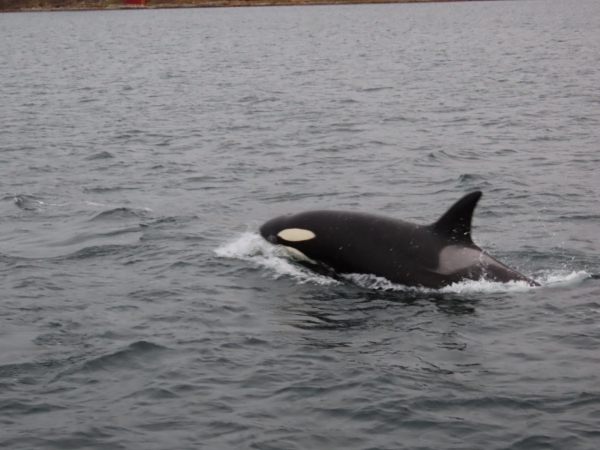 At 46 nautical miles long, Romsdalsfjorden is the ninth-longest fjord in Norway. The fjord forks into three main branches at the island of Veoya, once the main medieval trading center between Trondheim and Bergen where the 12th-century Medieval Church of St. Peter still stands. The three main branches stretch past the towns of Molde along Moldefjorden, Andalsnes at the head of Isfjorden, and Eresfjord at the head of Langfjorden. All are popular tourist destinations for their spectacular natural beauty.
We spent several days in Andalsnes on our 2018 Norwegian cruise, and this year returned to explore the rest of Romsdalsfjorden. After heading south from Kristiansund (tk add link), we first spent a night at Fraenfjorden, where we sighted a pod of Orcas and enjoyed the spectacular scenery. Orcas are common in the Pacific Northwest, but we've not seen many since leaving Seattle. We then spent two days completing our exploration of Romsdalsfjorden, anchoring at the heads of Moldefjorden and Langfjorden and exploring each area extensively in the tender.
Below are highlights from December 26th to 28th, 2020. Click any image for a larger view, or click the position to view the location on a map. And a live map of our current route and most recent log entries always is available at mvdirona.com/maps.
12/26/2020
Pitch & Roll

The winds have settled after blowing strongly for the past couple of days. The seas still are reasonably choppy though, and we're pitching 13.7° and rolling 8.8° as we pass through a short section coast that is exposed to the North Sea.
Storsundet

Waves crashing into the shore as we turn into more sheltered waters at Storsundet.
Orca

A small pod of Orcas were feeding in Fraenfjorden as we passed through.

Orcas are common

in the Pacific Northwest, but we've not seen many since leaving Seattle.
Fraenfjorden Anchorage

Our anchorage in Fraenfjorden in 54 ft (16 m) on 225 ft (69 m) of rode.
Dirona

Dirona anchored in Fraenfjorden with the dramatic peaks of 2,995-ft (913m) Talstadhesten and 2,936-ft (895m) Stordalstinden in the background.
Eagle

Eagle perched in a tree along Fraenfjorden. We've seen quite a few on this visit to Norway.
Vagoy Church

Vagoy Church, completed in 1914 on a site where a church has stood since at least 1412.
Noise Level

Noise level reading at Omya Hustadmarmor in Fraenfjorden. Presumably the local jurisdiction restricts noise in their loading area, or they've set internal company goals. The plant is a major international producer of lime-based coatings for the paper industry.
Omya

Beautiful metal sign outside the Oyma Hustadmarmor offices. Oyma is a Swiss-based company that owns industrial minerals plants around the world.
Spitfire

Spitfire is always on the lookout for new places to sleep, particularly in the warm engine room. Here he's found a spot in the forward port alcove above the fuel filters.
Dusk

View to the snow-capped peaks Talstadhesten and Stordalstinden from our anchorage in Fraenfjorden.
12/27/2020
Molde

The bright lights of Molde as we enter Fannefjord shortly before 8am. This is a busy ferry area, with many routes crossing our planned path. We had to pay close attention, particularly for high-speed craft, as we passed through.
Oltervagen Anchorage

Our anchorage in Oltervagen at the head of Fannefjord in 42 ft (13 m) on 175 ft (53 m) of rode.
Boat Sheds

Colorful boat sheds along Osen, the basin south of our anchorage in Oltervagen.
More Ice

Ice also was forming at the head of Oltervagen. Here ice is visible in foreground of this picture looking out from the head towards our anchorage.
12/28/2020
Radar

The Bolsoysundet Bridge shows up clearly on our radar as we approach shortly after 6am.
Bolsoysundet Bridge

Approaching the Bolsoysundet Bridge. The clearance is 52 ft (16m), plenty for our 30-ft (9.1m) air draft, but it looks a lot closer at night. We always verify clearances that look remotely close with a

Nikon Forestry Pro Laser Rangefinder

.
Moonrise

Moonrise over Molde behind us as we approach the Bolsoysundet Bridge.
Vistdal Anchorage

Our anchorage off the town of Vistdal in Langfjorden in 120 ft (37 m) on 400 ft (122 m) of rode.
Prestaksia

The snow-dustd peaks 1,998-ft (609m) peak Prestaksia (foreground) and 1,640-ft (500m) Langfjellet.
Eresfjorden

Mountain views at the head of Eresfjorden, a branch of Langfjorden, viewed on a tender tour of the area.
Langford Lodge

River rock breakwater matching the buildings at the Langford Lodge in Langfjorden.
Click the travel log icon on the left to see these locations on a map, with the complete log of our cruise.

On the map page, clicking on a camera or text icon will display a picture and/or log entry for that location, and clicking on the smaller icons along the route will display latitude, longitude and other navigation data for that location. And a live map of our current route and most recent log entries always is available at mvdirona.com/maps.