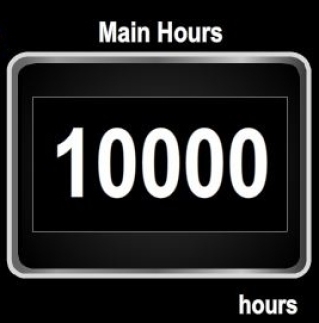 It's hard to believe, but our "new" John Deere 6068AFM75 is now nearly 9 years old, has been around the world, and has now clocked up over 10,000 engine hours:
Hours: 10075.1
Nautical miles traveled: 69,187
Fuel burn: 59,257.4 gallons
Load factor: 44.2%
Longest ocean crossing: 3,689 nautical miles (St. Helena to Barbados)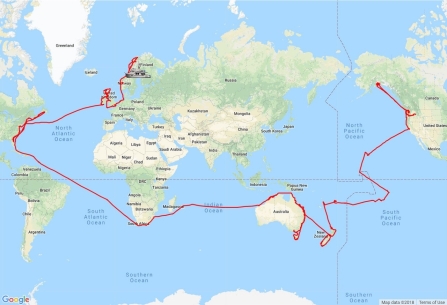 Over the last six years, we've seen a lot of the world and currently are exploring Norway. Our Deere has never failed to start and, more importantly, it's never stopped when we were using it. Nothing makes you respect an engine more than being 1,000 nautical miles off shore in a single-engine boat. This engine has been simply amazing.
What powers Dirona is a single John Deere Marine 6068AFM75 M2 at the M2 rating. This rating produces 266 hp and targets usage of 3,000 hours/year where the engine will run at full-rated output no more than 16 hours in 24 with load factors of 65% (of max rated output). If you include all running time such as warm up, cool down, idling in marinas, high output coastal runs, and low output ocean crossings, we average 44.2% of full rated output which is actually fairly high for a long distance passage maker.
This marine engine is available in both Tier II and Tier III emission compliance configurations at the same ratings and power output levels. Where big differences show up is in the efficiencies of the two engines: the Tier II engine is 15% more efficient at rated output than the Tier III. We're lucky that when Dirona was built the Tier III wasn't yet required, so we get what is essentially a "free" 15% more range.
Maintenance
We track everything that has been done on the engine whether it's maintenance or repair. Let's look at maintenance first:
Oil & filter changes: 36
Most oil changes in a single year: 6 (both 2015 & 2016)
Primary fuel filters changes: 26
Secondary fuel filter changes: 10
Valve adjustments: 5
Harmonic Balancer Change: 1 (8,000 hour change interval)
Accessory drive belt replacements: 3
That's an incredibly small list of maintenance items for a 10,000 hours engine, but the repair list is even smaller.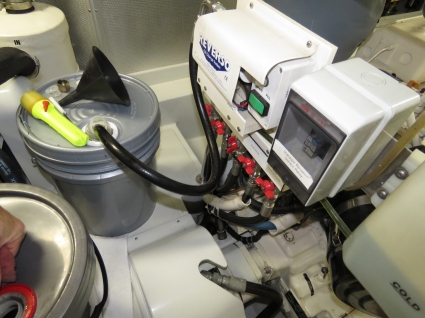 Service
The Deere has never failed to start, nor has it every stopped running or even coded and derated. The service and repair work done to achieve that is:
During the warranty period, Deere changed the turbo compressor housing (due to damage during engine manufacture or installation in the boat) and the cam position sensor.
At around 3,000 hours, I replaced one of the accessory drive belt idler pulleys due to bearing noise.
At around 8,000 hours I changed the turbo coolant vent hose and the coolant cap.
At 8,029 hours Deere replaced the front pulley under warranty although there was no external sign of a problem. It's pretty amazing when a manufacturer is doing warranty work on an 8,000 hour, 7 year old engine.
At 9,522 hours, I replaced all 6 fuel injectors and the rocker arm carrier gasket when we were cruising in the UK. Overall, I consider 9k hours to be excellent longevity for injectors especially since we have been buying fuel of uneven and sometimes low quality all over the world.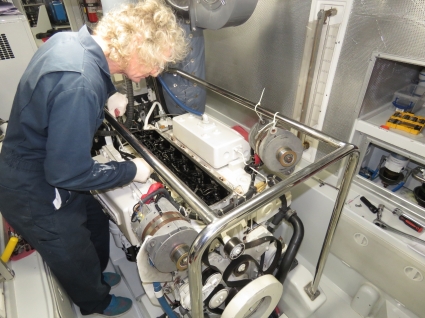 That's the full list for all the maintenance and repair work done during the 10,000 hours that our Deere 6068 has been in use. What I find even more amazing is this nearly nine-year-old engine, that has clocked over 10,000 hours, is still a wonderful bright white with no ugly oil lines running down the side. And other than cracked paint at the high temperatures turbo-to-aftercooler pipe and the exhaust ports in the cylinder heads, the paint is perfect,and the engine still looks like new.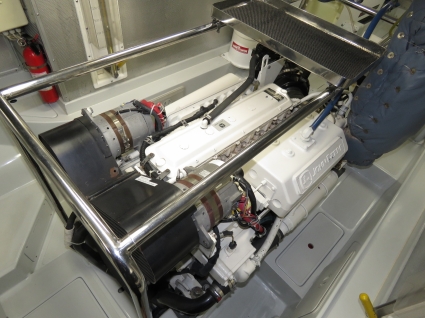 Unusual Applications:
Our 6068 also serves an unusual duty as a backup generator. Dirona has only a single 12KW generator and we really depend upon the generator to keep our batteries charged when we are away from the boat at anchor. If the generator fails, we could serious damage and shorten the lives of $6,000 worth of batteries, plus potentially lose all the food in our fridge and freezer. Replacing the batteries would be both expensive and potentially hard to source quickly in an out-of-the-way part of the world, as would restocking the fridge and freezer. Our generator has never failed when we were not on the boat but it will almost certainly happen someday so we really want a backup generator. But we really don't have a place to put a second generator so we decided to ask the Deere main engine to serve this backup duty as well.
Our Deere has two Balmar 190A and 24V alternators driven by the large serpentine accessory belt on the front of the engine. Each of these alternators can reliably put out 4kw continuously and, for shorter periods of time, can produce up to 9kw together. They are absolute beasts and we love being able to run SCUBA compressors, the oven, the dryer, or multiple heating or air conditioning units when underway without starting the generator.
We have autostart on the generator so, as the batteries get down to about 55% charge, the generator is started automatically. It then is allowed to warm up to 150F and the load is applied. It runs until the batteries are charged to about 85% charge at which point the load is automatically removed and generator is given a minute to cool down before being shut off. This has never failed but we know it will. All it takes is a cooling pump impeller failure to stop the generator so we knew we needed a backup.
We put a Dynagen TG410 controller on our Deere main engine. Dynagen makes excellent equipment and has good customer support so this was an easy choice and was not a complex install. If our generator fails to start after three tries or if it has a mechanical problem and shuts down, the autostart system will send the command to the Dynagen TG410 which will start the our Deere main engine and bring it up to 1,300 RPM to charge the batteries. In this mode, it'll charge at 8kw until the batteries are brought back up to 85% charge and then the automation system will shut the engine back down. The main engine autostart system has actually has been tested once after I accidentally left the generator in a disable state, so we know it works well. It's great to have the Deere ready to go if we ever have a real generator failure or for some reason the generator is unable to start.
Cascade Engine Center
Cascade Engine Center is the Deere distributor that sold the Deere 6068AFM75 that powers Dirona. I had many questions during the build of Dirona while figuring out which engine to use and Greg Light, who was at the time the VP of Sales and Marketing (now Tim Sandeman) at Cascade Center was incredibly helpful. But, at least for me, the real test is after the engine has been paid for and installed in the boat.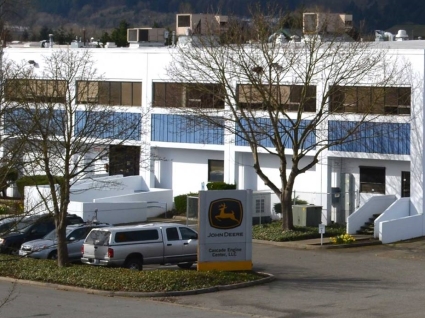 The first test wasn't until 2011 up in Prince William Sound, Alaska. As we neared the dock in Valdez, the engine produced a fault code of 636.08. The engine continued to run fine so we docked and I sent email to Greg Light asking for advice on the code and whether we could continue to operate without immediate service. We then left the boat to walk into town for lunch. Before we arrived at the restaurant, my cell phone rang. It was Dwight Allen the Cascade Engine Center General Service Manager. I'm not even sure how they found my cell number. Dwight explained that it was a cam position sensor fault and very likely was just a bad connection at the sensor, but he would send someone down to our boat to change it once we were back in Seattle. In the interim, he explained that the cam position sensor is redundant with the crank position sensor so it being intermittent or even missing entirely wouldn't reduce engine output or impact engine operation or performance in any way.  In under 45 minutes from the engine fault code first showing up, I had both a definitive answer on the cause and an appointment to correct the issue once we returned to Seattle. I was super impressed and, over the years, Dwight and Cascade have always maintained this same ridiculously high standard of service. I love them.
10,000 Hours
The Deere has done 10,000 hours and still looks new. What can it do with more time?  I've seen Diesels in generator applications wind up well over 30,000 hours of reliable operation but main engine applications are harder on engines. Our main engine RPMs change dramatically relative to a generator, sometimes the load is far higher than a generator application, and other times the load is close to zero. It lives a harder life than a generator and yet many Deere's in main engine applications have delivered up above 30,000 hours.
We run our engine fairly hard with the average load being 42% of rated and have run days at a time max continuous output. Some experts argue that the conditions we operate under are actually better for the engine than most generator load profiles. I hope they are right but, from our perspective, if we can get up over 15,000 hours without having the cylinder head off and up over 20,000 hours without any lower end work, we'll be very happy. If it goes up above 20,000 without the engine needing to be opened up, I'll be ecstatic. Let's see what the next 10,000 hours brings.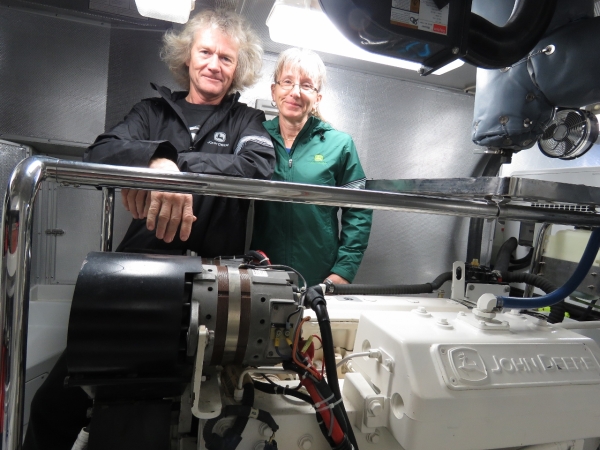 For more detail on our Deere, see the links below: