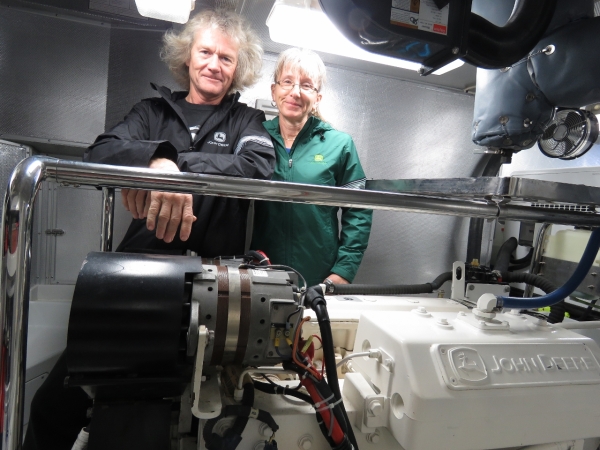 Most John Deere engines are scheduled to have the vibration damper replaced at 5 years or 4,500 hours. However, our Deere 6068AFM75 uses a viscous coupling with an 8,000-hour replacement interval so we went nearly 7 years before needing to make a change.
We crossed 8,000 hours as we headed into Boston early last year, so we placed an order for a new damper from the local Deere dealer. We were planning to change it ourselves but around the time the parts arrived we got a note from Cascade Engine Center, who supplies Deere engines to Nordhavn-builder PAE. Cascade said our main engine needed an accessory drive pulley change and they would be happy to ask the Boston-area Deere dealer to do the work for us. And, since the damper needs to be removed and replaced to do the pulley change, they offered to also do the damper change if we paid for the damper. Deal!
It's really amazing service for Cascade to proactively contact us about a change recommended by the manufacturer and impressive they knew that we were planning to change the damper. It's also impressive that Deere is willing to upgrade an 8,000-hour engine when they notice that a part isn't performing as designed.
Both Deere and Cascade Engines have really done an outstanding job of taking care of our 6068. That's partly why we said "sure!" when Deere asked if we would be willing to do an interview for their booth at the Fort Lauderdale International Boat show. We were up in Newfoundland at the time, so an in-person interview was challenging and they had to make do with a phone interview, email, and other content we sent them. As a thank you, they sent us the nice windbreakers  we are wearing in the picture above with the star of the show.
Watching the video over our satellite link wouldn't have been affordable so we had never seen it until the Deere folks sent a pointer to it earlier today. They did a remarkably good job of collecting highlights from the trip and excerpts from the interview.
The video is just under 6 minutes: https://youtu.be/qh5ZS85mgIM