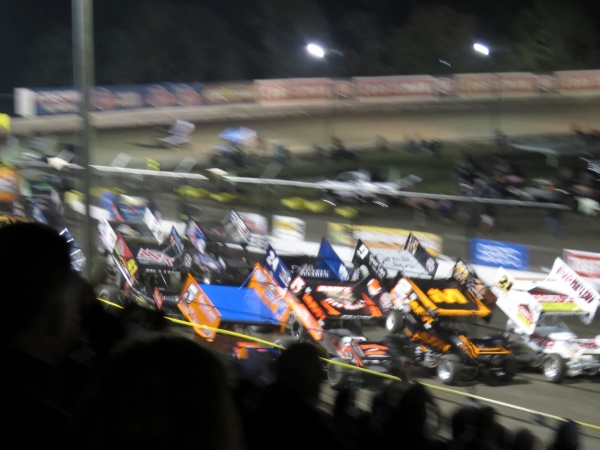 We'd come to Daytona primarily to attend the Daytona 500, but that's not the only major racing event in the area in February. Nearby Volusia Motor Speedway was hosting the season opener for the World of Outlaws Sprint Car racing, "The Greatest Show on Dirt!". The last dirt track racing we saw was in August of 2015 at Northline Speedway in Darwin, Australia.
Sprint car racing is a weird combination of old technology and new. The cars use fairly dated solid-axle suspension and push-rod engines which sounds a bit boring these days. What's amazing is that these cars are 410 cubic-inch, alcohol-burning screamers putting out well over 900 hp in only a 1,400 lb package including the driver. That's very similar power-to-weight ratios to Formula 1 but, what makes it a real spectacle, is they run on dirt. To get speed on dirt, the cars employ giant wings with adjustable angle of attack that can develop enormous downforce at the over 100MPH average speeds at Volusia. The cars lap the half-mile oval at Volusia Speedway Park at right around 13 seconds with most of that 13 seconds spent in a 4-wheel drift with bits of clay flung nearly 100′ above the cars.
Trip highlights from February 18th through 20th, 2017 at Volusia Motor Speedway follow. Click any image for a larger view, or click the position to view the location on a map. And a live map of our current route and most recent log entries always is available at http://mvdirona.com/maps
2/18/2017
Volusia




At Volusia Motor Speedway for a weekend of the World of Outlaws Sprint Car racing.
Pit Area




Spectators are allowed into the pits before the racing starts. We spent hours walking through and watching the various teams prepare their cars for the race.
Sprint Car Engine




The heart of a World of Outlaws sprint car is a 410 cubic-inch displacement (CID) all-aluminum engine running on Methanol and putting out right around 900 hp. These engines cost about $50,000 and some teams blew up 3 engines during their multi-day visit to the half-mile oval at Volusia Speedway Park in Florida. Some teams chose to run "budget" engines that are 360 CID and cost around $30,000. Engine service life usually runs between 15 and 20 races with some teams able to push out to 30. The big budget teams will use shorter-lived engines that can turn to up to 9,000 RPM and can put out just a bit more power for some of the more important races during the course of the year.
Lawn Mower




We loved this sprint-car themed

Ferris

lawn mower, complete with wing, on display at the track.
Track




The World of Outlaws competes on dirt tracks. You would think that track preparation is to grate and smooth it and just go racing, but track preparation is an art. If the track is too dry, the stadium is dusty which is hard on the fans and the track will take on rubber and be highly likely to develop only a single fast grove. Fast sounds like fun but fans want passing so a single-groove race track is boring. On the other end of the spectrum, if a track is too wet, large clumps of clay (nearly mud) end up in the stands and the track is slow neither of which is all that much fun. A slow track is an equalizer where teams can't get the power down. The upside is the racing can be closer and the track is usually multi-grove but the downside is much lower overall speeds. Ideally a dirt track has a solid base so the racing can continue without interruption through the night, it's evenly prepared and watered all the way around, and there are multiple, fast-racing grooves.
Late Model




The World of Outlaws Late Model series competes in purpose-built race cars on dirt tracks. These full-bodied cars weigh in at 2,350 lbs and are designed to resemble popular domestic street cars.
Late Model Engine




World of Outlaw Late Models have no limit on engine size but most teams are using 400-430 cubic-inch engines that produce over 800 hp. These engines have aluminum heads and burn gasoline rather than the Methanol used by the Sprint Car series.
Fuel




Picture are 33 50-gallon drums of fuel for a total of 1650 gallons of methanol. That fuel takes up a lot of space, so it's surprising to realize that Dirona carries more than that below deck (1747 gallons).
ATL




For our long runs, we can carry

an additional 960 gallons

in deck fuel in

ATL fuel bladders

. We went with

ATL FueLocker bladders

and are very happy with that decision. ATL bladders had a good reputation with other boat owners, and from his car-racing days, James knows they can smack the wall at nearly 200 MPH without leaks or fire. In the World of Outlaws, where flipping, multi-car wrecks aren't uncommon, many teams choose ATL fuel bladders.
Driver




One of the Sprint Car drivers belting in before qualifying. There's not much room in that cockpit. This is what helps keeps drivers safe when the cars flip or roll.
Push




Sprint Cars don't have starters, a clutch, or even reverse gear. They are started in gear by a push-truck, or in this case, an ATV.
Dirt




The lower seats at the dirt track get pelted with chunks of mud that fly off as the cars pass. We reserved seats at the top of the stands for a better view. But avoiding flying dirt is another very good reason to want to be up high.
Under the Lights




All the racing this weekend is at night under the lights. Super-exciting.
Four Wide




The field running four-wide in signature in World of Outlaws style prior to the start.
Fireworks




The track put on an excellent show, including fireworks as part of the pre-race show.
2/19/2017
Helicopter




Sprint cars have Formula 1-like power-to-weight ratios with relatively high centers of gravity and open wheels, so flips are not unusual. Car construction, and the World of Outlaws focus on safety, means that few of these horrific wrecks injure drivers. While we were at Volusia we saw many wrecks where cars threw off parts as they flipped to a stop but there were no driver injuries. The teams quickly rebuild the cars and the drivers are back racing the next night and, in many cases, the next race. I wouldn't go so far as to call the cars safe but the sanctioning body has done a pretty good job of keeping the drivers safe and racing.

Sunday at Volusia ran into a different type of problem. Rico Abreu, Jason Sides, and Dale Blaney got together between turns 1 and 2 and Dale Blaney's car began cart-wheeling. It flew up over the guardrail surrounding the track and then flipped higher before hitting the top of the spectator safety fence. The car then continued to cart-wheel over the fence and into a crowd of what we would estimate to be 100 spectators and crew members watching the race from the garage track entrance near the corner two exit. The driver was fine but three spectators were seriously injured.

The race was stopped for over an hour while the police investigated the accident and a medivac helicopter was brought down on the track back straightaway. The last report we saw had one of the injured released from hospital Sunday night while the other two remained in hospital with one in critical condition and one in serious. We wish a fast and full recovery to all three.
Red Flag




Cars parked on the track during the red-flag race-stoppage on Sunday night.
Late Start




After the red flag, the final Sunday evening race didn't get underway until past 11pm. It was a late night, but we had a great time.
Click the travel log icon on the left to see these locations on a map, with the complete log of our cruise.

On the map page, clicking on a camera or text icon will display a picture and/or log entry for that location, and clicking on the smaller icons along the route will display latitude, longitude and other navigation data for that location. And a live map of our current route and most recent log entries always is available at http://mvdirona.com/maps.