We'll be running our main engine at fairly low load for several weeks while we cross the Indian Ocean. Since this likely is below the manufacturer's recommended range, we've been asked if we're concerned about underloading the engine.
It is true that manufactures have a preferred and fairly narrow range over which a diesel engine is operated. There is good evidence they are correct that this is "best" in the absolute sense of the word. Some of the highest hour engines I have seen were running in near constant load generator applications. From an engine manufacturer perspective, their job is to tell you how to get the absolute longest life from your engine.
Recreational boats are definitionally used to have fun. Being able to cross oceans and see different parts of the world is fun. So, the ideal engine for a boat like a Nordhavn 52 will not be much bigger than 100hp if you focus on multi-thousand mile ocean crossings. We are, for example, currently operating at 80hp. However, few of us will spend much of our lives crossing oceans and having a boat where the top speed is just a shade over 6 kts kind of sucks. At least for us, as much as we like going 6 kts right now and know we are on track to successfully go over 3,000nm without running out of fuel, we also like running at 9 kts and getting to the destination in time to watch the sun set over a glass of wine. We did this a few days ago on our multi-day run to Dampier, Australia. The former needs 100hp and the latter needs more than 200hp. The ideal boat for most users will be able to operate reliably over a wide range of power levels and the ideal engine will last longer than most owners in this usage model.
More diesel engines are destroyed by overload than underload. It's not a common problem in trawlers but overload still does happen. Where it is super common is in the planing cruiser market. Manufacturers prop to achieve high advertised speed. Owners then move their personal effects on board, install bait tanks, fill the fuel tanks, forget to the clean the bottom, and invite their friends to cruise with them. Consequently, over-propping is common and many Bayliners and Searays are trailed by thick clouds of black smoke. Looking at the Bayliners, their poorly-treated Cummins and Hino's mostly soldier on. Some fail early and, if any engine has a weakness, overload is truly the fastest way to find it. One model of Cat used by Searay was particularly suspectable to overload-related failures and they were replaced by the hundreds. It was an absolute disaster that was hard on both Cat and Searay but I'm told all the lawyers were fine.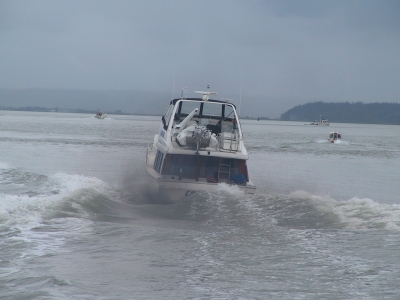 Overload is potentially fatal. Underload is less than ideal and requires more care. My general rule is take very good care of your boat and all mechanical systems, change your oil and filter often, run it up to full power periodically, ensure the water AND oil get to full operating temperature, and then have fun with your boat rather than letting it control what you do.
Our previous boat had a pair of 270 HP Cummins. We ran them near max to get to a cruising area and then cruised the area at displacement speeds where each engine was producing 20 to 30hp. Fuel economy was stupendous and needed to be since we only carried 220 gallons. We loved that boat, cruised all over BC, wrote a cruising guide, and put 4,100 hours on each engine. The engines continue to operate beautifully today and I expect they will continue to do well for a decade or more. They have spent much of their life under light load but they have been well-maintained, have lasted 15 yeas so far and will go well past 20 years.
The Deere 6068AFM75 in Dirona has averaged around 44% max output through its life. That's actually a fairly high number given that you spend time moving around marinas, warming up, cooling down, putting through locks, etc. 44% is on the high side but we are currently running at only 80hp and will run at around that light power level for the next 3 weeks. The coolant is currently 178F and the oil is 194F. Slightly warmer oil wouldn't hurt, but 194F is fine. Our engine operates like this frequently. It also spends considerable time up over 200 HP for long periods of time. It serves us over a wide dynamic load range and we love the boat and the engine for being able to do that and do it well.
Our Deere has 6,015 hours on it now and, in the unlikely event that it does die early, I'm confident it won't be from underload. Personally, it's nowhere close to the top of my worry list. We are going to unapologetically keep running near maximum output when we want to get in before nightfall and running near minimum output when we need to cross long distances.