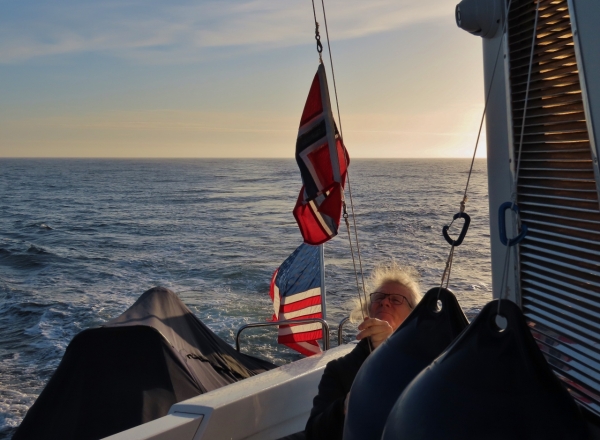 Free from the ice, we departed Farsund, Norway for Orkney, Scotland on the first leg of our journey home to the US. Conditions were blissfully calm, especially considering we were crossing the North Sea in late February, and the passage was a relaxing and easy one. We finished the run with an exciting entry through Pentland Firth, reaching a record 17.4 knots in Dirona, as the strong current flushed us through into Longhope.
We anchored at Longhope, Orkney in the exact same place as four years earlier, and settled in for the nearly two-week quarantine required for international arrivals. It was great to be back in Scotland, and to have made progress on our trip home.
Below are highlights from Feb 24th through 28th, 2021. Click any image for a larger view, or click the position to view the location on a map. And a live map of our current route and most recent log entries always is available at mvdirona.com/maps.
2/24/2021
Departing Farsund

Looking back to our berth in Farsund as we get underway for Scotland.
Waves

Conditions were a little rough as we approached the edge of the North Sea after departing Farsund.
Loshavn Anchorage

Our anchorage in Loshavn in 44 ft (13 m) on 200 ft (61 m) of rode. With the northerly direction of the waves, a fair bit of swell reached the anchorage, but it was otherwise a very nice spot.
2/25/2021
Pitch and Roll

Conditions remain rough as we head north up the southwest Norwegian coast. Our average pitch is 9.7° and roll is 10.9° (numeric display near lower left and graphs slightly left of center).
Dirona

Geir Ove sent is this picture of Dirona passing his house in Egersund.
Nordragabet Anchorage

Our anchorage in Nordragabet in 22ft (7 m) on 46ft of rode. We're just a bit east of where we anchored

last time here

in late January.
Logs

Logs ready to ship from Egersund, viewed on a tender tour of the area.
Eiffel Tower

Egersund's "little Eiffel Tower", a communications tower atop the hill Varberg.
Hymek

Hymke of Egersund specializes in custom steel structures and mechanical, electrical and hydaulic products for the energy, maritime and land-based industries.
Linda

Linda, an aluminum sculpture of a woman by Finnish artist Hannu T. Konttinen, standing in the Lindoy gap between Lindoya and Bradbenken.
Redningsselskapet

The Redningsselskapet (rescue service) vessel Kristian Gerhard Jebsen, named after a Norwegian shipbuilder, moored in Vagen. Jebsen founded Gearbulk, an international shipping company that operates the world's largest fleet of open hatch gantry and semi-open jib craned vessels.
Slettebovatnet

The outflow from the lake Slettebovatnet pouring into the head of Vagen.
Storasen

The hill Storasen above Tengsvagen, a small bay just east of our anchorage, looks like a popular hiking destination judging by the well-worn trail below it.
Grass

Throughout Egersund, the water surface was covered with grass that was building up pretty deep in places.
Fotlandsvatnet

The flow from the lake Fotlandsvatnet into the bay Tengsvagen.
Ice

We were hoping to be able to return back out from Tengsvagen through Bjonnbasen on the west side of the island of Kjeoya, but ice blocked the way. It must have been quite thick to not have melted yet with days of above-freezing weather.
Afternoon Sun

The afternoon sun lighting up the hills above our anchorage at Nordragabet.
2/26/2021
Happy Hour

Enjoying our final happy hour in Norway before crossing the North Sea.
2/27/2021
Conditions

Winds are light at less than 5 knots as we travel west into the North Sea from the Egersund area. We're pitching 10.7° and rolling 6.8° with tight westerly swell on the bow. We expedt the sea state to remain like this for the next 8 hours or so and then slowly improve overnight.
Moonset

Moonset in the North Sea. The winds remain light with a tight westerly swell.
Lowering Courtesy Flag

Lowering our Norwegian courtesy flag as we depart Norwegian waters. That's been up a while.
Flag Condition

Courtesy flags usually last about two months, particularly in heavy winds. But the one we bought in Haugesund lasted almost double that and still looks to be in great condition.
Conditions

This winds have remained calm at 5-10 knots, and the swell has lessened, so we're now pitching at 7.5° and rolling at 5.6°, down from 10.7° and 6.8° earlier today.
Sleipner Gas Field

Passing over the Sleipner gas field, discovered in 1974, with production rigs to our southwest and a web of charted subsea pipelines (the purple lollipop shapes). The Grampian Dynasty to our south is going to pass just behind us.
Grampian Dynasty

The rescue boat Grampian Dynasty to our south. They've just diverted to slightly to starboard to give is a bit more distance as they pass behind.
Rigs at Night

The oil rigs ablaze with lights look like small cities out there in the middle of the North Sea at night.
Brae Oil Field

Passing over the Brae North Sea oil field, a Scottish field discovered in parts between 1975 and 1989.
2/28/2021
Conditions

Conditions continued to improve overnight and we're now pitching at 5.6° and rolling at 4.6°, down from 10.7° and 6.8° yesterday morning. You don't get much better than this in the North Sea in late February.
Piper Oil Field

Passing the Piper oil field to our south, a Scottish-owned field that is piped to the island of Flotta in the Orkney Islands. We'll be anchoring near Flotta at Longhope.
Brow Head

Robert Harris asked our permission to include in an article he was writing the aerial photograph we'd taken in 2017 of

Brow Head

on the west coast of Ireland. The article was published today and it's quite nicely done:

A Signal Success in Irish Engineering – Part 8: Brow Head

. Reading the article brought back some nice memories of our time in Ireland. You can just see us standing near the center wearing red and casting a shadow.
Calm Seas, Clear Skies

Fabulous clear and calm conditions to finish our North Sea crossing.
Land Ho!

Scotland is in sight in the distance about 20 miles away. We expect to land in about three hours.
UK Courtesy Flag

Raising a yellow quarantine flag (indicating we require clearance into the country) and a UK courtesy flag as we enter Scottish waters.
9.3 knots

Our speed is picking up considerably as we approach the Pentland Firth between the Orkney Islands and the Scottish mainland. Current here are among the highest in the world and can reach 16 knots. Conditions can be extremely hazardous when tides that strong meet an opposing wind—our charts are covered with warnings.
17.4 knots

The highest speed we captured in a screen shot was 16.7 knots, but the maximum speed we eventually recorded was 17.4 knots as we flew through the Pentland Firth. Because we were fairly close to land, it felt particularly fast.
Burwick Cliffs

Dramatic cliff at Burwick on the southeast corner of the isle of South Ronaldsay. Welcome to Scotland.
Lothar Rock

We almost missed getting a photo of the beacon on Lothar Rock as we sped past at twice our maximum speed.
Back Eddy

As we passed North Head off Swona Island on a northwest course, we hit a back eddy that heeled us over 22 degrees as we suddenly spun around to the south. It left an unusual 'U' shape in our course. We suffered a broken teapot, but otherwise no issues.
Cantick Head Lighthouse

The lighthouse at Cantick Head was completed in 1858. The light was automated in 1991 and the original keeper's houses can be rented for overnight stays.
Spare Carafe

When we hit the back eddy off Swona Island, everything in the boat was still secured for the North Sea crossing so nothing shifted except for the

thermal carafe

we use for a teapot. We'd left the carafe on the galley counter rather than in the sink and when we suddenly heeled to 22° the carafe flew off the counter and hit the floor, shattering the glass interior. We replaced it with a spare.
Radar Image

Our Furuno DRS25 radar really produces a crisp image, and has been working super-well since

replacing it last year

. Here the individual farmer's fields dilineated by fences are visible in the lower part of the screenshot.
Clearing into UK

On the phone with the National Yachtline small-boat reporting hotline to clear into the UK. As usual, the call was quick and efficient. We later got a call from the Scottish Border Force concerned about quarantine requirements. This issue

still isn't resolved

.
Click the travel log icon on the left to see these locations on a map, with the complete log of our cruise.

On the map page, clicking on a camera or text icon will display a picture and/or log entry for that location, and clicking on the smaller icons along the route will display latitude, longitude and other navigation data for that location. And a live map of our current route and most recent log entries always is available at mvdirona.com/maps.