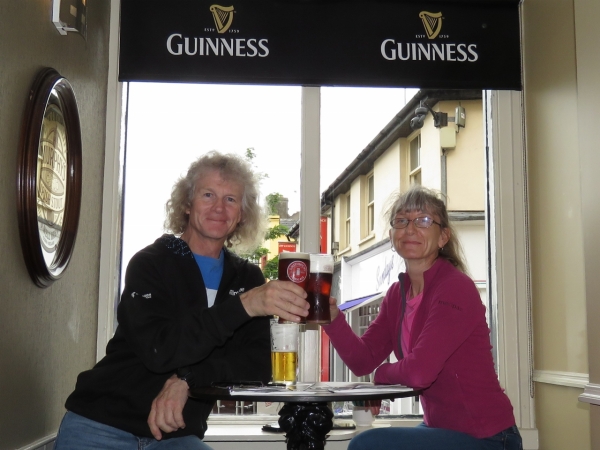 Celebrating landfall at Kinsale with our first pint in an Irish pub.
We started the year in the New World, at Charleston in South Carolina, and ended it in the Old World at Falmouth, UK. From January 1st through December 31st, we traveled 6,281 miles in 51 trips at an average speed of 6.9 kts. We now have journeyed 65,720 nm on Dirona and our John Deere 6068AFM75 main engine has 9,522 hours and has burned roughly 56,000 gallons of fuel.
Overall, we consumed 5,281 gallons (19,900 L) at an average fuel economy of 1.19 nm/gallon (0.31 nm/L). We put 913 hours on our main engine (total 9,522), 71 hours on the wing (total 852), and 640 hours on the generator (total 5,241). We consumed 3,145 kwH from the generator and 12,525 kwH from shore utilities.
Nearly half of 2017's 6,281 miles were covered in our second Atlantic crossing from Newport to Kinsale, Ireland. The 17-day, 2,801 nm passage was by far our most difficult, with three gales and two separate mechanical issues to manage. Higher-latitude crossings are more likely to encounter storms, even at the best time of year, and we were crossing a month or two earlier to have more time to cruise the west coasts of Ireland and Scotland over the summer. We're glad we did, as we had a fabulous time. Click the link below to view this year's highlights.

2017 Highlights
We currently are in Falmouth, UK, for Christmas and New Year's and are enjoying this laid-back-in-the-winter town with its many good pubs and restaurants. After Falmouth, we plan to stop in Southampton for some regular boat maintenance and continue on to moor at St. Katherine Docks in central London during February and March. From there we'll cross to the Netherlands and continue north to spend the summer of 2018 exploring Norway's fjords.
Previous annual summaries are below: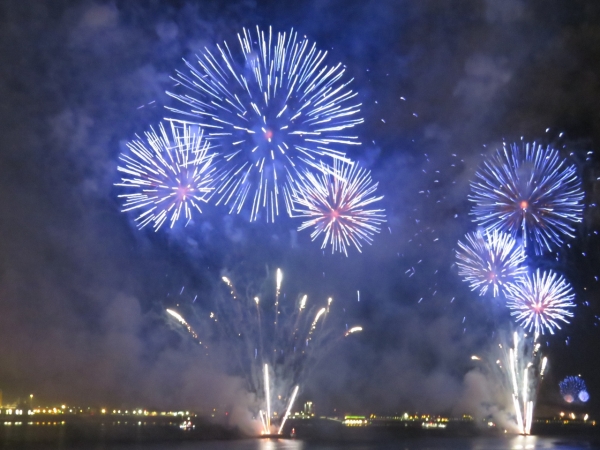 Bonfire Night fireworks display, Liverpool