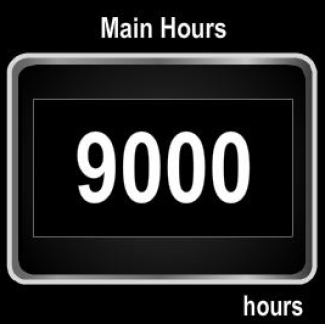 In over 13,000 engine hours and some 95,000 miles of travel, we've never had a mechanical emergency at sea and never have had to distrub the off-watch person to deal with an issue. This happened twice on the passage from Newport to Ireland, the first was the high bilge water alarm last week during James' off-watch and the second was a steering issue that needed attention this week during Jennifer's off-watch. Fortunately the steering problem was readily resolved and we had no other issues during the week.
Our blocking high deteriorated, but conditions overall were still relatively good this week and we made excellent time with a push from the North Atlantic Current, at one point doing 10.5 kts. We cleared the iceberg risk area, drained the final cockpit bladder and stowed both, and brought down the main engine to change the oil at sea.
In this second week of the passage to Ireland, we travelled 1,222nm at an average speed of 7.5 kts, and burned 1,011 gallons of diesel for a fuel economy of 1.21 nm/gallon. We crossed 9,000 hours on the main engine, passed the 1,400nm halfway mark for the run, and at the end of the week had 527nm remaining to reach Kinsale.
Trip highlights from May 14th through 20th, 2017 follow. Click any image for a larger view, or click the position to view the location on a map. And a live map of our current route and most recent log entries always is available at http://mvdirona.com/maps
5/14/2017
Water Leak




Less than 24hrs after the

high bilge water alarm

, Jennifer got a checklight on her watch indicating low house water. Looking at the historical graph, we'd lost 150 gallons in the last couple of hours and were down to 50 gallons, which triggered the check light. Lovely.

Jennifer checked any taps she could without waking James, and checked the water pump in the engine room, but couldn't find the leak. She shut off the freshwater pump at the pilot house breaker panel and that stopped the flow. So something was leaking on the pressure side. This definitely needs to be addressed, but didn't warrant waking James up for, so we'll wait until morning to deal with it.

It turned out to be an easy fix—the tap on the boat deck was left on and the storm conditions were vigorous enough that the quick-release hose fitting disconnected. This was not a location Jennifer safely could check on her own at night. Our basic rule is that nobody goes outside when alone at the helm except into the Portuguese bridge. We closed off the tap and started up the watermaker and all is good.

Flashing an indicator on the dash helped us save 38 gallons, which isn't ideal, but it's enough to survive on if the watermaker wasn't working. Of course, the watermaker is working fine and we'll be back to half-full by end of day. Thinking this through, we've decided we'll alert at 150 gallons instead, on the argument that if we're alone at sea, we want to have more reserve water.
Snack Center




On passage we always have selection of snacks set out for the person on watch. We tend to eat smaller amounts underway, so despite these not being the healthiest choices, Spitfire is the only one that ever gains weight on passage. No ocean makes conditions rough enough that Spitfire won't eat.
JS Ineos Invention




The 591ft tanker JS Ineos Invention (180.3m) passing us en route to Rafnes in Norway. Conditions are settling down now and the winds have fallen from steady in the 30s to now in the mid 20s.
5/15/2017
Fastnet-to-Fastnet




We're just clear of any ice risk now, and earlier today plotted a great circle route to Ireland that happens to take us near Fastnet Rock. We've got just over 1,600 miles left to reach Kinsale Head and if all goes well, we won't make another course change for the next ten days until we reach Fastnet Rock. Our last restaurant meal before leaving was at the

Fastnet Pub

in Newport, RI. And looking at our course, it appears the first bit of Ireland we'll see will be the famous Fastnet Rock.
5/14/2017
North Atlantic Current




The water temperature has gone up 20°F since last night—more than likely we're in the North Atlantic Current, the main branch of the Gulf Stream that runs northeast across the Atlantic. We're making excellent speed of 8 knts and still will arrive into Ireland with 300 gallons of reserve.

And what a difference 24 hours can make on conditions. Winds are down to around 15 kts and pitch and roll are both about 8 degrees. With any luck, we've paid our tax to Neptune and can ride that high-pressure system across the Atlantic without any more rough seas.
5/15/2017
Fresh Fruit




Shortly before going off-watch, Jennifer prepares a bowl of fresh fruit for herself and one for James when he comes on shift at his "morning".
Sunrise




A beautiful sunrise on a calm morning in the North Atlantic.
Bladder Stowage Prep




We drained the second cockpit bladder today and stowed them both. Jennifer is wrapping the fill nozzle and the drain valves with rags and bubble wrap to protect the bladders. We have used each of the

three bladders

six times so far, and they continue to look good and function well.
Bladder Stowing




Once the bladders are prepped and folded, we stow them in the flybridge brow. They take up remarkably little space.
Torm Platte




The Swedish chemical tanker Torm Platte, en route to Houston, is the first boat we've actually seen for almost a week.
Smokin'




We're doing an incredible 10.5 kts and our "drive the lights" indicators are orange on "Faster", meaning we can go faster still and have 300 gallons of reserve when we reach Ireland.
Steering Issue




We haven't had steering issues in the past. Given they can happen anywhere, why the heck would it occur within hours of dead-center on our 2,800 nm trip through the North Atlantic?

Read more …
5/16/2017
Halfway




The total distance of this trip will be roughly 2,800 miles and we've just hit the halfway mark at 1,400. Our

high pressure system

has gotten smaller, but the weather models indicate we still should have decent conditions for the remainder of the run.
Milne Seamounts




We diverted course slightly to pass north of the Milne Seamounts. We try to avoid seamounts, as underwater waves colliding with them can generate freak waves, even in calm conditions. And seamounts are likely locations for fishing vessels, so we want to be extra vigilant and stay clear of them. The two we've marked rise abruptly from 15,000 ft to 6,000 ft and likely don't pose much of a hazard, but we've had enough excitement for one trip.
5/17/2017
Wet Carpet




Despite having the port-side door dogged top and bottom, the wind pressure during the

big storm

was enough to force water through the door and soak the carpet. On close inspection, the weather strip is firmly seated all the way around. It seems like wind pressure is just forcing it through. We've since been drying it with a fan and applying

Nature's Miracle

. We carry it in case Spitfire has an accident on the carpet, but have used it effectively to kill all kinds of biological odors such as spilled milk.
5/16/2017
Steering Bolt




James has been slightly annoyed with himself for not having a spare

steering bolt

, given it is such a mission-critical part. It turns out, we actually do have a spare bolt and nut. Normally the way parts storage work on

Dirona

is James remembers "what" we have and Jennifer looks up "where" it was. James didn't recall buying this part. Last night Jen looked it up anyway and, wow, we actually do have a spare. The old one is still doing well and not moving at all now that it is torqued up properly. Even with all the lost metal, it's doing great.
Conditions




We continue to make excellent speed and currently are running at 9 kts. Conditions are reasonably calm, with max pitch and roll over the past 15 minutes at 5 and 6.3 degrees. The winds have been light the past couple of days, but will increase to the 20s for the next 2-3 days as the eastern edge of a low pressure system just barely overtakes us. The seas will pick up to 8-10 feet on a minimum of 8 seconds, but mostly should be shorter and on a longer period. and they'll be on the beam, so shouldn't slow us down much. After that system dissipates, the models predict calm conditions for the rest of the run to Kinsale.
5/17/2017
Figaro




The cargo ship Figaro overtook us two miles to our south, running 18.7kts en route to the port of Zeebrugge in Belgium.
Oil Change at Sea




This trip will be 400 hours and our oil-change interval is 250 hours, so we needed to change the oil during the passage. This is our second oil change at sea—the first was on the 3,700nm run from St. Helena to Barbados, which we discussed in

To Change or Not to Change? That is the Question

.

At sea, our main engine charges the boat, powers the hydraulic stabilizers and provides propulsion. So today we started up the generator to power the boat and the wing engine to provide propulsion and power the hydraulics, then shut down the main. The oil change went smoothly and we were back running on the main again within a half-hour.
Timezone Change




Ireland is five hours ahead of Newport and we've been meaning to move the clocks forward in two chunks. But we've had so much else on the go that we just haven't gotten to this and sunrise is now at 3am. So we decided to just take the whole change in one gulp and jump from 11am to 4pm.
5/18/2017
Engine Room Hatch




The main entrance to our engine room is through the master stateroom, which means disturbing the off-watch person. Fortunately we have a convenient hatch in the salon and a step below that makes for easy access. After a few cases of the hatch slamming shut at sea, we've upgraded the struts so the hatch almost opens itself once unlatched.

Here Jennifer is accessing the engine room to transfer fuel into the supply tank while James is off-watch and sleeping in the master stateroom. As we describe in Dirona fuel manifold, we choose to explicitly pump fuel from the appropriate bulk tank to the supply tank rather than gravity feed. This is a slightly more manual operating mode but has some advantages that we really like.
MSC Spain




MSC Spain, en route to Bremerhaven, Germany with hazardous cargo, radioed us to let us know they'd be passing us on our starboard side and to request that we maintain course and speed. Commercial ships rarely radio us at sea—this is the first ship in a long time.
9,000 Hours




We just crossed 9,000 hours on our John Deere main engine. When we started boating 18 years ago, the salesman asked us how many hours we thought we'd use the boat each year. James said "50, perhaps sometimes up to 100". It turns out we like boating more than we guessed, and it's rarely less than 1,000.
Triple Digits




We just passed into triple digits remaining—only 994 miles to go. We should arrive at Kinsale in less than a week.
Conditions




We're still in the eastern edge of a large low pressure system. The winds have been in the 20s all day and the seas are about 9-10ft on 8 seconds. But because they are mostly on the stern, boat motion isn't uncomfortable. Max pitch and roll over the past 15 minutes is 5.9 and 12 degrees.
Forecast




Looks like we've got one more low-pressure system to pass through before we reach Kinsale. According to the weather models, on Sunday, three days from now, we'll be in the southern portion of a moderate low with winds nearing 30 kts and waves up to 11.5 feet on 7 seconds. The system is forecast to stick with us into Kinsale, but should moderate early next week.
5/19/2017
Spitfire




Spitfire loves the helm chair, but he doesn't pay much attention to the instrumentation.
Conditions




The seas have settled down over the past few hours and we expect them to remain that way until late tomorrow when the next system overtakes us. The models indicate we'll have a couple of days of rough weather as the system passes to our northeast, then calmer conditions for the last couple of days into Kinsale.
5/20/2017
Fuel Filter




The primary fuel filters were starting to show increased vacuum so we changed over to a new one yesterday. That's the second time in this trip that we needed to change fuel filters. The first one when 73 hours and this second one went 174 hours. On the short side for both but not totally surprising given how rough it's been. Rough conditions can stir up settled out debris in the fuel system and plug filters more quickly. We normally get 200 to 600 hours on a filter.
Steering Bolt




We still have the badly worn bolt in the steering system and were getting some metal dust build up underneath it. Everything looks right and we can't see any movement that shouldn't be there, but we are still getting accelerated wear. We have a rough day expected tomorrow with 30 kts winds and 14-ft seas on 7 seconds. We don't want to take on the storm tomorrow without knowing things are exactly as the should be, so we shut the boat down today and let it drift while we changed these parts for new ones. The boat handled well in the swell, we got the spare bolt installed, and can't see any other possible problems.
Conditions




The barometer is starting to fall and the seas are picking up slightly as that low pressure system begins to overtake us. The models and the NOAA surface analysis charts indicate that the system is moving fairly quickly to the northeast and deepening from 992mb as it passes us to 987mb as it passes north of Ireland in two days. We expect the worst conditions tomorrow for about 6-8 hours during the day, and then the seas will slowly settle overnight tomorrow. It's wonderful to have the boat 100% operational again.
Ship




A ship showed up on AIS about six miles to our south, but we never got more than it's MMSI number.
Click the travel log icon on the left to see these locations on a map, with the complete log of our cruise.

On the map page, clicking on a camera or text icon will display a picture and/or log entry for that location, and clicking on the smaller icons along the route will display latitude, longitude and other navigation data for that location. And a live map of our current route and most recent log entries always is available at http://mvdirona.com/maps.