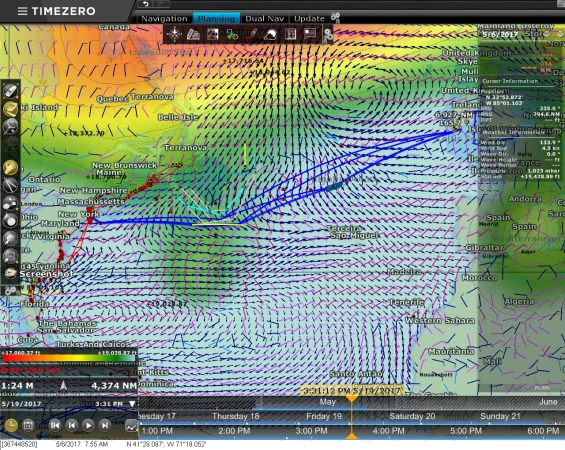 We plan on getting underway this weekend for Kinsale, Ireland. It's a tiny bit early in the season but we have what looks to be a blocking high developing in the North Atlantic which will stall the steady stream of low-pressure systems that we've been watching for the past several months. Unfortunately the high is strong enough it will actually produce less-than-comfortable conditions. But we'll take uncomfortable over unsafe all day long.
We'll take on 2,000 gallons of fuel at 10am this morning and, depending upon the speed of the low passing through the area now, we'll get underway tonight or perhaps tomorrow morning. Our plan is proceed east below the ice line carried south by the Labrador Current and then make our way directly toward Kinsale, Ireland. We expect to take about 19 days to do the just short of 3,000 nm.
The video below shows a visualization of our planned route from Newport RI to Kinsale Ireland using our PC-based chartplotter software, TimeZero Professional. Similar to our previous video on departure planning, TimeZero plays the weather file forward and displays weather conditions as the boat progresses on the route at a given departure time and speed. In that other video, the color gradients showed wave height. This video shows the height of the 500mb level, a major influence on surface winds. Usually the height is expressed in meters, but TimeZero shows them in feet in the scale at the bottom left, ranging from 17,060ft (5,200m) in red to 19,028ft (5,800m) in blue.
According to Chen and Chesneau in Heavy Weather Avoidance and Route Planning, the safest place to be is outside the 18,700ft (5,700m) contour. In this visualization, those are the areas in green and blue. Initially we are inside that contour, but as we turn the corner south of the iceberg limit shown in turquoise, you can see a large blue area forming in the north Atlantic. This is a blocking high in the 500mb level that hopefully will keep any low pressure systems from moving onto our route. On May 21st, the weather bar at the bottom changes from orange to red as we reach the end of the available weather data, but hopefully the high will persist until we reach Ireland.