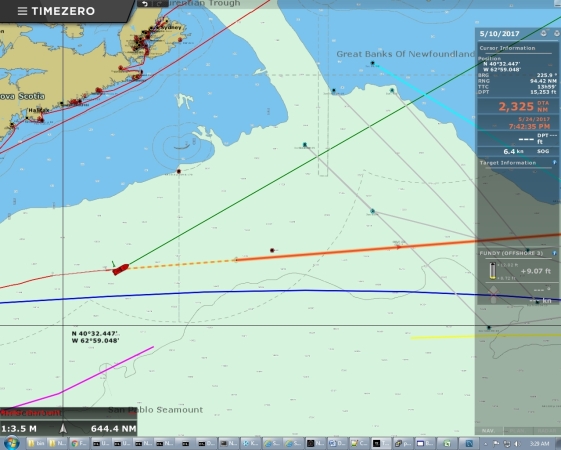 The first seven days of our 2,800nm passage from Newport RI to Kinsale, Ireland were a battle. We battled negative Bay of Fundy currents, low-pressure systems, and a water-ingress issue that threatened the boat and took us ten hours to resolve. On the positive side, we also got a push from the Gulf Stream and favourable Bay of Fundy currents, had some calm conditions, drained our forward bladder, and the dangerous ice limit moved substantially north, allowing us to shorten the trip by forty miles.
In those first seven days, we travelled 1,058nm at an average speed of 6.29 kts and an average RPM of 1795, and burned 950 gallons of diesel for a fuel economy of 1.11 nm/gallon. We rounded the Grand Banks with over a third of the trip behind us, and had 1,748nm remaining to reach Kinsale.
Trip highlights from May 7th through 13th, 2017 between Newport and the Grand Banks follow. Click any image for a larger view, or click the position to view the location on a map. And a live map of our current route and most recent log entries always is available at http://mvdirona.com/maps
5/7/2017
Nathaniel Lee




The fishing vessel Nathaniel Lee was one of the few vessels we saw as we left Newport. Conditions were pretty rolly with 12ft beam seas on 8 seconds, so no surprise not to see many pleasure craft out there.
Boston Track




We're just crossing over our track into Boston from last June.
V7-IP




We've fallen out of cell range and are running off the V7-IP now. The white color on the indicator light labelled "Mode" means we are running in full

fail-over mode

, rather than restricted mode, on our router. This means we'll still fallback to cell if it comes back, but we'll operate on the V7-IP without any restrictions. In restricted mode, we'll fail-over to the V7-IP if nothing else is available, but only allow outbound email from the automation system so on-board warning and alerts go out via email if we are not on the boat to see them.
Conditions




We're in 11-12ft seas on 8 seconds and seeing a pitch and roll of 10.7 and 10.8 degrees. Boat motion isn't severe, but is enough that if one of us was going to bed now, we would likely elect to sleep on the floor to be stable between the bed and bulkhead as we sleep.
Counter-Current




We're in a strong counter-current and are making only 4.9 knots with a fuel economy of 1.06nm/gallon. And our "drive the lights" indicator is let up in orange on the bottom left indicating we need to slow down further still to meet our fuel economy goal of 1.21nm/gallon. For this trip we have way more fuel than we need which gives us the freedom to run at higher power levels and shorten the trip somewhat. These big counter-currents are from the Bay of Fundy area not far north where the worlds largest tidal exchange of over 50′ can be found.
Favorable Current




We're now in a favorable current and making 8.2kts with a fuel economy of 1.26nm/gallon. Conditions have improved now, with max pitch and roll at 6.1 and 6.5 degrees. We expect conditions to be good for the next 3-4 days, when we pass through a low pressure system coming northward off the US east coast. We'll enjoy these calm conditions because we are predicted to have 2 weeks of rough water in our near future.
5/8/2017
Calmer




Conditions have improved even more, with max pitch at 3.9 degrees. Roll has increased slightly to 7.2, but overall boat motion is pretty minimal.
Low




We're hoping to get far enough east by Thursday to avoid this low pressure system working up the coast. It is very speed-dependent though, and with the currents our speed has been quite variable.
Georges Bank




We're just off Georges Bank, one of the most dangerous fishing grounds in the world, and the setting for Sebastian Junger's book, The Perfect Storm. Fortunately conditions are calm for us as we pass by. The green circles to our north are a cluster of fishing vessels.
Float




We just passed a few floats like this one in 1,100 feet. They aren't marked with a

radar reflectors

like others we seen in these depths, so hopefully we won't see a lot more, particularly at night.
Course Adjustment




The

International Ice Patrol

has just completed another aerial pass and the limits of dangerous ice have moved north, so we'll take advantage of this and shortened the trip a bit to run a more northerly route. It's only about 40 nm less distance, but we'll take everything safely available.
5/9/2017
Gulf Stream




The water temperature has shot up from 52°F to 75.1. We're in the Gulf Stream and making excellent speed of 7.9 knots. This despite the tight 10ft beam waves that are rolling us nearly 15 degrees with max pitch at 7.7 degrees.
Conditions




We're still making excellent speed in the Gulf Stream, but the waves have settled down and we're only rolling 10.5 degrees and pitching just under 6 degrees.
5/10/2017
Southerly Current




A strong southerly current is pushing us off course and causing us to crab along our route. The green line shows the direction the boat is heading in order to keep that easterly route shown in orange. We're still in the Gulf Stream, with 76° water, but are only making 6.4 knots with this strong southerly current. It must be a backeddy, and we believe the main stream is further south.
Raspberry Pi




As an experiment, James got a Raspberry Pi just before we left from Australia to Rodrigues. It turns out to be a super useful monitoring and control system on the boat and it's evolved to the point where there are 22 digital inputs reading off/on status of many things on the boat and 8 channels of digital output allow automation to turn things in the boat off and on.

That Raspberry Pi is running close to I/O capacity and, rather than run many sensor wires from the back of the boat to the forward Raspberry Pi, James is preparing to install one at the aft end of the boat. The package pictured here is a 5V power supply, the Raspberry Pi, connected using a ribbon cable to a junction box below the Pi. The junction box has the 4 transistors and relays that drive the digital outputs and is where all the sensor lines will connect up to power, ground, and Pi I/O ports.
Hose




Waves entering the cockpit swept our hose attached to the port bulkhead across the boat and out the starboard scupper where it has been dragging through the water behind the boat catching kelp. Too bad we didn't get a fish.
Lows




Conditions are great now, but we've got a couple of lows coming in the next few days. The first is relatively minor, with seas no more than nine feet. This system is approaching from the southwest and we might be able to mostly outrun if we can keep up a good speed. The second system, pictured, is a stronger one with expected sustained winds in the 35 to 40 kt range with 18ft seas on only 8 seconds. Fairly ugly.

We've not fully investigated the model but it looks like a good strategy might be to slow way down Friday morning and run dead slow over the weekend. We'll still take some big conditions Saturday and Sunday but, by slowing down, we give the storm to start to subside somewhat before we get into the worst of it. If we do that, it'll lengthen the trip a day or two but avoiding the worst of those conditions would seem to be prudent. Once we get past these systems, we should have relatively smooth sailing in that blocking high which might carry us all the way to Ireland.
5/11/2017
Gulf Stream




Because of the proximity of where we are to the Bay of Fundy, where the world's largest tidal range is found, the alternating tidal currents out here are remarkably strong. We're currently getting a good tidal push out here and making 8.5 knots. Unfortunately with all tidal currents, the other half is coming. Conditions are excellent, with max roll and pitch at 4.5 and 6.7 degrees.
Big System Coming




For quite some time now we have been watching a very large low in the weather models coming down from Greenland.

Read more …
Midnight Eggs




Well, more like 3am eggs. Jennifer has the 10pm to 5am shift and usually has an early breakfast before going off watch at 5am.
10.4 Knots




We're doing 10.4 knots and our "drive to lights" indicator labelled Faster is lit up, indicating we can speed up and still meet our fuel economy goal of 1.15nm/gallon. We've never run this fast in a crossing before. The weather models indicate improve conditions in that low we're approaching: we may only see 13ft on 8seconds. Our plan not is to to make the best time we can and turn northward into the waves if they are too large to take on the beam.
Dolphins




A pod of dolphins swam past about a half miles away, leaping out of the water. Unlike most dolphins we've encountered. they seemed to have zero interest in chasing our bow wake.
Forward Bladder




We'd burned enough fuel, over 400 gallons, to have room in the main tanks to drain the 367 gallons from the forward bladder and stow it. Now we now have nearly full main tanks, plus another 600 gallons in the two 300-gallon cockpit bladders.
MITIQ




The 443ft cargo ship MITIQ passed us en route to the Port of Matane in Quebec. Being directly on the path of commercial traffic heading up the St. Lawrence and into the Great Lakes, we were expecting to see more traffic on this run, but so far haven't seen much of anything.
5/12/2017
Clipper Nestorio




Our second ship sighting was the 587ft (179m0 bulker Clipper Nestorio en route to the Port of New London in Connecticut.
Nordic Cosmos




It's getting busy out here: three ships in two days. :) The 899ft tanker Nordic Cosmos passed us en route to the Port of Quebec.
5/13/2017
47 knots




Last night, the winds picked up as that first low pressure system we had expected to contend with caught up with us. We expected winds in the 20-kt range, but got 30-35 knots with gusts to 47 kts, and lighting all around as a bonus. This low was deeper and brought both bigger winds and bigger seas that expected. At 1:15am, we faced our first emergency at sea. We have had mechanical problems in the past but none ever required immediate attention and none worried us much at all. This one was different.

At 1:15am a piercing alarm when off. James jumped out of bed and found high bilge water alarm had triggered. Still naked he checked on the engine room and found the main bilge was already full and there was a thin layer of water already forming on the starboard side engine room walkway. The main bilge pump was running constantly but was not able to keep up and the bilge water levels in the engine room were building fast. We found water gushing in at 2 to 3 gallons per minute in the starboard rear corner of the laz.

We first turned the boat 180 degrees in an effort to reduce the water ingress rate. We then went after finding the leak and reducing the flow to the point where the bilge pump could keep up. We used the Pacer emergency bilge pump to clear the bilge water and it was very effective and cleared the bilge in around 15 seconds. But, because the water inflow was so high, we would have to alternate between working on slowing the flow at the leak and emergency bilge pumping. Between the rough seas, needing to start and restart the emergency bilge pump every 5 min since the main pump couldn't keep up, and possibly tiredness or fright, it took a long time to get the situation back under control.

It was nearly 10 hours before we could start to relax again. This was by far the most difficult situation we have faced in our boating careers.
Forecast




Conditions are comfortable now, but will start deteriorating over the next few hours. And in about 24 hours, we'll see what the weather models say is most likely the biggest weather of the trip. The models indicate we'll be in 14-ft beam seas on an 8-second period for a good 12 hours until we pass through the worst of it. And another 24 hours after that, conditions should improve dramatically. Our plan is to keep running this course and if conditions are too difficult on the beam, to turn north into the seas.
Tennis Ball




A boarding wave carried a tennis ball into the cockpit and left it balanced on the port bladder tie-down. This gives an idea of the size of the waves coming in that it was high enough to deposit the ball there.
Conditions




The winds have started to pick up into the 30s and max pitch is 11.6 degrees with max roll (data missing from display) approaching 20 degrees. The big seas are slowing us down and likely we have a counter-current as well. This makes conditions feel more difficult as the stabilizers do better with more water flow over them. And it means we'll be in the rough conditions longer.
Latch




During one particularly large roll, the stairwell pantry locker flew open and a couple of cans fell out. On investigation, the latch isn't tight enough so James shimmed it to ensure it locks postiviely.
Conditions




Conditions have continued to worsen. The weather models estimate that we're in 12ft seas on 8 seconds with pitch and roll both nearing 20 degrees and we can barely make 5 kts and still hit our fuel economy goal. The boat is doing fine, and we're able to sleep well on the floor, wedged between the bed and bulkhead, but we have to be super-careful moving around. Crawling is the safest and easiest.
Pitch and Roll




The seas are fully developed now and we're in 14-20ft beam seas on 8 seconds with the winds steady in the mid-30s. The maximum roll in the past 15 minutes was 29.5 degrees and our speed is down to 4.6 knots and even at that pathetic speed our fuel economy isn't quite good enough to make the full trip. Several times breaking waves the height of the pilot house have slammed into the side of the boat with such force that the whole boat shudders. We're glad those

storm plates

are installed.
Click the travel log icon on the left to see these locations on a map, with the complete log of our cruise.

On the map page, clicking on a camera or text icon will display a picture and/or log entry for that location, and clicking on the smaller icons along the route will display latitude, longitude and other navigation data for that location. And a live map of our current route and most recent log entries always is available at http://mvdirona.com/maps.