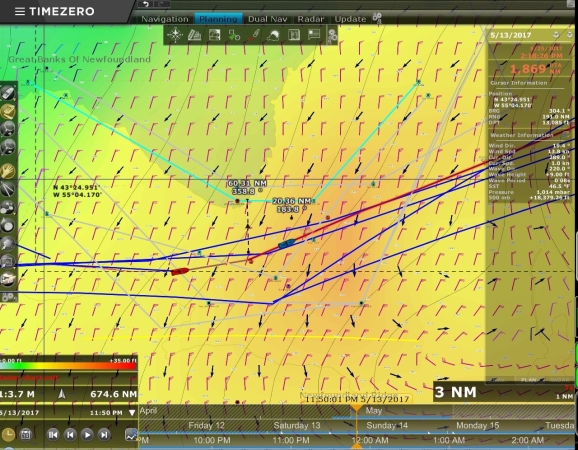 For quite some time now we have been watching a very large low in the weather models coming down from Greenland. The storm is currently predicted to bring 20′ waves on 10 second period, with 25 to 30 kt winds. With 20′ waves nominal, there will be some that approach or exceed our 30′ mast height. We are highly motivated to avoid this worst of this one.
Speed was one option. At normal speeds we will pass right through the worst of it. We worked through the impact of ignoring fuel economy constraints and running full speed to pass prior to it moving across our course line. But, in rough conditions we are unlikely to get better than 8 kts and the storm is too wide for that tactic to be effective.
Our next best choice is to proceed normally and then put the bow into the weather and run at low speed for 26 hours until the fairly fast moving weather system passes to the south of us. This is a perfectly reasonable tactic but 20′ waves are big, some will be as high as 30′, and we are still carrying deck fuel in the cockpit. The predicted wave height with wave frequency in the eight- to nine-second range make this option less desirable
A third option is to run super slow and let the storm pass since the intense core is predicted to pass in just over 1 day. On this model we run slow for 3 to 4 days but avoid the worst of a potentially dangerous storm. The downside of this approach is there is another low pressure system heading north up the coast. If we run too slow, we get 15′ beam seas with 30 kt winds. Undesirable but not unsafe.
We don't love any of the options but plan to head slightly south and run 4.5 kts and then head north into the weather while the worst of the storm passes and them pass above it and go get the good weather the blocking high pressure system over the North Atlantic has waiting for us.
We'll take this last approach and that is why we are currently running so slowly. If the weather model is correct and there are no further mechanical problems, we'll be in good shape. I don't expect any mechanical problems and weather predictions 3 or 4 days out are normally fairly accurate.
We're guessing we'll be busier than usual for the next few days but we'll be back blogging the trip in a day or so once things settle back down.