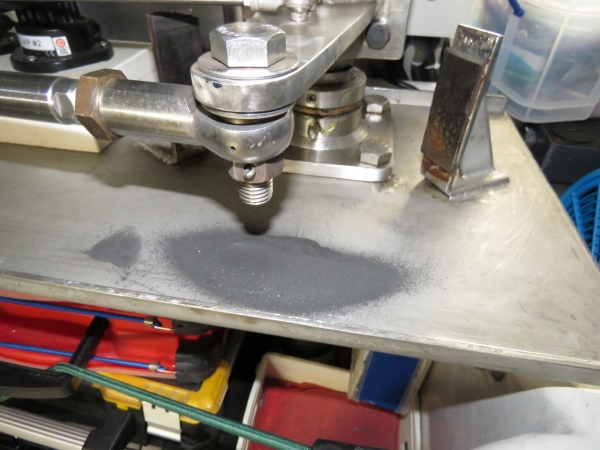 We haven't had steering issues in the past. Given they can happen anywhere, why the heck would it occur within hours of dead-center on our 2,800 nm trip through the North Atlantic?
We have covered a lot of miles over the years and generally have seen pretty good conditions. The weather we've encountered has been just serious enough that we are never tempted to get complacent, but we generally get good weather and don't see frightening conditions. This trip has already offered up the most difficult situation we have yet faced at sea.
Last night around 8pm I noticed black metal dust under the rudder arm, pictured above, and it appears the rudder has as much as 3/16″ of play when it should have none visible. Likely this is still fallout from the two days of unusually rough weather. The mechanical parts that make up the rudder assembly are one of the few areas where we really wish we had more redundancy partly because it's hard to continue a trip without a rudder and partly because the mechanical loads at the rudder arm are massively high. With loads that high, everything needs to be both designed right but also in excellent operating condition. The pile of metal dust has me nervous so I decided to wake Jennifer up and go after this issue immediately. We stopped the boat so we could work on the rudder with lower hydrodynamic loads on it. Immediately we learn how much we love ABT stabilizers.  The water is by no means rough out there, but without active stabilization, we do move around quite a bit. I took the rudder arm bolt out to find the source of the rudder dust.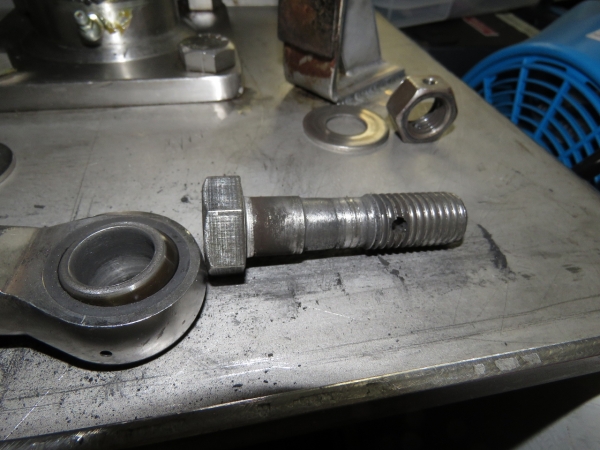 The rudder arm to steering ram attachment is apart and pictured above. It was worse than I was guessing by the amount of dust. The rudder bolt securing the rudder arm to the hydraulic ram is already heavily worn.  Prior to the period of really rough water we just went through, there was no evidence of metal dust at this location—this happened surprisingly quickly. My first theory was that the rudder had seized up and overload is causing this massive wear. But I could swing the rudder by hand using a large adjustable wrench, so that didn't appear to be an issue. It still might be the case that it locks up under heavy hydrodynamic loads. But it seems likely that if I am strong enough to swing the rudder with an adjustable wrench, it's probably fine. Unfortunately, the bolt is destroyed. We have a pretty extensive set of spares, but it doesn't include this one. The closest thing we have is a keel through-bolt, but it is much too long and not quite thick enough.
The nut that tightens up this assembly threads onto the bolt to a fixed location drilled through the nut and bolt when the boat was built. A cotter pin is placed through this assembly so it can't back off. Nice design, but it does mean that there is one level of tightness where the cotter pin goes through and no other options. My theory is there has been wear throughout over the years—not enough to show free play but just enough wear that the bolt can work back and forth in some conditions. In the rough water where the waves were as high as 20 feet, the steering ram was working hard and fast and, with this small flex, we took a lot of wear. I wish I had seen it earlier before giving up as much metal as we have. Still 90% of the bolt is still there and that should be plenty if we can stop the movement. I added some washers to force the hydraulic ran rod end down slightly on to a less worn section. Then I tightened the nut up to about 60 ft lbs. In the next picture you can see where we ended up on this temporary fix.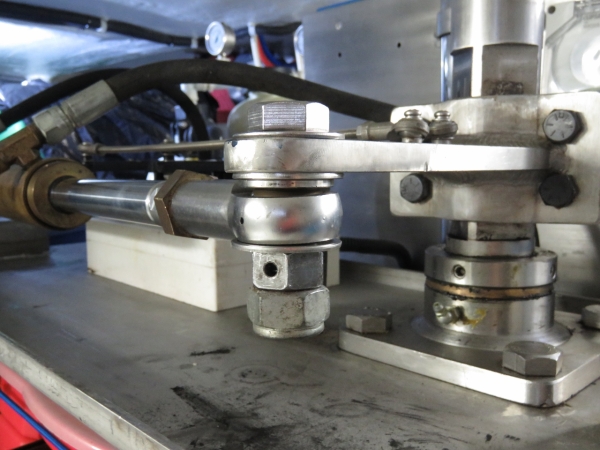 The system was back together. The good news was the assembly was tight and didn't appear to be flexing, but the bad news was that, as we tighten to take up this play, the cotter pin hole no longer lines up and so there is no way to secure the nut and prevent it backing off. We'd have to find a way to deal with that.
We put the boat back on track and brought it up to full speed to see how stable the assembly was. The test isn't great because we are in relatively flat water but we are running near full speed and there is no evidence of flex or play. Jennifer really scored and was able to round up a nut of the right size and thread which may actually help save this situation. I used the second nut with Loctite red as a lock nut. The second nut is run up against the first nut tight so neither can move. The assembly appears secure but the real test is do we get flex, play, or metal dust over the next 12 to 24 hours?  We'll watch it closely and ensure we don't give up any more metal before making changes. We'll just keep trying different things if needed. Airplane travel is starting to have a certain appeal :-)