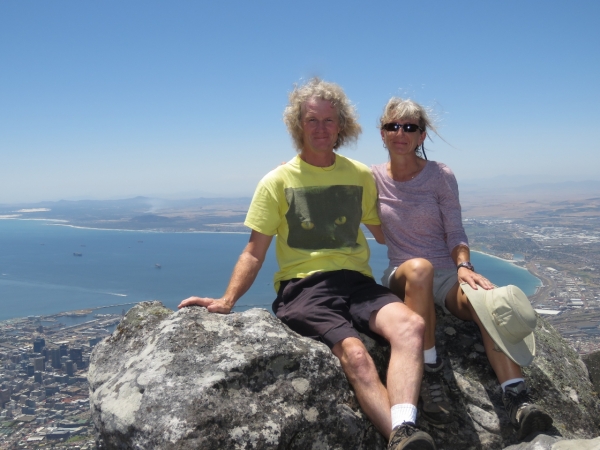 We started and ended 2015 in two world-renowned international cities on two different continents and oceans: Sydney, Australia on the west side of the Pacific Ocean and Cape Town, South Africa in the southeastern Atlantic Ocean (2015 trip highlights).
Between January 1st and December 31st, we traveled 14,441 miles in 153 trips at an average speed of 7.1 knots. If we could just get more focused and go in a straight line, we would have gone 67% of the way around the world this year. 11,825 of those miles, or 82%, were covered in 19 passages of longer than 24 hours. We were underway 2,063 hours (86 days) or 24% of the hours in the year. Deducting the 124 days we spent longer-term in marinas without moving the boat (15 days in Melbourne, 34 in Darwin, 23 in Reunion, 18 in Richards Bay and 34 in Cape Town), our total boating days for the year were 241 and we spent 36% of that time underway. We also covered 154 degrees of longitude, or 42% of the way around the globe, and 22 degrees of latitude.
Traveling all those miles requires a lot of fuel. We refueled 10 times this year (in Hobart, Melbourne, Gold Coast, Cairns, Darwin twice, Dampier, Rodrigues, Richards Bay and Cape Town), taking on an average of 1,233 gallons (4,670L) per fill. Overall, we consumed 12,116 gallons (45,894 L) of diesel at an average fuel economy of 1.20 nm/gallon (0.32 nm/L). We put 2,132 hours on the main engine (total 6,957), 94 hours on the wing (total 721) and 539 hours on the generator (total 4,251). Those miles require oil changes. This year we changed the main engine oil 6 times, the generator 3 times and the wing once, for a total of 10 oil changes for the year.
In terms of power for the year, we consumed 5,848 kwH from the 120V inverter and 4,527 kwH from the 240V inverter, where the power source was the generator, shorepower, and the main engine. Not counting the main engine, the generator produced 3,137 kwH and shorepower supplied 6,927 kwH. Historically the generator run time averages about 75% of the main engine. This year it was only 25%. This is due partly to being underway more and charging the batteries off the main engine. But it's also because the combination of 9kw of main engine alternator and the 240V inverter means we never have to run the generator while we're underway or plugged into shorepower (regardless of frequency).
We will start off 2016 with a 3,650nm run from St. Helena to Barbados, by far our longest non-stop run. After that, we plan to slow down from our 2015 pace. Our current plan is to enjoy the Caribbean and the US eastern seaboard, and perhaps explore some of eastern Canada. But one of the joys of travelling the world in a small boat is you get to change your mind every day.
Previous trip highlights are below: