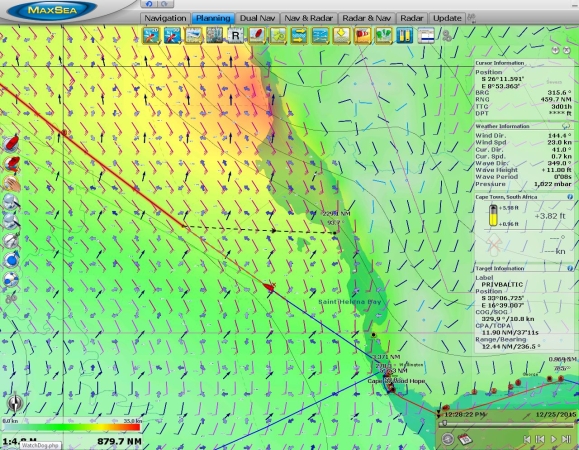 We cleared out from Cape Town for St. Helena on December 23rd, just over a month after we'd first arrived in the city. We've had a few questions as to why we left when we did, particularly with 12ft seas forecast during the first couple of days. In all things around engineering and boating, the decision is complex and hard to fully optimize across all dimensions simultaneously. South African weather, even in the good season, doesn't offer big gaps between weather systems. It takes two to four days to get distance from the South African coastal weather systems, and the systems are often just two to four days days apart. The World ARC fleet sails on January 6th from Cape Town to St. Helena and, because fourteen boats travelling together put a big load on the limited local facilities in locations like St. Helena, we want to be a week or so ahead of that group. In the absence of that constraint, we probably would have left in early January. James had work commitments in Cape Town until December 16th, so we couldn't leave earlier. We chose the second best weather gap we could see between the two dates.
Why not chose the best gap? The 28th looked somewhat better than the day we exited on. When the conditions on neither day is dangerous and they don't differ by much, we will take the earlier one on the belief that 1) weather reports are more accurate and stable closer to the forecast period, and 2) waiting doesn't noticeably improve the situation. Probably the most important factor is we focus much more on wave period than wave height. 4m seas on 12 seconds is way less of a negative impact on boat comfort than 3m seas on 7 seconds. Large swell on a long period involves lots of up and down but really doesn't make the boat at all uncomfortable. The 24th was fairly rolly and the 25th was better but still with bigger waves on a shorter period than we ideally like. However, the remainder of the trip is predicted to be good. It's hard to avoid a rough day or two if you are out for a couple of weeks or more.
Trip highlights from December 23rd to 28th follow. Click any image for a larger view, or click the position to view the location on a map. And a live map of our current route and most recent log entries always is available at http://mvdirona.com/maps
12/23/2015
Bladders




Today we plan to clear out of South Africa, take on fuel, and set off on the 1,700nm run to St. Helena. We'll be filling all three bladders (960 gallons total) in Cape Town. This is the first time we've used the bladders to save money rather than make distance. Fuel in Cape Town costs USD $2.85/gallon ($0.75/L) whereas it's USD $6.89/gallon ($1.82/L) in St. Helena. We'll save nearly USD $4,000 by filling the bladders in Cape Town and only taking on in St. Helena what we burned to get there.
Harbour master




In Cape Town, you check out by visiting Customs and Immigration in person. The V&A Waterfront, however, is not an official customs entry/exit point, so the boat must be moved to the Royal Cape Yacht club in order to clear out. The Royal Cape is full and we're too heavy for their docks even if there were space. The standard practice, we're told, is that the V&A Waterfront Marina requests a letter from the Royal Cape Yacht Club indicating that they cannot accommodate us. We took this letter to immigration, but they insisted on a letter from the Harbour Master in order to approve our checking out from V&A. So we walked up to the Harbour Master's office and got our letter. The one upside of that hassle was the incredible view from the Harbour Master's office.
Cleared out




We're finally cleared out. Once we had the letter from the Harbour Master, the rest of the clearance process went quickly.
Last view




Our last view to the V&A Waterfront. Our berth was the empty one in front of the catamaran at the right of the photo.
Bunker Point




On the dock at the All Shipping/3BP fuel station at Bunker Point, just inside the entrance to Cape Town Harbour. You can see the fuel hose snaking to the bow where James is filling the forward bladder.
80,000 Rand




The fuel dock accepts payment only in cash or electronic funds transfer. It takes ten days to wire money to South Africa, and we prefer the flexibility of paying when we fuel rather than well before. So we've been raiding the local ATMs to build in up 80,000 in South African Rand (about USD $5,250) that we've kept in our on-board safe.
Fully fueled




We finished fueling and were ready to get underway around 7:20pm. With 2,707 gallons of fuel on board Dirona is really low in the water.
Sunset




We were just in time to enjoy a fabulous Cape Town sunset as we left the harbour. We expect reasonably calm conditions of about 7 feet on 8 seconds until tomorrow morning, when the waves will pick up to about 9 feet on 8 seconds, then both height and period will increase to about 12 feet on 10 seconds later in the day. 12 foot waves aren't as bad as they sound. We focus much more on wave period than wave height. 12ft seas on 12 seconds has way less of a negative impact on boat comfort than 6-9ft seas on 7 seconds. Large swell on a long period involves lots of up and down but really doesn't make the boat at all uncomfortable.
12/24/2015
Conditions




We're into the expected 9ft waves on 8 seconds coming from just forward of the beam. Pitch and roll have increased substantially since this morning. The graphs in the third row just right of center show pitch and roll for the past 12 hours, and the gauges in the center of the third row from the bottom show max roll (15.4 degrees) and max pitch (10.6) for the past 60 minutes. (Click the image for a larger view.)
Evening conditions




Conditions have improved somewhat–the waves are now about 11 feet on 9 seconds and more on the beam than forward of the beam. Pitch is down to 8 degrees, but roll has increased with the wave height.
12/25/2015
Merry Christmas




Our Christmas present has been improved sea conditions. We're now in about 12 feet on 10 seconds. Max roll over the last 60 minutes is 11.9 degrees and max pitch is 4.9 degrees.
Conditions




Conditions have remained good, but we are expecting them to deteriorate for about 12 hours as we pass through the edge of the high pressure system off Namibia. The current weather models indicate that the rest of the run should be in light swell or long wave periods.
Benguela Current




We hit some negative current not far out of Cape Town, but now are getting an excellent push from the Benguela Current that runs northward along the west coast of Africa. We have been running slower than we usually do to explore fuel economy at very low power levels. Our interest in doing this is driven by our considering a direct run from St. Helena to the Caribbean. This 3,650 nautical mile run is at the very limit of Dirona's range. Generally, we have no experience at these speeds, so we are probing the upper end of the speed we would need to run at to ensure we have the fuel economy we need to actually complete the trip.
12/26/2015
Chillin'




Spitfire is very much enjoying the calmer conditions. When it's too rough, he braces himself against the wall with his paws straight out to limit motion. But now he can just sleep however he wants. Today it's upside down with his hind legs spread.
12/27/2015
Radar




The radar display has been empty like this since we got about a day out of Cape Town. We've not seen another ship since the 24th.
12/28/2015
Speed




We continue to make excellent speed and fuel economy with help from the Benguela Current. And conditions remain wonderfully calm. Over the last hour, the max roll and pitch had been 8.2 and 3.1 degrees respectively.
Malloy Seamount




We're passing over the Malloy Seamount now, where depths plummet from 16,000ft to 7,500ft in only a few miles. Several seamounts are on the route between Cape Town and St. Helena. We've highlighted their locations on the chartplotter because sea conditions there can be dangerous in rough conditions and they are also likely locations for fishing vessels, so we want to be extra vigilant.
Click the travel log icon on the left to see these locations on a map, with the complete log of our cruise.

On the map page, clicking on a camera or text icon will display a picture and/or log entry for that location, and clicking on the smaller icons along the route will display latitude, longitude and other navigation data for that location. And a live map of our current route and most recent log entries always is available at http://mvdirona.com/maps.