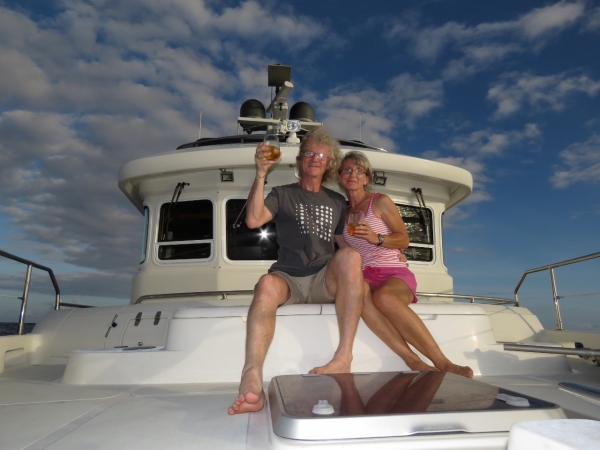 Crossing the equator near the halfway mark on our 3,691-nm passage from St. Helena to Barbados
In a first for us, we started and ended 2016 at sea. On December 23rd, 2015 we departed Cape Town, South Africa on an 11-night, 1,713-nm passage to St. Helena in the southern Atlantic Ocean. And on December 31st 2016, we left Cape Lookout, NC on a 212-nm, overnight run to Charleston, SC. Click the link below to view this year's highlights.

2016 Highlights
Between those trips, we crossed the Prime Meridian, re-crossed the equator, and covered 80 degrees of latitude, nearly half the earth's parallels, between Cape Town in the Southern Hemisphere and Newfoundland in the Northern. From January 1st through December 31st, we traveled 9,785 miles at an average speed of 6.5kts, put 1,563 hours on our John Deere 6068AFM75, and completed our voyage around the world by returning to the continental US at Palm Beach, Florida. It had been nearly 3.5 years since we left from San Francisco in the fall of 2012. Our main engine now has 8,564 hours and Dirona has covered 59,400nm, well over twice around the world.
Over a third of 2016's 9,785 miles were covered in our longest passage yet, a 3,691-nm, 25-day run from St. Helena to Barbados. We're told this is the longest non-stop run in a Nordhavn under 100ft. Including the trip from Cape Town to St. Helena, we'd been at sea six weeks to the day between Cape Town and Barbados, and covered exactly 5,400 nm, stopping only for four nights in St. Helena. Racking up that many engine hours in such a short period meant we did four oil changes in the first three months of the year, including our first ever oil change at sea.
We currently are in Charleston, SC, enjoying the hospitality and excellent restaurants the city is famous for. Our only firm plan right now is to be in Daytona Beach in February to take in some NASCAR stock car and World of Outlaws sprint car racing. But sometime next year we plan to make another Atlantic crossing, this time to Europe to cruise Norway and the Baltic Sea.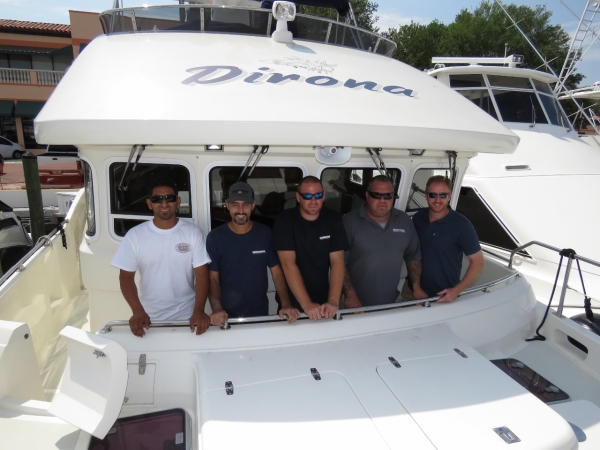 Nordhavn Southeast on board in Palm Beach, Florida to celebrate the completion of our trip around the world
Previous annual summaries are below: