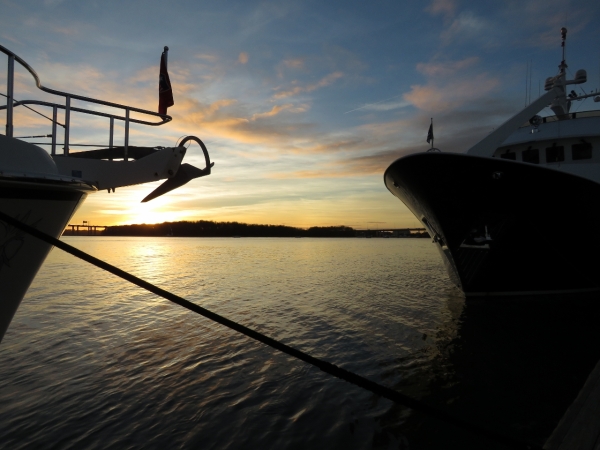 We enjoyed our time in Charleston, SC so much that we twice extended our stay. We loved the view to the Ashley River from our Charleston City Dock outside berth and had a great time exploring the city by tender, bicycle and on foot. The city lived up to its reputation for excellent food and even managed to catch a couple of ice hockey games while in town.
Trip highlights from January 1st through 19, 2017 in Charleston, SC follow. Click any image for a larger view, or click the position to view the location on a map. And a live map of our current route and most recent log entries always is available at http://mvdirona.com/maps
1/1/2017
Charleston City Marina




Our berth at the Charleston City Marina overlooking the Ashley River. We're on the outside because there was no space inside, but we actually prefer it for the view and would request it should we return. Read about our arrival into Charleston

here

.
1/2/2017
1/3/2017
Heading Lost




Our

Maretron N2kView

system is configured to light and/or alarm on events that need attention. Here you can see our freshwater tank is down to less than 50 gallons and we've lost the primary heading sensor. The water problem is quick and easy to correct, but the heading issue is unusual. We've never found the SC-30 at fault for a lost heading and haven't seen a heading loss for months, yet here in Charleston we've seen dozens in the past three days. We've read of several other Nordhavn owners who have had similar problems in this area that cleared up once they left. It's likely there's some kind of local interference in this area, but we won't know for sure until we've left.
Water




We're finally far enough south that the water hasn't been

shut off

on the docks for the winter. So we're taking the much-needed opportunity to fill the tank.
Brakes




Our Giant FCR-2 bikes require remarkably little maintenance, but the brakes on both needed replacement.
Basico




A delicious meal at Basico Mexican Taqueria in North Charleston before attending an ice hockey game.
Stingrays




In Norfolk we watched the ECHL

Admirals play the South Carolina Stingrays

. Now we're at the home of the Stingrays we decided to go watch another game. This evening the Stingrays beat the Tulsa Oilers 4-1. The Stingrays organization puts on a great show, the fans are enthusiastic, the level of play was excellent, and we had a super-fun evening.
1/4/2017
USS Yorktown




We arrived at the Patriots Point Naval and Maritime Museum a few minutes before they opened at 9am and didn't leave until nearly closing time at 6pm. There's a lot to see and do. We started on the

USS Yorktown

. This was our first time on an aircraft carrier and we spent a good half of the day there.

Read more …
1/5/2017
1/6/2017
Wifi Antenna




We weren't able to pickup the marina WiFi and on investigating the problem found a cable issue. Here James is testing out a new cable, and alternately a new antenna, to narrow the problem down to a bad cable.
Sesame Burgers




A fun meal at Sesame Burgers and Beer prior to the hockey game.
Stingrays




We had such a good time at the Stingrays game earlier this week that we decided to attend another. This time the Stingrays beat the Greenville Swamp Rabbits 3-0 in a super-exciting game.
1/7/2017
Aground




A sailboat has been aground on the opposite side of the Ashley River since we arrived. The sail suddenly came loose this afternoon and tore itself up in today's big winds.
1/8/2017
Brrr




The cold weather has caught up with us. The temperature was 29.2°F (-1.5°C) when we got up this morning. At least the water hasn't been shut off yet.
Frost




A layer of frost covered the marina docks this morning, with sea smoke at the water surface. I guess we spoke too soon about the warmer weather further south. We're still above the frost line. Locals tell us we've now experienced the entire South Carolina winter. :)
1/9/2017
Uniden Bearcat




We just bought a new Uniden Bearcat radio scanner for races we'll be attending from Daytona Beach in February. Race officials communicate via radio, as do the drivers and their teams. Fans use scanners to listen in. We've got two headsets and a splitter coming too, so we can both hear.
1/10/2017
Cable replacement




James reinstalling the stack grill after replacing the failed

WiFi cable

.
Anchor Swivel




After galvanizing our chain in Baltimore, we decided to switch over to our

spare anchor swivel

as the current one was showing significant wear after six years of steady use. But the bridge loop on the spare Ultra UFS13 wouldn't fit over the anchor shank of our Rocna 70. In an impressive show of customer service,

Quickline

honoured the discount we'd received when we bought the spare three years earlier and shipped us the next size up, a UFS16. We were worried the USA16 might be a little too large to fit our 7/16″ chain, but the chain just fit in the swivel bolt. You can see how much bigger and beefier the UFS16 is compared to our old UFS13.
Wear




Our previous Quickline UFS13 anchor swivel has seen hundreds of anchorings since we took delivery of Dirona in 2010. The swivel still seemed fine and worked well, but is showing significant wear.
Sunset




Sunset viewed between the bows of

Dirona

and

Hercules

in our new berth. We extended our stay for a week, but needed to move down the dock a bit to make space for a larger incoming vessel. We last saw

Hercules

, a 75ft

Molokai Strait

, in Southwest Harbor, Maine. You can just see it on the left of

this picture

as we are departing Southwest Harbor in the fog.
1/11/2017
Moonset




Moonset, one day before full, over the James Island Expressway Bridge.
Boeing




Today we toured the Boeing South Carolina Plant and saw the first 787-10 nearing completion.
Eli's Table




A delicious lunch with Steve Dryden on the patio at Eli's Table. Steve has a boat in our marina and stopped by to say hello. He is CEO of

SentinalSix

, a situational awareness startup, and arranged our tour at Boeing.
1/12/2017
Sunrise




Sunrise lighting up the James Island Expressway Bridge.
Hercules




Out in the tender looking back to

Hercules

and

Dirona

on the Charleston City Marina dock.

Read more …
1/13/2017
Salvaging




Two men arrived across the river in a center-console this morning. One wearing hip-waders walked out to the grounded sailboat and salvaged some gear.
Netgear R7000




Our project for this weekend is to install our new

Netgear R7000 Nighthawk

router. Here we are loading

DD-WRT

, a Linux-based open-source router firmware package. Our ultimate goal is to have several WAN connected and can manually switch between them in software, either manually or through automatic fail-over. For example, we'd like to default to an external WiFi connection if available and otherwise run off a cell phone hot spot. And if neither is available or fails, we'd like to fail over automatically to our

KVH mini-VSAT

satellite system.
Temporary Install




With

DD-WRT

installed and running, we temporarily installed the

Netgear R7000 router

in place of our existing Cradlepoint router to test it out.
1/14/2017
Charleston Marathon




Participants in the Charleston Marathon heading south along the waterfront.
Completed Install




We're happy with how the

new Netgear R7000 router

performs, so we've permanently installed it. The switchbox below the router switches the router input between whatever is feeding our

Bullet WiFi radio

(currently either external Wifi or our cell phone hot spot) and the KVH mini-VSAT system.

The next step is to enable support for multiple active WANs in the router so that we can simply switch between our three internet sources in software rather than using the hardware switch or having to change the Bullet Wifi source. As a base for what we're doing, with a DD-WRT open-source routing software running on the Netgear R7000 Nighthawk, we're using Multi-Wan support by David Medders.
Cradlepoint




Our old Cradlepoint router has been in place since the boat was new in 2010. We've not been happy with it recently, partly because we can't get a good signal in the cockpit, but also because it is flaky and either locks up or performance degrades periodically in ways that are difficult to isolate.
1/19/2017
Router Status




We've now got the first stage of router

multi-WAN support

working where we have three WANs connected to the router and can manually switch between them. We've written a small web app that displays the current router state and allows us to select which of the three WANS we want to use via a via radio-button.

The status page shows which of our three WANs currently are active, when their state changed and when the last failure for that WAN was. In this example, the external WiFi was made the active WAN on Jan 19th 8:58am and the KVH mini-VSAT has been down since Jan 18 at 6:52pm (forced down for testing). The cell phone hot spot is available to be made active via the radio button. Subsequent stages of this project are to report on data usage and to support automatic fail-over to the KVH system and to restrict the traffic on that WAN so we don't incur a bigger-than-necessary satellite bill.
Grateful Head




We loved the name of the Charleston City Marina's black water pump-out boat.
Click the travel log icon on the left to see these locations on a map, with the complete log of our cruise.

On the map page, clicking on a camera or text icon will display a picture and/or log entry for that location, and clicking on the smaller icons along the route will display latitude, longitude and other navigation data for that location. And a live map of our current route and most recent log entries always is available at http://mvdirona.com/maps.