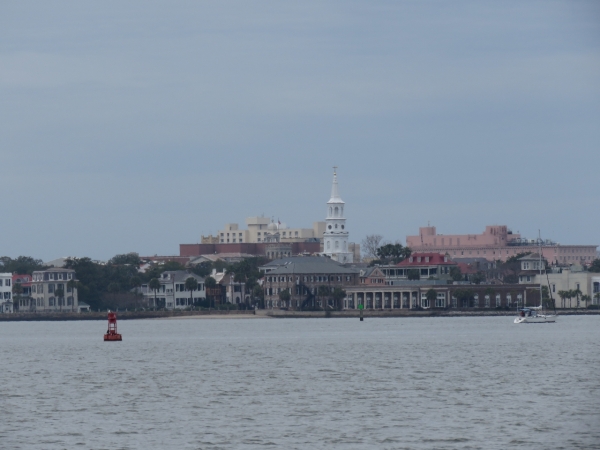 As we neared Charleston City Marina from sea, we'd started to wonder if we were heading in the right direction. The marina was supposed to be walking distance from downtown, but where were the tall buildlings? The city, it turns out, looks different from other downtowns due to zoning restrictions that limit building heights.
We'd arrived on New Year's Day after leaving Cape Lookout on an overnight run, our second New Year's Eve at sea in a row. Once settled in at the Charleson City Marina, we walked into town to explore this city famous for its hospitality and historic buildings.
Trip highlights from Dec 31st 2016 though January 1st, 2017 follow. Click any image for a larger view, or click the position to view the location on a map. And a live map of our current route and most recent log entries always is available at
http://mvdirona.com/maps
12/31/2016
Underway




As forecast, the winds dropped to near zero overnight and will remain reasonably calm for the next couple of days before another system comes through. We got underway at 5:47 this morning on a 212-mm overnight run to Charleston, SC. Current conditions are excellent with winds barely 3 kts from the east and a low southeasterly swell. We expect the winds to pick up a bit this afternoon to perhaps 15 knots then fall off again overnight.
1/1/2017
Conditions




The winds picked up stronger than forecast from the SW this afternoon, bringing 25-kt SW winds on the bow, with gusts to 30. Boat pitch has been over 10 degrees and up to 14 at times. The winds have since settled back down to around 10 knots and pitching has reduced to barely 5 degrees. We expect these conditions to last the rest of the run.
Sea Land Meteor




The cargo ship Sea Land Meteor just passed us en route to Jacksonville, FL. Other than a few sportsfishers off Cape Fear, we've not seen much other traffic on this run.
Nearing Charleston




Conditions have been ultra-smooth that past few hours for our final run into Charleston. We're twenty-two miles out now and can see large ships moored to our south off the port and lots of AIS targets. We'll likely show up on the Charleston City Marina

web cam

in a few hours.
Arthur Ravenel Jr. Bridge




From a distance at sea, the cable-stayed towers of the the Arthur Ravenel Jr. Bridge look like two giant sails. The bridge opened in 2005 and at 1,546 feet (471 m) is the third longest cable-stayed bridge in the Western Hemisphere.
Fort Sumter




Confederate soldiers fired the first shots of the American Civil War on Union-held Fort Sumter in 1861, and took the fort the next day. Today the fort is part of the Fort Sumter National Historic Monument and is open to the public for tours.
USS Yorktown




The USS Yorktown is the second of twenty-four Essex-class aircraft carriers launched during World War II. The Yorktown served in World War II and Vietnam and was the recovery ship for Apollo 8, the first manned spacecraft to orbit the moon. Today the Yorktown is a National Historic Landmark and open for tours as part of the Patriots Point Naval and Maritime Museum. In 2012, the second annual Carrier Classic college basketball game was held on the Yorktown's flight deck.
Downtown




A first look to downtown Charleston. The city looks different from other downtowns in that there are no tall buildings. We're told that this is due to zoning restrictions that limit building heights.
Historic Homes




Grand homes line the waterfront as we continue north to Charleston City Marina. Charleston is famous for its historic buildings and classic architecture.
Cormorant




The US Coast Guard Cutter Cormorant, an 87ft Protector-class coastal patrol boat at Coast Guard Sector Charleston.
Church




We walked into town for lunch from the marina. Along the way we passed Bethel United Methodist Church, a National Historic Landmark. The church was founded in 1797 and the current building was constructed around 1850.
College of Charleston




Looking down a promenade between buildings of the College of Charleston. Founded in 1770, its the oldest municipal college in the country.
Monza




King Street is full of restaurants and shops. We had an excellent pizza lunch at Formula One-themed Monza restaurant.
Library Society




The Charleston Library Society was founded in 1748 and promotes life-long learning through discussion programs and access to its collection of books, manuscripts and archival material. This building looks much older than the 1914 date when the society moved into their first purpose-built building.
John Rutledge House




John Rutledge, the first governor of South Carolina, lived in this pre-revolutionary war home.
Cooper O'Conner House




Cooper O'Conner House was built around 1855. During the Civil War the Confederacy confined several Union officers here. This was known to the Union and photographs after the Federal occupation show all the surrounding houses in ruin except for this one.
Colonial Lake




Colonial Lake was built in 1869 as part of the Commons that were set aside for public use in 1768.
Coast Guard




A view to the

other side

of Coast Guard Sector Charleston as we walk back to the marina. On the docks are two Response Boats ‐ Medium and two

Metal Shark

29 Defiant Response Boats ‐ Small.
Migration




We saw a couple of Nordhavns on the dock as we arrived and walked down to check them out. This is Nordhavn 47 Migration of Newport, RI.
Travail




Nordhavn 43 Travail of New Castle, NH. Both Nordhavns appeared to be stored here for the winter.
Charleston City Marina




We have a great berth at the Charleston City Marina overlooking the Ashley River. We're on the outside because there was no space inside, but we actually prefer it for the view and would request it should we return.
Click the travel log icon on the left to see these locations on a map, with the complete log of our cruise.

On the map page, clicking on a camera or text icon will display a picture and/or log entry for that location, and clicking on the smaller icons along the route will display latitude, longitude and other navigation data for that location. And a live map of our current route and most recent log entries always is available at http://mvdirona.com/maps.