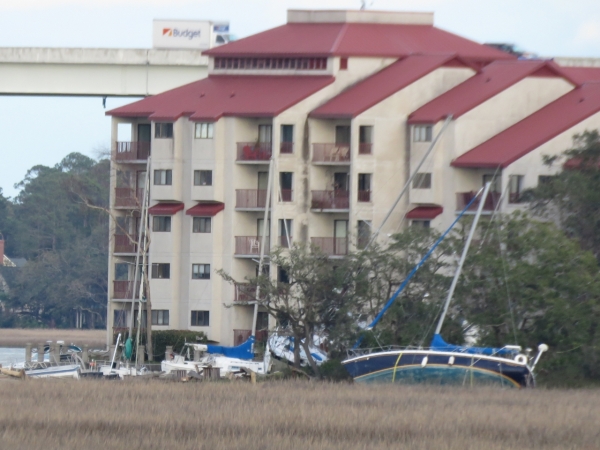 The National Weather Service recorded peak wind gusts at 88 mph 5-10 miles off Hilton Head Island on October 8th, 2016 during Hurricane Mathew. We saw the resulting damage from those winds first-hand after an 86nm run from Charleston to Hilton Head Island. Palmetto Bay Marina, pictured, was completely destroyed. Many of the docks along Hilton Head Island's western shore appeared damaged or ruined, and a number of houses were under construction.
In much calmer weather, we anchored in the tranquil Harbor River off Hilton Head Island for a few days while a storm system passed through. While there we made further progress on our network router multi-WAN support project and battled network instability issues that turned out to be a hardware issue with navigation computer's motherboard.
Trip highlights from January 20th through 24th, 2017 at Hilton Head Island, SC follow. Click any image for a larger view, or click the position to view the location on a map. And a live map of our current route and most recent log entries always is available at http://mvdirona.com/maps
1/20/2017
Leaving Charleston




A last view to Charleston in the pre-dawn light. We're getting underway at 5:40am to make the 86nm run to Hilton Head Island so that we can arrive before dark. In a video of our exit at

https://youtu.be/DmsuEMiUB6E

, you can see us coming off the dock and turning south to head to sea. The current was ebbing about a knot as we left, so we were careful to pull off the dock a bit before getting the bow into the current which effectively will turn the boat. (The aft camera is setup to mimic a rear-view mirror, so the marina appears to be on our starboard side as we pass alongside, but its actually to port.) On the way out through the shipping channel, you can see birds playing in the beam of our new

forward light

.
Speed




We're getting a strong push from the ebbing current and are making 9.7 knots. At 1750 RPM we'd expect 7.5kts in flat water. We're expecting good conditions for the entire run to Hilton Head Island, with light winds in the morning picking up only to 10-15kts in the afternoon.
Dawn




A fishing vessel working the shallows off Morris Island at sunrise.
Harbor Town Lighthouse




We had a nice, easy run to Hilton Head Island with reasonable conditions the whole way. The winds did pick up from the southwest as expected, but not more than 15 knots. This the iconic red-striped Harbor Town Lighthouse at the southwest corner of Hilton Head Island. The lighthouse was privately built in in 1969-1970 and is a private aid to navigation.
Leopard




Sailing vessel Leopard on the docks with several large houses visible behind. The dock off the stern is damaged, likely from Hurricane Mathew last October.
Damage




The National Weather Service recorded peak wind gusts at 88 mph 5-10 miles off Hilton Head Island On October 8th of last year during Hurricane Mathew. Palmetto Bay Marina, near where we will anchor, was completely destroyed. Many of the docks along the western shore of the island appeared damaged or destroyed, likely from that event. We also saw a number of houses under construction.
Mansion




The Hilton Head Island area has many large mansions. We've not seen anything that looks like it would sell for less than about five million.
Router Status




In addition to the

Router Status

app, we're saving the Wide-Area Network (WAN) status in our local telemetry database and have new indicator lights on our Maretron display to show the state of our three WANs. Green indicates the WAN is in use, blue means it is available, and black means it is unavailable. In this example, we're currently connecting through the cell phone, external WiFi is available and the VSAT is unavailable (shut down for testing).
Weather




We plan to anchor off Hilton Head Island for a few days as a major low-pressure system passes through. This is what the weather will look like three days from now, where winds are expected to be 30-35 kts in the red areas.
1/22/2017
Harbor River




The Harbor River current runs a couple of knots in each direction as the tide changes. The chart plotter display of Dirona's position over the last few days shows how we're moving in the current.
Rain




The

weather system

has arrived, bringing heavy rain and strong winds this morning.
1/23/2017
Weather




Yesterday's rain is over and the winds have settled somewhat, but the barometer has bottomed out at around 990. We'll see more big winds as the barometer starts to climb tomorrow.
Haig Point IV




Haig Point IV is one of two ferries that run between Hilton Head Island and Daufuskie Island to the southwest. The ferries depart hourly between 6:30am and 11:30pm, with a couple of gaps around lunchtime, so we see a ferry pass by pretty much every half-hour. Their wake doesn't disturb our boat much and we enjoy watching them pass, particularly at night when they are all lit up. They're often empty and never carried more than a few passengers.
Palmetto Bay Marina




Palmetto Bay Marina, to our east, was destroyed during Hurricane Mathew last year. From our anchorage we can see several boats high aground.
1/24/2017
Weather




The barometer is on the rise and the winds are forecast to pick up later today. The forecast calls for calm conditions tomorrow when we plan to make the 88-nm run to Brunswick, Georgia before the next system comes through later in the week.
Landing Craft




The barge service from Hilton Head Island to Daufuskie Island looks a lot busier than the passenger ferries we've seen.
Dolphins




A pair of dolphins surfacing while we enjoyed the sunset over drinks in the cockpit.
Dusk




Dusk looking west from the anchorage. This was a great place to spend a few day
Click the travel log icon on the left to see these locations on a map, with the complete log of our cruise.

On the map page, clicking on a camera or text icon will display a picture and/or log entry for that location, and clicking on the smaller icons along the route will display latitude, longitude and other navigation data for that location. And a live map of our current route and most recent log entries always is available at http://mvdirona.com/maps.