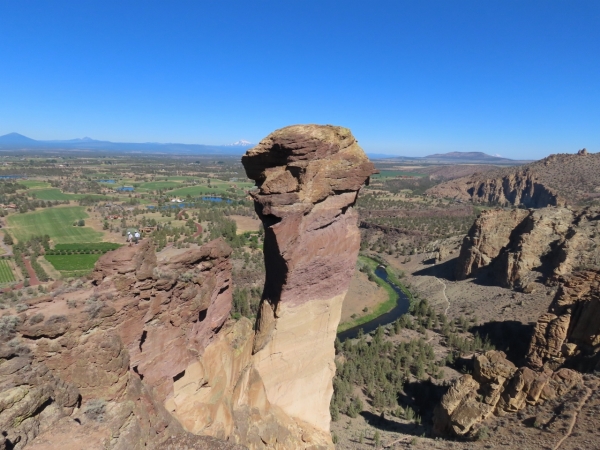 Bend, Oregon is a mecca for outdoor enthusiasts, with river-rafting, hiking, world-class climbing, and hundreds of miles of mountain-biking trails. And that's just in the summer. Bend also is close to some of the best skiing in Oregon at the Mt Bachelor ski resort. The town also is home to more than 22 breweries, and has many excellent pubs and restaurants.
From the Oregon coast, we traveled east to spend the final few days of our road trip in Bend. We had a fabulous time there, checking out several pubs and restaurants and hiking the trails at dramatic Smith Rock State Park, pictured above.
The 197-mile (317-km) drive to Bend brought our total trip distance to 4,829 miles (7,771 km) across 13 states (South Carolina, Georgia, Florida, Alabama, Mississippi, Louisiana, Texas, New Mexico, Arizona, Utah, Nevada, California, and Oregon).
Below are highlights from July 2nd through 5th, 2021. Click any image for a larger view, or click the position to view the location on a map. And a live map of our current route and most recent log entries always is available at mvdirona.com/maps.
7/2/2021
Salem

At the Riverfront City Park in Salem, Oregon having delicious street tacos for lunch from nearby Azul's Taco House. We're heading east towards Bend Oregon for a the July 4th holiday weekend.
Detroit Dam

The Detroit Dam at right was completed on the North Santiam River in 1953 under the Flood Control Act of 1938. This created the 9-mile-long Detroit Lake, visible in the foreground.
Santiam Fire

The Santiam Fire burned from August through December of 2020 across 402,274 acres (162,794 ha) and was one of the most destructive in Oregon history. Over 1,500 structures were destroyed, including much of the towns of Detroit, that we just passed through.
Three Sisters

View to Oregon's iconic Three Sisters volcanic peaks as we near the city of Bend.
Heat Advisory

Back away from the coast the temperature is high again, at 96°F (36° C) in Bend, Oregon with a heat advisory in effect.
Cider Response

We got a chuckle out of the AVID Cider Company's "Emergency Cider Response" Unit.
Old Mill District

Bend's Old Mill District is a beautiful retail space full of shops and restaurants built in an old industrial mill site.
Winterfest

The throne of the Fire King, crowned annually at the Oregon Winterfest in Bend. The weather is decidedly more warm now than it would be for the February coronation.
7/3/2021
Packing Cubes

Between the hotel and the car, We each carry a knapsack with our laptops and other items, Jennifer carries Spitfire and a large North Face duffle bag with Spitfire's "

Kitty Central

", while James brings an LL Bean XL rolling duffle bag carrying most of our gear, and our

Engel cooler

.

We use packing cubes, pictured, inside the large LL Bean duffle to keep things organized and not have to be constantly sifting through loose gear. The packing cubes also work well when optimizing for space in smaller bags. They were super-effective for traveling light on the Rhine River cruise we took a couple of years back.
Three Sisters

View to the Three Sisters mountains over the old smokestack's in Bend's Old Mill District.
Deer

This deer was munching on grass between two buildings and let us get surprisingly close as we passed by along the walking path.
River Tubing

Tubing down the Deschutes River in Bend, Oregon is incredibly popular, particularly with the hot weather we've been having. Around 200,000 people float down annually.
Elixer Wine

A wonderful dinner over a tasting flight of wine on the patio at Elixer Wine in Bend, Oregon.
7/5/2021
Smith Rock State Park

At Smith Rock State Park, about an hour's drive from Bend. The scenery here is rather unique for Oregon, and feels very similar to Utah. The switchbacks for the Misery Ridge trail that we'll be hiking can be seen at the base of the cliff, Misery Ridge, slightly right of center.
Misery Ridge Trailhead

At the Misery Ridge trailhead in Oregon's Smith Rock State Park. The trail is one of the more difficult in the park, but isn't all that bad at distance of just over a half mile and en elevation gain of 600ft.
Misery Ridge View

This fabulous view north is the reward for climbing the Misery Ridge trail.
Monkey Face

We continued west across Misery Ridge for even better views, including the dramatic 350-ft spire Monkey Face. Smith Rock State Park is an internationally popular climbing destination and this formation contains some of the more difficult climbs in the world. Barely visible in the shadows, two climbers were making their way up the left side when we passed.
Cascade

An amazing view west to the Cascade Range from the top of Misery Ridge (click image for a larger view).
Three Sisters

Oregon's iconic Three Sisters, viewed from the west end of Misery Ridge.
Climbers

As we descended the Mesa Verde trail on the other side of Misery Ridge, we could see climbers everywhere. Here are a couple ascending the Mesa Verde wall.
River Trail

We returned back to our car along the Crooked River trail. We really enjoyed the hike—the scenery was really impressive and diverse, and the weather was wonderful.
Click the travel log icon on the left to see these locations on a map, with the complete log of our cruise.

On the map page, clicking on a camera or text icon will display a picture and/or log entry for that location, and clicking on the smaller icons along the route will display latitude, longitude and other navigation data for that location. And a live map of our current route and most recent log entries always is available at mvdirona.com/maps.