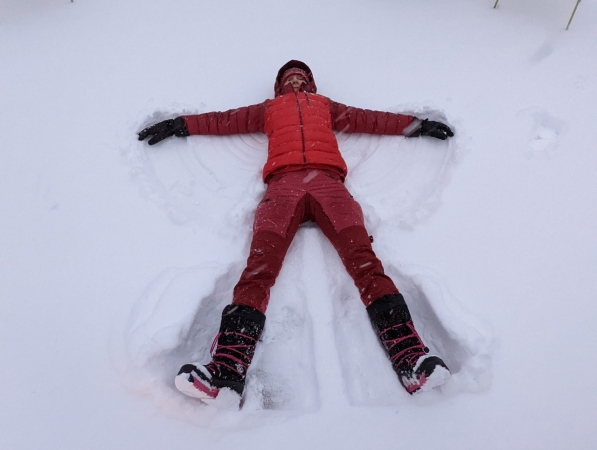 We got a little bit Norway in Seattle this holiday season as an unusual winter storm dumped several inches of snow Boxing Day morning. We'd had a few flurries yesterday and, with a big winter storm in the forecast, were expecting to wake up to snow this morning. At 5am we were disappointed to find the streets without snow, but at 6:15am, the skies went very dark and snow started falling, soon covering our deck.
With the temperature at 28°F (-2.2°C), this gave us the first chance to use our big winter snow boots since leaving Norway earlier this year. We bundled up and headed out. At that time of day in a Sunday morning, the streets were pretty deserted, with only a few people out walking their dogs or heading to work. The snow was really beautiful and we had a fabulous time walking through the South Lake Union district and Seattle Center.
Left: Snow started falling just past 6 this morning. Right: Spitfire left very cute tracks after a brief investigation.
Curiosity got the best of Spitfire, and on the left he's back outside and investigating. He didn't last more than seconds out there before getting covered in snow and retreating back into the warm apartment with a white coating on his back, right.
By 6:40am, the snow was building up quickly outside our apartment building. And it was still coming down in a big way.
Prismatica, left, and Oscillation, right, are two of four interactive light displays installed temporarily in the South Lake Union district.
Left: Tonbi Fountain, by artist by Seattle-based artist Gerry TsutakawaBack, across the road from the Seattle Spheres, right.
Snow-covered and mostly deserted streets around the Amazon campus.
Whole Foods Market doesn't open for another hour, and it was pretty quiet there too. The large statues outside and the steps beside the store, at right, looked wonderful in the snow.
Left: The interactive light display Passage, left, wasn't working. But it was fun to walk through it anyway. Right: Snow-covered and mostly deserted Terry Ave.
Top left: Fountain outside the Amazon Van Vorst building. Bottom left: Nebulous sculpture above snow-covered Sam's Tavern at 9th and Harrison. Right: The Space Needle barey visible through the flurries.
Left: Virgin snow on deserted 8th Avenue. Right: Denny Park, lit up for the season. Surprisingly, nobody had walked through the park yet.
At Seattle Center.
Left: Making a snow angel at Seattle Center. Right: Climate Pledge Arena, hushed and covered with snow.
Left: Mosler Lofts apartment building at 3rd & Clay. Right: Chief Seattle sculpture and fountain at Tilikum Place plaza.
Left: View to our apartment tower, Insignia South, from the 41st-floor viewing deck atop Insignia North. All the decks are white with snow. Right: Our apartment is in the center of the photo, with the lights on.
Left: It's a long way down to the 7th-floor gardens from the 41st. Right: Close-up to the snow-covered gardens between the two Insignia towers.
View southeast to downtown Seattle from Insignia North viewing deck.
Left: Space Needle and new high-rise complex Spire viewed from the Insignia North 41st floor deck. Left: Deep drifts forming on the roof. It was really windy out there.
Deep snow in the gardens between the two Insignia towers.
View to downtown Seattle and Belltown from the Insignia gardens.
When we returned two hours later, deep drifts had formed on our deck. Spitfire had one more look, but that's as far as his curiosity drew him in the strong winds.