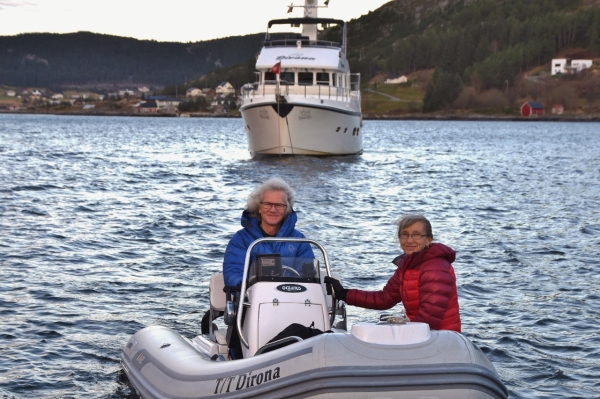 As with most of the planet, 2020 was for us a year of plan changes, adjusted expectations and unpredictability. In several ways our lives have changed notably, but much remains the same. Along with many fellow world cruisers, we experienced the unique challenges of being a visiting boater during a global pandemic. But overall we felt especially fortunate to be aboard our self-sufficient, mobile and floating home that has allowed us to continue doing what we enjoy most, exploring the world by boat.
We began 2020 in Amsterdam and expected to spend much of the year in warmer weather than the past few years, cruising the Mediterranean Sea. From the Netherlands, we planned to travel south through Belgium, France, Spain and Portugal and on to Italy for the summer, and were considering ending the year in Greece. But after three major changes to our cruising itinerary, we didn't get south of Antwerp and write this letter from Trondheim, Norway, just 200 miles south of the Arctic Circle. We've had a great year, but it was completely different from what we had envisioned.
Our 2020 cruise, showing Dirona's route in blue & trips off the boat in green, well north of our intended Mediterranean trip

Christmas Eve Midnight Mass at Strasbourg Cathedral in France

Wine tasting in Rudesheim, Germany
While wintering in Amsterdam this year, we made several trips away from the boat. Over Christmas of 2019, we took a week-long Rhine River cruise from Switzerland back to Amsterdam on the AmaMora. It was our first cruise of more than a couple of nights, and we had a fabulous time enjoying the Rhine River scenery and visiting Basel, Switzerland; Colmar and Strasbourg in France; and Heidelberg, Rudesheim and Cologne in Germany. One of the more memorable experiences was a unique Christmas Eve Midnight Mass in centuries-old Strasbourg Cathedral.
| | |
| --- | --- |
| Amsterdam Light Festival 2020 | At the Berlin Wall |
In January, we viewed our second Amsterdam Light Festival display. Later that month we flew to Berlin and spent a wonderful three days exploring this modern, vibrant city with its haunting past. Highlights of the trip included viewing the remains of the Berlin Wall, touring reconstructed Potsdamer Platz and visiting Museum Island, a UNESCO World Heritage Site Museum Island.
At the end of January, we made our first and only return trip to Seattle of the year, and also our last flight of 2020. James was in town for work meetings, but while there, we also attended the final day of the Seattle Boat show, caught up with some old friends and as usual brought home luggage packed with parts and spares for the upcoming year.
| | |
| --- | --- |
| Taking the inland canals from Amsterdam to Antwerp | Dirona, at center lit in blue, at Antwerp |
We departed Amsterdam mid-February to take Dirona south to Antwerp through the intimate inland canals. On the 137-mile, 8-night run, we passed through 47 bridges, 6 locks, touched bottom twice and moored in the historic towns of Haarlem and Leiden. We also encountered several projects of the Delta Works flood protection system, built following the disastrous North Sea flood of 1953 that killed 1,836 people in the Netherlands. We documented this unique and memorable trip in our video Amsterdam to Antwerp by Canal.
| | |
| --- | --- |
| Grand Place, Brussels | 13th-century St. Nicholas Church, Ghent |
We initially had planned to spend a week or so in the historic port city of Antwerp, but enjoyed it so much we ended up staying for seventeen nights. In addition to exploring modern and historic Antwerp, we visited the Berendrecht and Kieldrecht locks in the Port of Antwerp, the two biggest locks in the world. We also made day trips from Antwerp to Brussels and Ghent. Highlights in Brussels included a visit to the famous Grand Place, one of the most magnificent city squares in Europe, and a walk through the EU headquarters complex. We particularly enjoyed Ghent, one of Belgium's oldest cities, with beautiful medieval and classical architecture, winding canals lined with cafes and bars, wonderful street art, and some of the best museums in the country.
| | |
| --- | --- |
| The 1,600-ft-long (1.2 km) Berendrecht lock in Antwerp is the worlds largest | Our final restaurant meal of 2020 on Mar 12th in Antwerp |
While we were in Antwerp, COVID-19 was increasingly becoming a concern. In mid-March, the day we departed Antwerp en route to France and ultimately the Mediterranean, Belgium went into lockdown, closing all restaurants, bars, cafes, and night clubs. Italy had already shut down all non-essential, non-emergency services and their medical system was strained with 15,113 sick. France had 2,882, Germany had 3,059 and Spain had 3,864 impacted. With no museums open, restaurants closed in some countries, and borders starting to close internationally, we decided to pause the Mediterranean trip. It just didn't feel like the best time to explore the European continent.
We instead decided to cruise some of the less-populous areas in Scotland. So rather than turn south for France at the mouth of the river Scheldt, we made the year's first major itinerary change and continued west on an overnight run across the English Channel to Ramsgate, UK. A seaside resort town since the 19th century, today Ramsgate supports one of the largest marinas in the southern UK alongside a vibrant and historic waterfront packed with restaurants and pubs. Unlike typical city stops for us, we didn't visit any of the appealing-looking establishments. We'd begun staying away from crowded places, close-quarters, restaurants and bars.
After Ramsgate, we stopped in Portland, UK where we topped up our fuel and provisions. We also completed an important project of converting our propane system from US standard to UK tanks so that we'd have a full supply we could easily replenish.
| | |
| --- | --- |
| At Ramsgate UK after changing plans to cruise Scotland instead of the Med | In Portland, we converted our propane system from US (silver) to UK tanks (red) |
While we were underway from Portland in late March on a direct, 3-night, 500-mile from to our ultimate destination of the Scottish Outer Hebrides islands, the UK lockdown was declared. Scotland took the lockdown particularly seriously: recreational boating was prohibited and marinas were not accepting visiting recreational boats. So we anchored at the Isle of Gigha in southern Scotland.
| | |
| --- | --- |
| Anchored at the Isle of Gigha for over two months during the Scottish lockdown. | The Easter Bunny apparently ignored the lockdown and found us in Scotland. |
The people of Gigha were truly wonderful. The Scottish Isles were closed to visitors, so we weren't allowed ashore, but the workers from a nearby fish farm took a tender out to our boat once a week just to check in and made sure we were doing well. The most amazing experience for us was the local shopkeeper, Joe Teale at Ardminish Stores on Gigha, contacted us on our blog asking if we needed any groceries. He offered to order any groceries we needed, and the local fish farm was willing to ferry them out to us out as well.
While the anchorage at the Isle of Gigha worked out well, after more than two months we needed to refuel and replenish our deep stores. Also, our trusty generator had developed a valve seat issue and it was going to need a new cylinder head. Having the generator inoperative on a single-generator boat would normally be a catastrophe, but our main engine can generate 9kW. Although this is far from ideal, at least we were still operational. Scotland was still in lockdown, and the marinas remained closed to all except local residents. None that we contacted would allow us to land, even just for fuel and provisions.

Stornoway, a port of entry in the Outer Hebrides islands, understood our situation. The Port Authority explained they too were closed to recreational boaters, but they would allow us to refuel the boat and shop for groceries. They also agreed to accept delivery of the generator parts we needed to get us back operational, and that we could stay on the dock while the generator parts were delivered and installed, as long as we stayed away from other marina residents and respected their COVID-19 restrictions.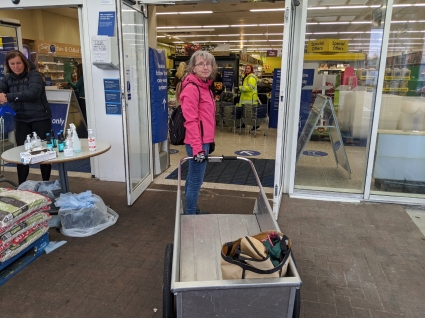 When we stepped ashore in Stornoway on June 9th, it was our first time off Dirona in 79 days. We never expected to more than triple our previous record of 25 days not leaving the boat, set during our 3,689 nm run across the Southern Atlantic from St. Helena to Barbados. We were looking forward to restocking our groceries and refueling, but surprisingly, neither of us was desperate to get ashore. The same versatility that made Dirona a comfortable and safe home for us over the past decade as we've crossed oceans, lived in world-class cities, and explored remote parts of the planet also made the boat an ideal place to wait out the Scottish lockdown. We can produce our own power, make water, generate heat, do laundry, exercise, connect to the Internet, and cook meals all without leaving the boat.
We ended up spending a month in Stornoway and, even with the lockdown restrictions, we felt very comfortable there. Part of the time was in waiting for our generator parts and then replacing the cylinder head. But we also hauled-out at the Port of Stornoway for bottom paint and an insurance survey that needed to be done before end of year, a job we had initially planned to while in the Mediterranean. The Stornoway slipway had recently re-opened after the lockdown and was able to fit us in. The yard is commercial-boat focused, but everyone was helpful, careful, and professional. Even though they are used to rough-and-tumble fishing boats, they gave Dirona the white-glove treatment.
| | |
| --- | --- |
| Our generator apart in Stornoway to replace the cylinder head | Hauling out in Stornoway |
Near the end of our stay in Stornoway, the Scottish lockdown eased, allowing recreational boating and overnight anchoring. It was time to return to cruising. Norway was our top choice, with its excellent hiking and abundant sheltered anchorages (their COVID-19 tourism video "Welcome to SPACE" pretty much sums it up). Unfortunately, Norway was still closed to leisure travelers from all but the Nordic countries. But that wasn't a problem for us because we knew from our 2017 travels how beautiful Scotland was, and instead planned to spend the summer cruising the Hebrides, Orkney and Shetland island groups.
We made our second major itinerary change the morning we got underway heading to the Orkney Island group. Norway had announced they too were relaxing their travel restrictions, making us eligible to enter. Within minutes, we changed our plan of anchoring in the Orkney Islands that evening and instead started east across the North Sea to Norway. It's an unusual day when you wake up in the morning, set off on a day cruise, and end up making a two-night crossing of the North Sea to a different country.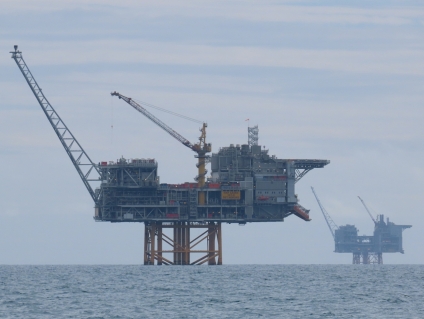 On our previous trip to Norway in 2018, our goal was to travel the entire Norwegian west coast as far north as Tromso, well above the Arctic Circle, visiting the highlights along the way. This year we would still work north up the west coast, but at a much slower pace and not nearly as far north. The plan was to leisurely visit every waterway along the way, either in Dirona or by tender, the same way we'd explored Fiordland in New Zealand.
| | |
| --- | --- |
| Atop 2,385ft 727m Hovlandsnuten | The Folgefonna icefield at 4,767ft 1,453m |
The Norwegian coast is a complex and interesting one, with a seemingly endless number of high-quality anchorages and attractions. We've so far travelled 1,780 miles since returning to Norway and made 95 stops, but at Trondheim are only 300 miles point-to-point from our landing point in Stavanger. We've also put 122 hours on our tender, in six months nearly doubling our typical annual usage.
Unlike most of our previous cruises, this summer we had no particular itinerary and only one "must-see" attraction that we couldn't fit in on our previous trip: Trolltunga, an iconic rock formation jutting out horizontally 2,300ft (700m) above the lake Ringedalsvatnet.
| | |
| --- | --- |
| James standing on the iconic rock formation Trolltunga | Climbing along the penstocks on the Tyssedal Via Ferrata course. Jennifer is roughly at center wearing red. |
We've made dozens of fabulous view hikes since returning to Norway this year, and also climbed two more Via Ferrata courses, one as an alternate path to Trolltunga and another to the top of the penstocks above the Tyssedal power plant in Hardangerfjord. Via Ferrata means "iron path" in Italian and is an increasingly popular mix of protected climbing and alpine hiking where participants use climbing gear to safely ascend exposed routes with spectacular views while attached at all times to iron cables, rungs, ladders and bridges. The sport is popular in Norway, where a number have opened up in recent years. We really enjoyed our first Via Ferrata at Loen on our previous trip to Norway and had been looking forward to trying some more on this trip.
Cruising this year is a bit different. We haven't had a restaurant meal, pub visit, or guest aboard Dirona since departing Antwerp in mid-March. And we've only twice had meals, carefully, in company during that time. While we do miss the more social aspects of cruising and our various excursions from Dirona, we have been enjoying travelling at a relaxed pace with no particular schedule. And our cat Spitfire, who turned 17 this year, has appreciated all the extra attention with us around the boat more.
We made our third major itinerary change of the year this fall. We'd been enjoying our Norwegian cruising so much that, rather than return to Scotland in October as originally planned, we decided instead to winter in Norway. We loved winter boating in the Pacific Northwest, but weren't sure how we would like Norway's colder and darker winter.
| | |
| --- | --- |
| Bundled up for a tender ride. Our third major itinerary change for 2020 was to spend the winter in Norway. | December hike to Kvannhovden lighthouse on Hovden |
So far it's been working out remarkably well. We're still out hiking, making long trips in the tender, and daily enjoying Happy Hour outside in the cockpit. The Gulf Stream keeps western Norwegian coastal waters from freezing, but we woke up one day surrounded in light freshwater surface ice.
| | |
| --- | --- |
| Enjoying the Norwegian cozy season | Snow atop 3,188-ft (972m) Raudemelen in Sognefjord |
We haven't seen much snow yet, but have really been enjoying what Norwegians call the "cozy season". We especially like anchoring off communities aglow with winter light displays. We're in Trondheim for the shortest day of the year, Dec 21st, when the sun rises at 10:00 am and sets at 2:31 pm, and it's just beautiful in the dark. We'll head south from Trondheim, with the days slowly getting longer as we do.
With the ongoing unpredictability of the world situation, our travel plans for 2021 still are uncertain. It's unusual for us not to know where we are going to be three months from now, but you can always see where we are at mvdirona.com.
Click below to view previous annual summaries: