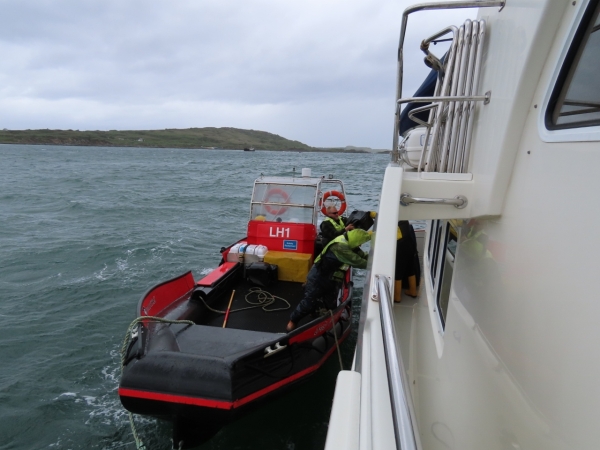 After 8 weeks at Gigha, and 63 days since we'd last provisioned, we'd consumed all our fresh fruit, were almost out of fresh vegetables and our deep stores were dwindling. So when Joe Teale at Ardminish Stores on Gigha contacted us to ask if we needed anything, we gratefully accepted his offer. Duncan and the team working the fish farm, who had been checking up on us weekly, brought the supplies out since the island is closed to visitors. We very much appreciated the local support and friendliness in these trying conditions. It helped us feel much less isolated.
We also learned that our generator had a failing valve seat that requires a cylinder head rebuild. In a single-generator boat, the generator going down is a major problem. Of course, the easiest answer is to have two generators, but that takes space. And if that space isn't allocated during the build, it's very hard to find it later. We think it would be hard to find space in a boat of this size at any time. So what we did is equip our main engine to serve as a backup 9kW generator. We even went so far as to put autostart on it.
We didn't ever think it was likely that we would need to rely on this backup power system. But it's wonderful to be able to throw a single switch and the boat continues to operate absolutely the same as it ever did, even though the generator is down. The fridge and freezer stay running, the batteries stay charged, we can make water, the heat still works, and we're as comfortable as ever. The main is a little louder then the generator, and around 15% less efficient, but is an excellent backup system that takes no additional space. For long-term operation, we really do need to see our primary generator returning to full-time operation though.
While we still need to refuel, replenish our deep stores, and get parts to resolve that generator issue, the help from Gigha will keep us going for a couple more weeks. And with all the extra energy we had from the excitement of having fresh produce again, we decided to wax the topsides :).
Below are highlights from May 22 through 31st, 2020. Click any image for a larger view, or click the position to view the location on a map. And a live map of our current route and most recent log entries always is available at mvdirona.com/maps.
5/22/2020
Wind

The weather has mostly been reasonably calm the past couple of weeks at Gigha, but a storm system is coming. The barometer (upper left) has fallen 22mbar in the past 12 hours and we saw peak winds (upper right) overnight to 46 knots.
Pineapple

We've consumed all our fresh fruit, so are having sweet canned pineapple with our breakfast this morning. We quite like it, and often open a can even when we have fresh fruit available on board.
Storm

We're expecting

today's winds

to continue for the next few days, with gusts into the 40s, as a storm system approaches Ireland. Fortunately the winds will be from the west where we have reasonable protection.
Joe & Hannah

Joe Teale and Hannah Storie in the well-stocked Ardminish Stores on the Isle of Gigha. Joe was kind enough to contact us and ask if we needed supplies. We did! We placed an order on Tuesday and Joe had it all ready to go this morning. Special thanks to Duncan and the team working the fish farm for checking on us weekly, and bringing the supplies out to us today despite the rough conditions.
Garbage

Two bags of garbage from the

trash compacter

ready for disposal ashore. Besides recyclables, this is pretty much all the garbage we've produced in the past nine weeks.
Grocery Delivery

The fish farm team delivering some groceries from

Ardminish Stores

in the Isle of Gigha. Conditions were quite rough in the high winds, and they did a great job in passing everything across without leaving even a smudge on

Dirona

. And they took away two bags of garbage for us. We still need to refuel and replenish our deep stores, but this reduces the urgency of our provisioning requirement considerably.
Christmas in May

After nine weeks without provisioning, it felt like Christmas to receive some groceries.

Joe Teale

of Ardminish Stores did a wonderful job of packing the groceries carefully in cardboard boxes and then in sturdy plastic bags for transport. Everything was in excellent condition despite the rough weather.
Disinfecting

Before bringing anything inside, we disinfected it using

antibacterial wipes

. This reminded us of when we were in the South Pacific, where we

washed all produce

in a bleach-and-water bath to kill off any unwelcome critters before bringing it on board. We never expected to doing basically the same thing in the high latitudes though.
Salmon Dip

Salmon dip for lunch made with delicious smoked salmon and green onions from

Ardminish Stores

on the Isle of Gigha. It's wonderful to have a fresh produce again.
Winds Rising

The winds have been rising all day as

the storm

arrives. We're frequently seeing gusts into the mid 40-knot range.
Scottish Carrot

The carrots grow really big here in Scotland!
DCR100

Once every few days to a week, the generator gaps for 10-20 seconds before continuing. It makes no difference, since it continues without problem, but it's not the way it should be, so we're investigating it. Unfortunately, when investigating rare events, isolating the cause is hard and you end up having to either wait until it gets worse and the problem is more reproducible or approach it through trail-and-error. Because we have the spare parts we need, we are replacing the

Maretron DCR100

(digital output) to see if that cures the problem. If that fails, we'll try replacing the relays at the Northern Lights Wavenet engine controller.
5/23/2020
52 knots

The winds have been steady in the 20s and 30s since yesterday, and overnight we saw peak winds as high as 52 knots. With the winds from the southwest, where we have protection, Dirona heels heavily when the big gusts hit but otherwise is not moving much.
Storm

That storm system is well upon us now as it hits the southern Scottish coast. We're expecting high winds the rest of the day that should start easing off around midnight, with calmer conditions two days from now on Monday.
Water Leak

Saturday morning we lifted the floor covering in the master stateroom head to access stores and found the floor underneath soaked wall-to-wall. We opened up the storage area below and it also had a lot of water in it. The first task was to get everything out of the storage areas and all dried and cleaned. That didn't take long, and we were then looking for the source of the leak.
Spitfire

Whenever we work in the engine room, Spitfire climbs up onto the shelf above the main engine to keep an eye on the job and inspect overall work quality. This shelf affords and excellent 360-degree view and is becoming a favorite of his.
5/24/2020
Oil Spray

Our generator showed a light misting of oil around the generator cooling fan a month back. At just under 7,000 hours, it's a bit early to be leaking, but it's not a huge issue since rear main oil seals don't fail catastrophically nor even quickly. It just means that in the next year or so, we're going to have to replace that seal. Unfortunately it's a big job and we don't currently have the needed parts but rear main oil seals don't fail fast so we're not particularly worried about.

A month ago it was hardly even an oil mist on the inside of the cabinet enclosure. But this one has gotten worse quite quickly and in 200 hours it's now spraying so much oil around the enclosure that it's running down the side of the engine and the enclosure sound deadening material. It's a real mess and getting worse fast.
Conditions

The

winds

settled down overnight and the barometer is back up, at 1022mb. Looks like we have some nice weather coming.
Sunset

Spectacular sunset with calm seas over the Isle of Gigha.
5/25/2020
73.8 GB

One of our cellular data plan comes with a whopping 60GB a month, and rolls over unused data. For reduncancy, we maintain three cellular plans with a combined capacity of 115GB a month. We're big data users, but even we have trouble using all of this in a month. Combining the unused data from last month with the 60GB allocation for this month, this plan alone has 73.8GB available this month.
Sunrise

Conditions were wonderfully calm this morning as the sun rose over the Kintyre Peninsula.
Clock

Our Sony clock radio that sits on the shelf in front of the mirror at right failed recently. We went to the backup, which works fine, but we noticed is no longer for sale. We like to always have a spare of all 60Hz appliances on the boat, especially while we are in Europe where they can't be purchased locally. So we started shopping on Amazon for a new clock.

We decided instead to try a different approach where we installed a large clock app on a no-longer-used tablet. The digits are bigger and easier to read than our previous clock and it frees up counter space occupied by the clock. The positioning above the closet door is a bit unusual, but we like it because the clock is easy to read from anywhere in the room, including lying in bed.
5/26/2020
Sunrise

Sunrise through approaching fog over the Kintyre Peninsula.
Crankcase Pressure

We have a serious

rear main oil seal problem

that is covering the inside of the generator enclosure with oil and running down the block. It's a real mess. Clearly the seal needs to be changed, but it's both a big job and one that requires parts we don't currently have so we tried an

experiment

of running the crankcase at neutral pressure. We don't have a crankcase pressure or blow by problem on this engine. In normal operation the crankcase runs at 1.17″ H2O, which is as designed. But, with the leaking oil seal, we wanted to see if it would leak less with neutral pressure in the crankcase rather than slightly positive.

Neutral pressure made a big difference to the amount of oil thrown around in the generator enclosure. We wanted to continue the experiment and have a look at what difference it would make to run slightly negative crankcase pressures. We don't expect it'll be much different from the successful neutral pressure test, but it's worth a try. On this test we replaced the oil fill cap that we had off during the neutral pressure test. Having the cap on there closes all vents to the crankcase except the crankcase ventilation system included in the valve covered. This ventilation system is a nice design where there is first an oil mist coalescing screen and then a diaphragm valve with a very light spring that holds the diaphragm closed. When slight pressure in the crankcase builds up, it's vented into the intake manifold to be burned by the engine. This is an nice system and yields an operating crankcase pressure of just over 1 inch H2O.

In this experiment, we removed the diaphragm and the spring which opens the crankcase to the intake. Since the diaphragm is both a valve and a gasket, we sealed the cap to the valve cover using a gasket (in this case, we chose to use Permatex Orange since it's effective on oil pans and other difficult seals). With the diaphragm and spring removed and the crankcase open to the intake, we measured -3.3″ H2O.

Summarizing our finding in the testing so far: 1) the crankcase pressure in stock configuration: 1.17″ H2O, 2) the pressure with oil cap replaced with an oil coalescing filter: 0″ H2O, and 3) the pressure with diaphragm removed from the crankcase ventilation system: -3.3″ H2O. We plan to run in this configuration for 10 to 20 generator hours and see how it does in limiting the oil flow past our failed rear main oil seal.
Valve Adjustment

The bad news is in. It's been 39 engine hours and only 5 days since the last generator

valve adjustment

. There is just about no way we got that job wrong twice in a row. The engine has developed a serious valve problem. The valves have been adjusted and the generator is back in service, but we don't expect it to go longer than 20-40 hours without needing attention again.
5/27/2020
Common Eider

Handsome Common Eiders swimming across the anchorage on an ultra-calm morning. At 4.5lbs (2kg), the duck is the largest in the Northern Hemisphere and is a common sight here at the Isle of Gigha.
Hebridian Isles

The Caledonian MacBrayne ferry

Hebridian Isles

en route to West Loch Tarbert northeast of Gigha. We daily see the ferry passing in the distance to our north, and the "CalMac" ferries were a common sight on our

2017 Hebrides cruise

.
Waxing Stack

The weather will be nice for a few days, so we decided to wax the topsides. Here Jennifer is at the top of the stack, secured with a climbing harness. In doing a couple of

Via Ferrata

climbs in Norway in 2018, we learned that our standard climbing equipment wasn't ideal for short-distance falls where the rapid deceleration can exceed the rating of normal climbing gear (in mountaineering terms this is called a high fall factor). So we purchased

energy-absorbing lanyards

to replace the standard climbing equipment we use for safety gear when clipped on to the stack. Besides being safer in a fall, the dual-lanyards means we never have to unclip entirely to reclip, and the automatic-locking carabiners are quick and easy to snap on.
Waxing Brow

James waxing the brow, secured with an climbing harness attached to a line strung between the bimini attachment points.
5/28/2020
Meercat

The tug Meercat of Southampton arrived in the area today and has been working out at the nearby fish farm. We've seen hardly any non-local boats the entire time we've been at Gigha.
Waxing Stack

James suspended from the crane in a climbing harness to wax the aft side of the stack.
Visitors

Scotland is still in lockdown, but just announced a slight easing of restrictions. People are now allowed to range up to five miles from their homes and activities such as golf and fishing are now permitted. Some locals from Gigha stopped by to say hello today on their way out to go fishing. Other than the fish farm folks checking up on us regularly, these are the first people we've spoken with in person for ten weeks. The first thing they said was "Hello James" and we were a little surprised they knew us by name—turns out they've been reading our blog.
5/29/2020
Green Onions

Our

green onion farm

is doing amazingly well. All we do is change the water daily. Each stalk has grown well over six inches since we first put them in water two weeks ago. We also dropped in a couple of bulbs that we'd used the leaves from recently, and they've each grown several inches in a week. We wouldn't base a retirement program in this, but it's successful and its nice to have fresh greens.
Waxing

We've completed waxing the stack, the flybridge brow, the inside of the flybridge and around the boat deck. Today we are working on the walkway around the pilothouse.
Polishing Stainless

Polishing the stainless steel staples on the boat deck. We use

Flitz polish

—it easily removes rust stains, gives the stainless a great shine and protects it for many months between applications.
5/30/2020
Waxing

Waxing the walkway alongside the house. We're using

3M Restorer and Wax

, distributed from a one-gallon jug into conveniently-sized

32oz squeeze bottles

. Waxing the boat is a big job and just the topsides alone takes the two of us four full days. Another two days are needed to wax the hull, but we'll likely save that until we're next on a dock where the job is a lot easier. If we ever are tempted to buy a bigger boat, this job or cleaning the bottom always cures us. :)
Another Valve Adjustment

A

few days ago

, we concluded we had a failing exhaust valve or seat, and today confirms it. In 4 days and 27 engine hours, number 3 exhaust valve is again tight. Note in the picture that a couple more threads are showing on the number 3 exhaust valve (far left), when compared to the intake valve beside it. What's happening here is the valve stem is rising due to a worn valve, worn valve seat, or stretching valve stem. This causes the valve lash adjustment to tighten up.

The last three adjustments have put it back to the correct clearance each time. Those extra threads showing reflect the rapidly changing valve stem closed-position height. This engine needs a rebuilt cylinder head before it gets too many more hours.
Pleasure Craft

The second pleasure craft we've seen in as many months, heading north along the east side of Gigha.
| | |
| --- | --- |
| | Lettuce |
Seal

A sleepy seal bobbed past the cockpit this evening as we were having dinner. Everyone was enjoying the calm and sunny weather.
5/31/2020
Main as Gen

This is our power control configuration web page. What we just changed on this page is visible in the third line, where autostart was changed from 'Gen' (normal) to 'Main' (backup).

If the generator ever failed during operation, wasn't able to produce power, or couldn't start, our autostart system would automatically switch over to the main to use it for charging the batteries and send us email so we know about the problem.

In this case, the generator actually still is working and able to produce full output, but it has a failing valve seat that is going to require a cylinder head rebuild. If we continue to operate it, the problems possibly could get more expensive.
6.8 kW

Over the years our autostart control system has started the

main engine as a backup

for our generator three times. The first time was an autostart configuration bug, the second time was because the generator was being serviced and this took a little longer than we expected. But in both those cases, the generator was available quickly and the main wasn't operating in generator mode for more than tens of minutes.

This time, we actually do have a generator failure and the main is going to run through to completion to charge the batteries. Here the main engine is charging the batteries at 6.8 kW (286 amps on the house battery at lower left), and supporting the house power draws. So it's actually producing around 8 kW. We're sad to see our reliable little generator down, but the main with autostart is keeping everything running well.
Meercat

The crew of the tug

Meercat

have been busy at work long days at the Gigha fish farm, including both Saturday and Sunday. The vessel departed late this afternoon and returned in early evening with a load of heavy line and a van resting on straps suspended from their crane. That must be a pretty capable crane to lift a whole van.
Jellyfish

We've seen a few jellyfish in the waters around the anchorage, but this sea blubber is one of the biggest.
11,000 Hours

We've just crossed 11,000 trouble-free hours on our John Deere main engine. We now need it more than ever since, with the

generator down

since yesterday, the main will have to provide both propulsion and power generation.
Click the travel log icon on the left to see these locations on a map, with the complete log of our cruise.

On the map page, clicking on a camera or text icon will display a picture and/or log entry for that location, and clicking on the smaller icons along the route will display latitude, longitude and other navigation data for that location. And a live map of our current route and most recent log entries always is available at mvdirona.com/maps.