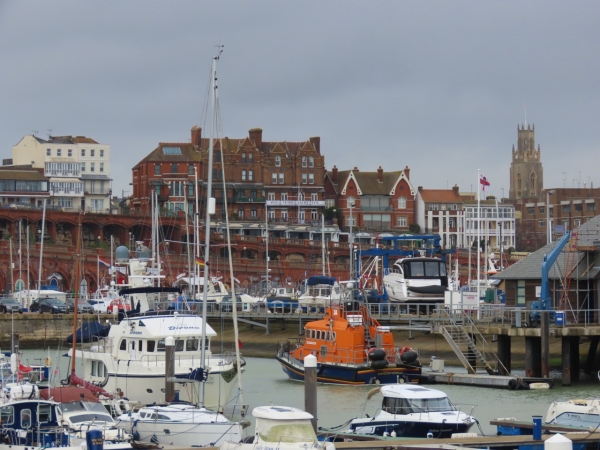 Ramsgate has been a seaside resort town since the 19th century. Today the city supports one of the largest marinas in the southern UK alongside a vibrant and historic waterfront packed with restaurants and pubs. As with most visits to a new city, we spent the first afternoon after our arrival from Antwerp touring Ramsgate on foot. But unlike most other trips, we didn't visit any of the appealing-looking pubs, as we were staying away from crowded places, close quarters, restaurants and bars.
Below are trip highlights from March 14th and 15th in Ramsgate, UK. Click any image for a larger view, or click the position to view the location on a map. And a live map of our current route and most recent log entries always is available at mvdirona.com/maps.
3/14/2020
Boat Remote

The upsides of the new remote are that it has far more reliable reception over much longer distances. But the downside is that it's a crane remote, so the standard button labeling was designed for crane operation and doesn't match well to boat operation. At this point, we're not sure if it'll be a backup to the Yacht Commander when it's not working due to conflicting transmitters in the area or if the new remote will become the primary remote with the Yacht Commander as backup. From our experience so far, the new remote may become the primary.

Here we've changed the labels to reflect boat operation: Start and stop enable or disable the remote, "F" is transmission forward, "B" is transmission reverse, "FR" is forward thruster right, "FL" is forward thruster left, "RR" is rear thruster right, "RL" is rear thruster left, and "TC" is take control which allows this station to take control of the boat.

To use the remote, we press start to enable it and press TC take control of the boat and, after that, the boat is under remote control until stop is pressed.
Antibacterial Wipes

To minimize the risk of infection, we wanted have some antibacterial wipes on hand to disinfect any surfaces that may harbor SARS-CoV-2. We'd tried several stores in Antwerp, but it doesn't seem to be a product that is sold there. Plenty of wipes were available, but none with active ingredients

recommended for use against SARS-CoV-2

. On the advice of the Ramsgate Marina staff, who had a bag of antibacterial wipes in their office, we tried a nearby Wilko store and found a bin-full at a half-pound (US$0.61) each.
Gate

Ramsgate Marina has three separate mooring basins. Dirona is moored in West Marina, one of the two outer basins. The third and largest basin, Inner Marina, is behind this gate and accessible only 2 hours before and after high water.
Jacob's Ladder

The three-flight stone staircase Jacob's Ladder was constructed in 1826. It replaced an earlier wooden staircase built in 1754 to access the harbour works from the cliff-top during the construction of Ramsgate Harbour. The original staircase was apparently named after the carpenter who built it, Jacob Stead, rather than most Jacob's Ladder staircases around the world whose name derives from

Jacob's dream

of a staircase to heaven described in the Old Testament.
Inner Marina

Looking east across Inner Marina from the top of

Jacob's Ladder

. West Marina, where

Dirona

is moored, is out of the picture to the right.
Mariners Bar

Ramsgate is full of appealing-looking bars and restaurants. Normally we'd stop in for lunch, but since leaving Antwerp we're staying away from crowded places, close quarters, restaurants and bars.
Dirona's Bar

Since we couldn't have lunch at

Mariners Bar

, we stopped in at

Dirona

's Bar for a delicious Belgian beer with our meal. Here we are sharing a bottle of Het Anker Gouden Carolus Cuvee Van De Keizer Imperial Dark that

Miguel Timmermans

gave to us. The beer is brewed annually on February 24th, the birthday of Emperor (Keizer) "

Charles V

", in a limited quantity focusing on the highest quality and tradition. It was impressively good.
Pilot Boat

After lunch we walked to the end of the west pier as a pilot boat was heading out through a reasonably heavy swell.
West Pier

The heritage-listed light at the end of west pier light was built in 1842 part of the construction of the harbour at Ramsgate.
West Marina

Looking across to our berth at West Marina, with the

RNLI lifeboat

(Royal National Lifeboat Institution) on the right and Ramsgate in the background. We often saw RNLI lifeboats as we toured through the British Isles in 2017, and it's great to see them again.
Arches

19th-century brick arches supporting an ascending roadway from harbor level form a striking and distinctive backdrop to Ramsgate harbour. The low-level arches now are filled with cafes and marine trade stores.
The Crows Nest

Why is it that once we decide to stay away from pubs and restaurants, we find nothing but appealing-looking ones?
Ramsgate Mean Time

Prior to 1840, when Greenwich Mean Time became the established standard, south coast ship's captains used Ramsgate Mean Time to set their clocks. The signs on the building read "The first stroke of this clock at the hour of 12 indicates Greenwich Mean Time. Ramsgate Mean Time is 5 mins 41 secs faster than this clock".
Morris Minor

A Morris Minor 1000 parked along the harbour at Ramsgate. 1.6 million Morris Minors were manufactured in Britain between 1947 and 1972. The cars, considered a classic example of automotive design, were designed by Alec-Issigonis, who also created the best-selling Mini.
Main Sands

Ramsgate's sandy beach, Main Sands, is very popular in the warmer summer months.
Ramsgate Tunnels

In the late 1800s, a 1,124-yard (1,028 m) tunnel was built through the Ramsgate cliffs to provide train access at harbour level. The trains stopped using the tunnel in 1926 after a new station was built to the north. A tourist railway, that became known as the World Scenic Railway, operated in the disused tunnel from 1936 through 1965 and the tunnel was used as a major air-raid shelter during World War II. Today the tunnel is a tourist attraction with a museum and guided tours.
Ramsgate Harbour Station

Model inside the inside the Ramsgate Tunnels of the 19th-century Ramsgate Harbour Station with the cliffs behind and the tunnel entrance at right.
Automobile Terminal

UK-based Gefco imports 50,000 cars a year into the UK through several ports, including Ramsgate.
3/15/2020
Waitrose

At Waitrose in Ramsgate to do some more provisioning. We've not seen much evidence of COVID-19 concerns here—everything seems to be pretty much business as usual with crowded streets, bars, and restaurants. But even here, as elsewhere in the world, toilet paper is sold out completely.
Provisions

Jennifer returning from Waitrose with a cartful of provisions, including lots of flour and eggs, in preparation for our trip to Scotland. We normally buy and freeze artisan breads, but want to stock the boat with a good two-month supply of food before we need to reprovision ashore, so are devoting more of our freezer space for meats and will make bread instead.
Rescued

Last night around 7:30pm, the RNLI lifeboat

Esme Anderson

departed from the berth nearby. We assumed they were on a training mission, but they were heading out to rescue this boat. The vessel had fouled a sail in its propeller east of the Thanet Offshore Windfarm, about 15 miles from Ramsgate, and was drifting further offshore.

With deteriorating sea conditions, the lifeboat could only tow at about 5 knots to minimize the risk of damaging the vessel or injuring its 3 passengers, and nearly 6 hours elapsed between the lifeboat departing and its return to berth.
Lifeboats

The lifeboat Leonard Kent from Margate, on the north side peninsula from Ramsgate, moored against the local lifeboat Esme Anderson.
Click the travel log icon on the left to see these locations on a map, with the complete log of our cruise.

On the map page, clicking on a camera or text icon will display a picture and/or log entry for that location, and clicking on the smaller icons along the route will display latitude, longitude and other navigation data for that location. And a live map of our current route and most recent log entries always is available at mvdirona.com/maps.