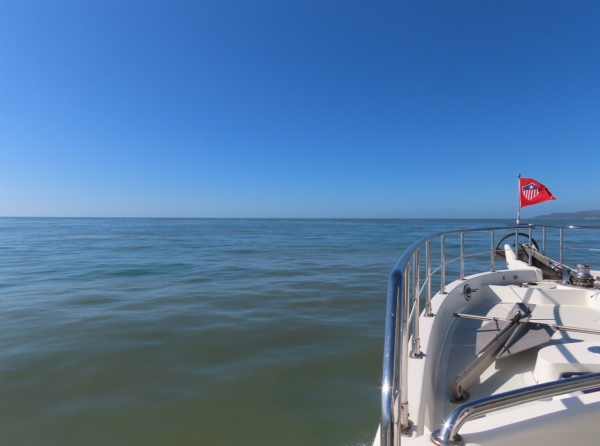 We departed Ramsgate at 8pm with the winds blowing in the 20s behind us. We expected conditions to settle down soon and wanted to take advantage of calm overnight weather to make a 125-mile run to the Isle of Wight, or possibly, a further 50 miles to Portland.
The winds did indeed drop off, and we made sufficient progress in the alternating positive and negative currents to reach Portland shortly after sunset. We generally try to avoid arriving in the dark, particularly somewhere new, but we'd visited Portland before and knew the approach was straightforward.
Conditions were a bit lumpy for the first few hours out of Ramsgate, but we had wonderfully sunny and calm weather as we passed south of the Isle of Wight and continued on to Portland. En route, we passed 10,900 hours on our John Deere main engine.
Below are trip highlights from March 15th and 16th, 2020. Click any image for a larger view, or click the position to view the location on a map. And a live map of our current route and most recent log entries always is available at mvdirona.com/maps.
3/15/2020
Calmer

Conditions have been a bit lumpy for the past three hours since we departed Ramsgate, as you can see from the wind speed and pitch graphs at center. But the winds are starting to settle down and the seas should follow.
3/16/2020
Float

Fishing float in the water about 20 miles offshore, southwest of Brighton. We generally haven't seen much gear in the water, but whenever we're running 24×7, its always a bit of a concern. These floats can be hard to spot at night, and they sometimes are trailing a length of loose rope.
Traffic

Traffic off Selsey Bill southeast of Plymouth. The highlighted AIS target is the fishing vessel GV Northern Dawn N10, with details visible at bottom right. Slightly to the east is the vehicle carrier Garnet Leader and approaching from the south is the fishing vessel GV Gleaner.
Garnet Leader

The 655-ft (200m m) vehicle carrier Garnet Leader en route to Plymouth.
Calm

Wonderfully calm and sunny conditions as we pass south of the Isle of Wight. We've made good time and the weather is holding, so we decided to continue on to Portland rather than stop at the Isle of Wight.
St Catherine's Lighthouse

St Catherine's Lighthouse at the southern top of the Isle of Wight. The first light here was established in 1323 on the orders of the Pope and the current light was completed in 1838.
Valiant

The UK Border Force ship

Valiant

southwest of the Isle of Wight. We were expecting to at least get a radio call querying our clearance status into the UK, if not an inspection. But they continued on without contacting us, likely because we were

fully cleared through

two days ago in Ramsgate.
Anvil Point Lighthouse

The Anvil Point Lighthouse, near Swanage in Dorset, was completed in 1881.
Fishing Boat

The winds are light, but with a big swell, and this fishing boat was half-disappearing in the waves as we passed.
Portland Arrival

Approaching the North Ship Channel into Portland Harbour in the dark around 7pm. The ends of each wall, that we will pass between, are just visible on either side. The harbour has two entrances, but pleasure craft are only allowed to enter through this one.
Click the travel log icon on the left to see these locations on a map, with the complete log of our cruise.

On the map page, clicking on a camera or text icon will display a picture and/or log entry for that location, and clicking on the smaller icons along the route will display latitude, longitude and other navigation data for that location. And a live map of our current route and most recent log entries always is available at mvdirona.com/maps.