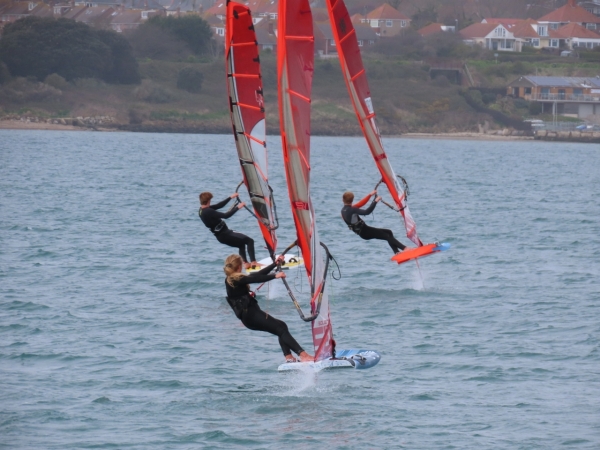 1,300-acre (520-hectare) Portland Harbour was the largest man-made harbour in the world when completed in 1872 (it's now the fourth largest). The huge harbour, exposed to strong English Channel winds but protected from their waves, is one of the best places for sailing in the UK. Both times we visited we've seen plenty of on-water action, with foiling craft really starting to dominate.
We spent two night at anchor in Portland, amidst foiling craft ranging from windsurfers to Mach 2 Moths, then moved into the marina for a few nights. There we topped off our diesel tanks, adapted our propane system to use UK tanks, and did a final provisioning run in preparation for our trip to Scotland.
Below are trip highlights from March 17th through 20th, 2020. Click any image for a larger view, or click the position to view the location on a map. And a live map of our current route and most recent log entries always is available at mvdirona.com/maps.
3/17/2020
Sunrise

We anchored in Portland Harbor off the marina for the night, had a relaxing evening, and got this fabulous sunrise the next morning. We're still a long way from Scotland, but we're getting closer. Winds are forecast to be high for the next few days, so we'll stay put until they settle down.
RFA

Royal Fleet Auxiliary

(RFA) vessels moored in Portland Harbour. Formerly designated HM Naval Base (HMNB) Portland, the base played major roles in both World Wars, but was decommissioned in 1995 after the Cold War and sold. The Royal Fleet Auxiliary, a supply arm for the Royal Navy, still uses the harbour though. On the right is the RFA

Mounts Bay

(L3008).
WASZP

A

WASZP

, designed by Andrew McDougall who also designed the

Mach 2

foiling Moth that we saw in action at the

2015 Moth Worlds

near Melbourne, Australia. The WASZP is designed to be a single-design racer that is less complex and more affordable than the Mach 2.
Windsurfer

Traditional windsurfer in Portland Harbour.
HeliOperations

During our stay in Portland we frequently saw Sea King Mark 5s, painted in

HeliOperations

distinctive orange, taking off from and returning to Portland. In their Portland location, HeliOperations are training SAR pilots for the Federal German Navy who will support the North and Baltic seas where UK military frequently operate.
Foiling Kitesurfer

Foiling kitesurfer in Portland Harbour with two sailing moths.
Foiling Windsurfers

Foiling windsurfers in Portland Harbour. These surfboards are "flying" over the water, held up by a small foil just below the surface. This is similar to an aircraft wing in design, except the fluid they run in is water.
Powerwash

James giving the boat a powerwash. We'd not given the boat a good clean since departing Amsterdam and it was definitely due.
Portland at Night

The lights of Portland, viewed at night from our anchorage.
3/18/2020
Moth

Jonathan Heathcote sailing at speed in a

Mach 2

sailing Moth. Heathcote placed 8th overall in the 2017 International Moth Class UK Grand Prix held here at Portland. We saw many Mach 2 Moths in action at the

2015 Moth Worlds

near Melbourne, Australia.
Flying Past

Dirona often seems be used as a sort of a mark, with groups of craft such as these foiling windsurfers, frequently flying past quite closely. It was fun to be part of the action.
Fueling

Our initial plan was to stop in Ireland on our way to Scotland to refuel. But any visiting boats are placed under a 14-day quarantine for COVID-19, and tax-free diesel is no longer available for pleasure craft. So now, recreational boat diesel in the UK is often less expensive than in Ireland. Instead we topped up our tanks here in Portland, in case we can't get any for a while. We only needed about 625 gallons, but its nice to have full tanks again.
32 Amps

After fueling we moved over to the guest dock at Portland Marina for a couple of nights. It's been a long time since we've used a 32-amp 220V connection on Dirona, probably not since the last time we were were in the UK. In Scandinavia and the Netherlands, we rarely saw more than 16A, and in some places even as high as 16A was rare.
Shore 1 Amps

We're so used to less than 16A power that it seems strange to see our

shore 1 power

draw at 26 amps (near bottom at right—click image for a larger view).
3/19/2020
And We Have Propane

Since last departing the US in 2017 for Europe, we've not yet needed to fill our propane tanks. Filling US propane tanks outside North America can be a real hassle. Many counties, including the UK, use unique connectors that are incompatible with those used in North America and cannot fill foreign propane tanks. We needed to find a way to fill our tanks in the UK.
Range Safety

Range safety vessel departing Portland Harbour. We are just west of a major military practice zone and these vessels patrol the boundary when firing is taking place.
Spice Rub

An important part of any emergency preparedness kit is a good spice rub. :) We've been practicing social distancing since leaving Antwerp six days ago, and are planning a trip to the grocery store to stock up tomorrow. Here we are making up a few spice rubs (pictured is

Moroccan-Spiced chicken Brochettes

) so we can purchase on any spices we consume.
3/20/2020
HMS Osprey

The HMS Osprey, a Westland Lynx HAS 3 XZ 250, on display at Portland Harbour. The craft accumulated 7,667 hours of flight time over 32 years of operation with the Naval Air Squadrons at RNAS Portland.
Sailing Academy

The Weymouth and Portland National Sailing Academy hosted the sailing events of the 2012 Summer Olympics here in Portland Harbour.
Lidl

When we arrived at the local Portland Lidl a few minutes before they opened at 8am, a line-up had already formed at the door. Customers were notably keeping their distance from each other, with some wearing face coverings. We're just starting to see more care around maintaining safe distances because of the COVID-19 epidemic.
Stock

Most of the shelves at Lidl in Portland were still well-stocked, but the toilet paper and some cleaning products were long gone.
Full Fridge

We're now fully stocked up for a couple of months. The fridge and freezer haven't been this full since

leaving South Africa

, where we didn't expect to provision for 6-8 weeks on the 5,400-mile run from Cape Town to

Barbados

via

St. Helena

.
PTO Clutch

Our hydraulic PTO clutch is electrically operated to allow the wing engine to operate with or without driving the hydraulic pump. A common failure mode for this component is

false brinelling

, bearing damage caused by vibration when the bearing isn't turning. This can cause the bearing to damage the races since it's not moving and just continuing to vibrate in place. Over long periods of time this can cause slight damage to the bearing races. Once this starts then it quickly gets worse as the system is used.

Northern Lights installed a timer on ours that releases the electric clutch for a half second every 10 min. This has proven very effective and, as a consequence, our clutch has lasted nearly 9 years. Here James is adjusting the clutch timing down to 500 msec every 2 min to see if it leads to longer clutch life. We think there is a good chance this will be an improvement, but the only way to know for sure it to run the experiment, so that's what we are doing.

Here's a video of us changing the PTO clutch explaining its operation, failure modes, and how to change it: Replacing Lugger Northern Lights PTO Clutch.
FLIR Scan

Performing a regular electrical cabinet FLIR-1 Scan. Everything looked the same as usual, except the 240V inverter feed is somewhat warmer than unsual, although still under 100F. The slight increase in temperature is caused by the higher-than-usual electric draw of using the HVAC system to heat the boat. The shore voltage and shore ATS are both at 106F. This is normal when we're drawing a bit more than a steady 25 amps of shore power.
Wind

A weather system is moving through, and we've seen winds up to 39 knots in Portland Marina. When this system passes, hopefully we'll have good weather to make the run to Scotland.
Click the travel log icon on the left to see these locations on a map, with the complete log of our cruise.

On the map page, clicking on a camera or text icon will display a picture and/or log entry for that location, and clicking on the smaller icons along the route will display latitude, longitude and other navigation data for that location. And a live map of our current route and most recent log entries always is available at mvdirona.com/maps.