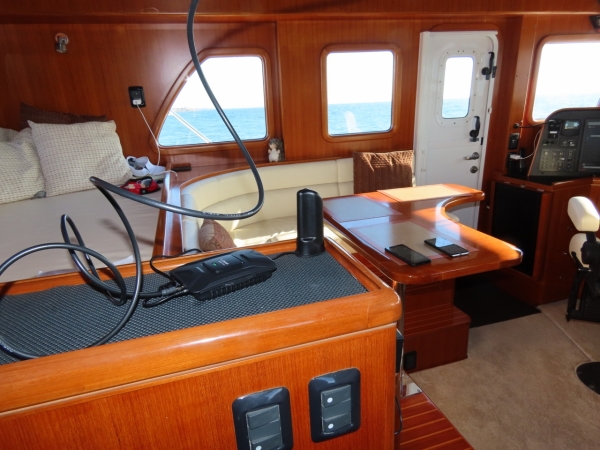 Sometime back we bought a WeBost Cell Signal Booster and tested it carefully on the boat. We tried putting the phones in a low corner of the engine room to degrade the signal as much as possible and then tested the cell booster off and on. The signal booster made absolutely no difference across a wide variety of tests.
The system appeared to be very close to useless, but since we spent just over $550 on it, we didn't want to condemn it. But we also didn't want to fool ourselves and become convinced it was helping if it wasn't. We figured the poor results were possibly due to testing it in a fairly high signal-strength area, so we decided we would test it again in a rural area where the signal strength was poor.
Today we ran the second test, at a poorly-connected location. Here, depending upon which way the wind blows, we have to move the cell connection to the end of the boat closest to the cell tower. The obstruction of the boat itself is enough to prevent the signal from getting through, so it's a perfect location to test the cell booster.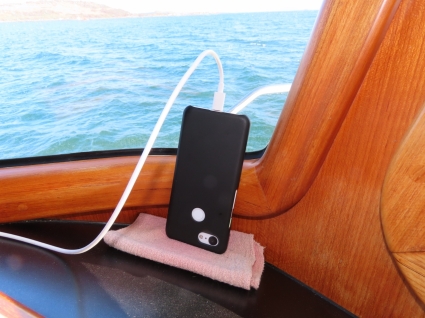 Again it completely made no difference. We tried the booster off and on where the phone was connected and watched the cell connection signal quality measured in DB and saw no difference on repeated tests. Then we moved to a location where the cell device is just barely connected and tried the booster off and on. Again no difference. As a final test, we moved the cellular device to a location where it could not connect and tried the booster off and on and it made no difference.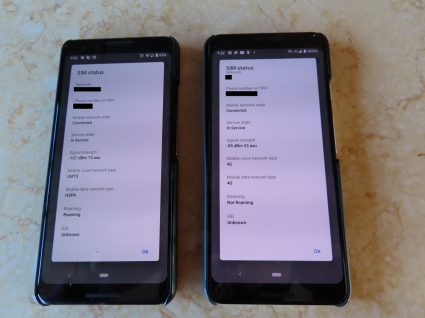 All tests were done with the outside antenna up above our flybridge bimini and the indoor transmitter in the same room as the phone. The WeBoost was always showing steady green, signaling that it's on and operating properly. There are no other supported configuration options on the WeBoost, so our conclusion is that the device simply doesn't work.
Given that this cell signal booster is the Amazon #1 Best Seller and is 4-star rated, we found our results surprising. But, it was a very extensive set of tests done in two different locations. The device is fairly expensive at $550, so we're disappointed with the results. The WeBoost doesn't deliver any measurable difference in signal strength or ability to connect in difficult to connect locations.
Update 2020/04/20: Blog reader Chasm points out the issue is likely the device is only capable of handling North American cellular frequencies.