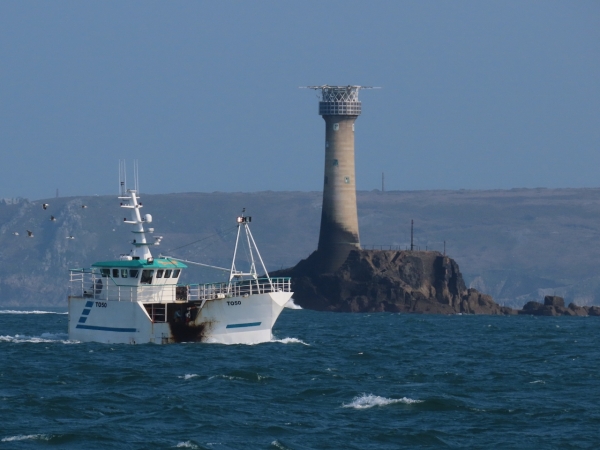 Our initial plan was to stop in Ireland to refuel on our way to Scotland from Portland. But the occupants of any boat arriving in Ireland are placed under a 14-day quarantine for COVID-19, and tax-free diesel is no longer available for pleasure craft. We also didn't want to risk departing the UK and not being able to return, and we decided to remain in the UK en route to Scotland.
The anchoring choices in the Irish Sea, on either side, are rather limited. So when it appeared we had a weather window that would allow us to make the 500-mile run directly without stopping, we took the opportunity. But we needed to depart in fairly big winds and seas to achieve that. Conditions were as predicted and, after a rough start, we had a reasonably smooth run over three nights directly to Scotland. We stopped at the Isle of Gigha, our final Scottish anchorage in 2017 before we returned to the UK at Belfast.
Below are trip highlights from March 22nd through 28th, 2020. Click any image for a larger view, or click the position to view the location on a map. And a live map of our current route and most recent log entries always is available at mvdirona.com/maps.
3/22/2020
11.6 knots

Doing 11.6 knots as we ride the outgoing tide from Portland en a 500-mile run to Scotland.
Seas

The winds are blowing in the high 20s as we leave Portland, and big seas from the past few days' storm are crashing into the breakwater at the southeast corner of the harbour. Dirona is pitching over 10 degrees and regularly rolling to 20 or more degrees. Conditions would be better tomorrow, but leaving today will hopefully keep the winds behind us as we arrive into Scotland four days from now.
Portland Bill Lighthouse

Choppy seas off the Portland Bill Lighthouse. The area we're passing through is known as the Portland Race due to the dangerous sea conditions that can result when strong currents flowing around the Portland Bill converge over the shallow underwater ledge. The current was quite strong, but when we passed through conditions were no worse here than off Portland Harbour.
Southwell Business Park

The Southwell Business Park on Portland Bill, opened in 1997 in renovated Cold War Admiralty Underwater Weapons Establishment.
Liquid Tomcat

We're pretty much the only boats out here, but we had to change course twice to avoid the overtaking Liquid Tomcat as they continued to change theirs.
3/23/2020
Mmmmm

Spitfire licking his chops after a meal. If you look carefully, you can see he's managed to spread specks of food all over his head (click image for a larger view). He's an enthusiastic eater.
Land's End

Resort complex on Land's End, the most westerly part of mainland England. Conditions can be quite rough around this promontory, but we had an easy run with light winds and a positive current.
Toso

The fishing vessel

Toso

passing the Longships Lighthouse off

Land's End

. The first lighthouse here was built in 1795 and the current tower was first lit in 1873.
Davia

Miguel Timmermans

sent us this photo, taken the day after we departed, of the family Grand Banks

Davia

moored in

Dirona

's berth at Jachthaven Willemdok in Antwerp. The sidewalks, always full of people during our visit, are conspicuously empty one day after Belgium closed all restaurants, bars, cafes, and night clubs.
3/24/2020
Airplane

Our chartplotter, TimeZero, displaying an airplane icon for an airborne AIS target to our southeast as we near Dublin. The target information at bottom right shows it is doing 85 knots.
3/25/2020
11.7 knots

We're making 11.7 knots in a positive current as we approach the Mull of Kintyre in southern Scotland.
Mull of Kintyre

The Mull of Kintyre lighthouse in overcast conditions. The second lighthouse in Scotland, it was completed in 1788. The area was immortalized in the 1977 hit song "Mull of Kintyre" by resident Paul McCartney and his then-band Wings.
Vacuum Cleaner

Our

Milwaukee Wet/Dry vacuum

failed today, so we took it apart to see if we could figure out what was wrong. It's surprisingly simple inside. The problem was a thermal overload, and the breaker self-cleared, so it's back in service.
3/28/2020
Isle of Gigha

The early morning view from the various exterior cameras to our anchorage off the Isle of Gigha with the bow facing north. We're really enjoying the anchorage and likely will stay here for a week or more.
Click the travel log icon on the left to see these locations on a map, with the complete log of our cruise.

On the map page, clicking on a camera or text icon will display a picture and/or log entry for that location, and clicking on the smaller icons along the route will display latitude, longitude and other navigation data for that location. And a live map of our current route and most recent log entries always is available at mvdirona.com/maps.