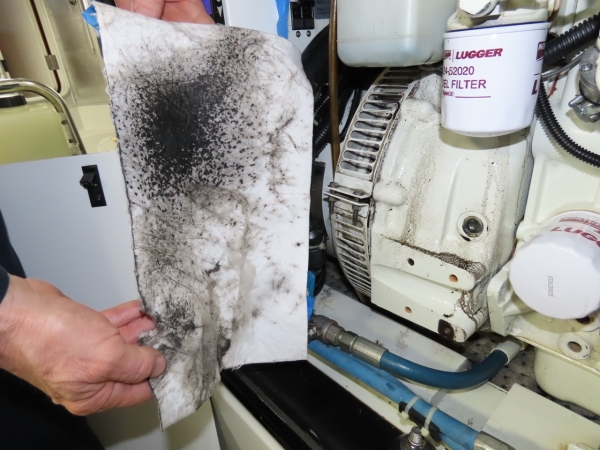 Our generator showed a light misting of oil around the generator cooling fan a month back. At just under 7,000 hours, it's a bit early to be leaking, but it's not a huge issue since rear main oil seals don't fail catastrophically nor even quickly. It just means that in the next year or so, we're going to have to replace that seal. Unfortunately it's a big job and we don't currently have the needed parts but rear main oil seals don't fail fast so we're not particularly worried about.
A month ago it was hardly even an oil mist on the inside of the cabinet enclosure. But this one has gotten worse quite quickly and in 200 hours it's now spraying so much oil around the enclosure that it's running down the side of the engine and the enclosure sound deadening material. It's a real mess and getting worse fast.
Changing the rear main oil seal is a big job that we're not looking forward to. Ron and Nancy Goldberg of Nordhavn 50 Duet sent us detailed instructions with pictures on how to do this job. We're still not looking forward to it, but the detailed instructions from Ron and Nancy will make it a lot easier when we take it on. Also, for what might be the first time ever, we don't have the parts we need nor a practical work-around. And because it's a single-generator boat, we need to keep the engine in use. So, after further investigation into the problem, we decided to try a couple of experiments.
Checking for Oil

Before condemning the rear mail oil seal for sure, we looked for leaks higher up that are much easier to service. Here you can see the rocker arm gasket is sealed up nicely, and the back of the rocker shaft carrier and cylinder head are clean and white. We don't often "wish we had an oil leak at the top of the engine" but this is one of them :-).
Rear Main Oil Seal

To minimize the spread of oil, we now have a oil diaper taped on so that it rests against the sound enclosure. This allows the generator to still have full cooling air flow but keeps the worst of the oil spray down. If you look carefully you'll see that the oil running down the underneath the fuel filter and it was just cleaned 1.5 operating hours back. This leak has become serious one quite quickly.
Oil Spray

Here you can see the the oil collector after 1.5 hours of operation. The oil diaper fills in 7 to 10 hours and needs to be replaced. This is both a mess and also makes working around the generator a dirty prospect.
Manometer

Whenever an engine has a serious oil leak and, especially when the leak worsens quickly, the most likely cause is excess crank case pressure. This can be caused by excess blow-by due to failed rings or other internal engine problems, but the more common cause is faulty venting systems. It's easy to check for excessive flow by opening the lower oil fill when the engine is running at full load and checking for air flow. There should be very little.

We chose to use a manometer and measure internal crankcase pressure but the "by feel" is almost as good. In this measurement, we found the crankcase internal pressure is 1.17″ of water. This is 0.042 PSI, so a very slight positive pressure. Northern Lights doesn't publish crankcase pressure specs for their engines, but the Deere Specification for our main engine is less than 2″ of water. We know from past testing that the Deere runs in the 0.8″ to 1.3″ of water range so the Lugger is right in the middle at 1.17″ of water. This is what we would expect from a healthy engine not showing any adverse signs of wear.
Temperature

One of the most common causes of failed oil seals is excess temperature, but this engine has never been over-heated. It has a high temperature cut off at 205F and it's never been above that and, most of the time, it runs down in the 186 to 188F range. Seals generally run at engine temperature so we mostly focus on that. But enclosure air temperatures can be a problem as well, although these problems are usually voltage regulator and electrical components inside the hot enclosure. The hotter it gets the worse for those components. The oil seals are going to run at whatever temperature the engine itself is running at (in our case 186F to 188F and never over 205F).

But we still took the opportunity to check the enclosure air temperature and found 109F in a 88F engine room. Using the worst possible case, we put the generator at full load for an hour and it showed 117F in a 95F engine room. This tells us enclosure temperatures are fine and our voltage regulator is operating in acceptable conditions. If you are checking your own generator, ensure that the enclosure heat shielding is not pulling down or peeling back, blocking air flows, and make sure that you don't have spares up against the enclosure blocking air flow.

Having a rear main oil seal fail before 7,000 hours is a bit early in our opinion, but there is no evidence of environmental problems. There is no question, however, that the rear main oil seal needs to be changed.
Crankcase Ventilation

The generator crankcase ventilation system used by Northern Lights is a simple design with little to go wrong. The crankcase vents directly to the engine intake through a small diaphragm that forms a valve. It has a light spring on the back that seals the crankcase until something nearing 1.00″ of water develops in which case the diaphragm lifts against the spring and vents the crankcase into the engine air intake. We know from the manometer test earlier that we don't have excess crankcase pressure, but we still wanted to check that this diaphragm was working correctly and the metal mesh oil mist coalescing filter in front of it was clear. Both are in perfect operating condition and working as designed.
Oil Coalescing Filter

Here we are checking the oil coalescing filter to ensure it's free of obstruction and that crankcase vapors can vent into the engine intake through the diaphragm valve without any resistance beyond the spring behind the diagram valve. All checked out correctly.
Experiment

We've gone from a generator that leaks no oil for 6,600 hours, to a light oil misting around the generator cooling fan, to oil being thrown freely around the generator enclosure. From light misting to oil running everywhere was only 200 hours and it continues to worsen quickly. We know the engine temperature is fine, the oil level isn't high, the enclosure temperatures is fine, the crankcase ventilation system is working correctly, but the rear main oil seal is leaking a lot of oil. It appears to have failed both early but also uncharacteristically quickly.

Changing the rear main oil seal is a large job and, for what might be the first time ever, we don't have the parts we need nor a practical work-around. And because it's a single-generator boat, we need to keep the engine in use. So we decided to try a couple of experiments. In the first experiment, we decided to run with a neutral crankcase pressure and see if that reduced the oil leakage. In the second planned experiment, we'd run a slight negative pressure.

We implemented a zero pressure crankcase by folding a shop rag into fours and hose clamping it over the oil fill hole with the oil fill cap removed. This gives four layers of rag to prevent oil mist problems but, otherwise, to allow a neutral pressure crankcase.
Improved

The tiny difference between 1.17″ of water and 0″ made a massive difference to the oil leakage rate. Here's the engine with after 8 hours of operation at normal load. Where oil was thrown around everywhere in the enclosure, it's now back to a light misting with some light build up of oil on the grill that surrounds the generator cooling fan. This difference is remarkable.

It's still leaking but it's only 5 to 10% of what it was leaking before. It used to have oil running down the junction box and the Wavenet as far away as the top corner of the generator enclosure. It was a veritable oil shower in there. It still needs to a new rear main oil seal but we now have more time to get parts and do the job when we have time rather than as emergency service.