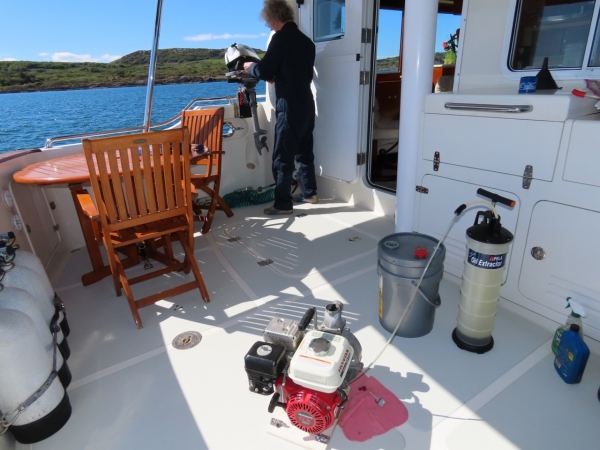 While our cruising lifestyle may be on pause during the Scottish lockdown, our maintenance log isn't. Several scheduled service items came due in mid-May, including annual testing, lubricating and changing the oil and filter in our gasoline engines, changing the hydraulic zincs, and charging our backup batteries. We also completed some unscheduled maintenance work, such as fixing a sqeaking salon floor and replacing a failed Raspberry Pi and a corroded emergency warning light.
Our produce supplies, while dwindling after nine weeks since last provisioning, still provided fresh fruit and vegetables, and our on-board bakery continued to produce delicous breads and breakfast treats.
Below are highlights from May 12th through 21st. Click any image for a larger view, or click the position to view the location on a map. And a live map of our current route and most recent log entries always is available at mvdirona.com/maps.
5/12/2020
Contacter

Replacing the contacter in the power cabinet that had developed a noisy coil. This particular one is used to temporarily shed the microwave when we detect high load on the 120V inverter.
Gen Start Issue

The generator has been slow to start recently. We

tested the glow plugs

a few days back, but they were in good shape. Today we did some further investigation and determined it was a problem with the starter. We tested the battery voltage and connection quality, and all checked out well. Here James is testing the RPM with an optical tachometer. Low RPM on a starter is not a particularly common failure mode, with low battery and poor connection being far more common. But it was so obvious there was a starter RPM problem that James stopped the problem determination at this point and just changed the starter. It's not that hard a job, and it solved the problem.

Watch the video of the job at https://youtu.be/NT4NGAVTN4g.
5/13/2020
Annual Engine Service

Performing the annual service on all our auxiliary gas engines. Pictures are our Honda 2.3HP motor for the

micro-tender

and our WH15X high-powered water pump for emergency water evacuation and fire-fighting. We annually test and lubricate them, and change their oil and fuel.
Oil Filter

Performing the annual oil filter change on the Honda 50HP motor. We also changed the fuel filter, required every 2 years and our first change since we picked up our

"new" tender

two years ago in Harlingen, NL on our way to Norway.
Steering

The tender steering system seized up due to grease failure. The grease hardened up into a thick coating that was hard as a rock. Even brake cleaner was slow to remove it. On the right is the portion of the steering rod that we have cleaned off, with some old hardened grease still visible at the left where James is pointing.

We worked a can of break cleaner in and got the steering as free as possible, removed as much of the old coating as we could, and then pumped in new grease. It feels nearly as good as new now.
5/14/2020
Otter

Several otters live in the area and we enjoy watching their antics. They always keep a safe distance from

Dirona

though, possibly having seen our

fierce feline

. :)
Charging Backup Battery

Performing the semi-annual test and charge of the backup battery in our tender.
Hydraulics Spares

We have spares stowed throughout the boat. Here Jennifer is getting two pencil zincs from the hydraulics spares under the floor at the foot of the master stateroom berth.
Hydraulic Zincs

The hydraulic zincs have lasted well since we last changed them nine months ago.
Salon Floor

Our salon floor has picked up a squeak at the engine room hatches, so we removed the carpet and under-padding to investigate. It's also a good time to give the floor a good clean. The hatches are designed to allow the engine to be removed from the boat without having to cut into the woodwork. We hope never to test this, but if those cross-beams are removed, the engine should lift up through the floor and out the door.
Cutting To Size

Cutting strips of non-skid to size to fit underneath and between the floor hatches. That solved the squeak.
Backing Up DSM410

We've installed a

NMEA2000 system on our tender

, with a

Maretron DSM410

display. We annually backup this device, and the easiest way to do that is to another DSM410. This gives us both a backup of the original and a ready-to-go spare should the original fail.
Charging UPS Battery

Completing the semi-annual test and charge of the backup batter for our UPS. That

Schumacher portable charger

gets a surprising amount of use and has lasted well since we purchased it way back in 2011.
Maintenance Log

One of the projects we completed while here at the Isle of Gigha is to convert our

Excel-based maintenance log

to a database-backed system with a web interface. This automatically pulls in the hours from our various engines and give us a service history report. Here we are marking complete the task to test and charge the tender and UPS batteries. We'll blog the details of the new maintenance log system.
Cinnamon Buns

Another

batch of pecan-topped cinnamon buns just out of the oven.
Corroded Tower Light

We have a warning light on the stack designed to attract attention if we suffer a shore power failure or fire and nobody is on board to clear the alarm. In these conditions, we automatically flash an external light high up the stack to attract attention to the boat. The hope is that the flashing light attracts attention and either causes someone to take action (like reseting the shore power breaker) or causes the marina to call us so we can correct the problem.

It's a simple configuration based upon our remote boat monitoring system. The only trouble we have had with this system is getting warning lights to last. Every year or two, we'll see storm force winds and these lights often end up filled with water even though they are outdoor-rated. This is the second failure and this one was particularly bad where the light was actually partly full of water and the insides have rusted away. Today, we'll install an improved waterproof warning lamp.
5/15/2020
Fresh Bread

Another tasty loaf from our

Zojirushi Home Bakery Mini

bread machine. We've used it more in the past few weeks than for the eight years that we've owned the machine. It's been wonderful having fresh bread available with little effort on our part.
5/16/2020
Forward Pi

The Raspberry Pi mounted above the helm is the original one that was put into production on

Dirona

during our

2015 Indian Ocean crossing

. Over the years, it picked up more features, more connections, and became a difficult-to-service mess of wires and discrete components. Today we removed most of the discrete components and wiring to the breadboard and replaced them all with with an i2c-to-8-pin digital I/O processor. In the picture, the job isn't quite complete as some resistors still need to come out of the breadboard. This now is a far simpler and easier-to-service approach compared to how it was before in this

earlier photo

.
5/17/2020
Green Onions

We read today that green onions will regrow if the roots are put in a clear container of water in the sun. The few we had left were actually starting to sprout a bit already, so we put them in the galley window and we'll see what happens. James is planning to keep his job rather than go into full-time farming, but we're still happy with the potential. :)
Company

When we looked outside this morning, we were surprised to see another boat at anchor. This is the first pleasure craft we've seen since we arrived at Gigha over eight weeks ago. The British-flagged vessel departed after spending a couple of nights here.
5/18/2020
Lettuce

Our lettuce is keeping well after nearly nine weeks, but our eight initial heads of Romaine are down to only small hearts now.
5/20/2020
Boat Garden

Sam Landsman, on seeing our project to

regrow green onions

, shared a photo of the boat garden on Nordhavn 50

Akeeva

. It looks wonderful, and they even grew lettuce until it got too big.
Apples

The last of the apples from Portland with breakfast. We now are out of fresh fruit, but we do have plenty of canned fruit to keep us going.
Sprouting

The

apples

still were fresh, crispy and delicious after nine weeks, but the seeds inside had actually started to sprout. If we had a

boat garden

like on

Akeeva

, we might plant it for fun and see what happens. But self-sufficiency has its limits—we're not at all tempted to grow an apple tree on board. :)
Our Hannah

Choppy conditions east of Gigha as Our Hannah heads south into the seas.
5/21/2020
Raspberry Pi

This afternoon one of our Raspberry Pis stopped functioning correctly. It's an easy job to replace. This is the third failure over the five we have installed on board, and the

second failure

this year. But, given five are in service on

Dirona

, it still seems like a reasonable lifetime and pretty good value for $42.99 (

https://www.amazon.com/gp/product/B01LPLPBS8/

).
Click the travel log icon on the left to see these locations on a map, with the complete log of our cruise.

On the map page, clicking on a camera or text icon will display a picture and/or log entry for that location, and clicking on the smaller icons along the route will display latitude, longitude and other navigation data for that location. And a live map of our current route and most recent log entries always is available at mvdirona.com/maps.