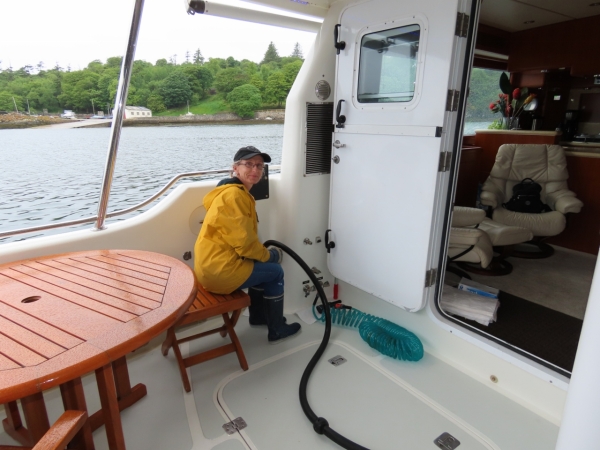 When we arrived in Stornoway, Scotland on June 9th, we stepped ashore for the first time since departing Portland, UK on March 22nd. While we were looking forward to revisiting Stornoway, surprisingly, neither of us was desperate to get ashore. The same versatility that made Dirona a comfortable and safe home for us over the past decade as we've crossed oceans, lived in world-class cities, and explored remote parts of the planet also made the boat an ideal place to wait out the Scottish lockdown. We can produce our own power, make water, generate heat, do laundry, exercise, connect to the Internet, and cook meals all without leaving the boat.
But after more than two months at anchor, we needed to refuel and replenish our deep stores. Also, our trusty Northern Lights generator had developed a valve seat issue and we needed to obtain parts to fix it. We very much appreciate the Port of Stornoway being willing to help us during the lockdown with obtaining fuel, providing a berth so we could provision, and accepting the delivery of generator parts. We'd really enjoyed our previous visit in 2017 and it was great to be back.
Below are trip highlights June 9th, 2020. Click any image for a larger view, or click the position to view the location on a map. And a live map of our current route and most recent log entries always is available at mvdirona.com/maps.
Loch Seaforth

The Caledonian MacBrayne ferry Loch Seaforth exiting Stornoway as we approach.
Fenders

Putting out the fenders to land in Stornoway. It's the first time they've been out in 79 days since we left

Portland, UK

on March 22nd.
Arnish Point Lighthouse

The Arnish Point Lighthouse at the entrance to Stornoway was built in 1853 and designed by Alan Stevenson. We last were in

Stornoway

in September of 2017 and it's great to be back.
Port of Stornoway

We'll be landing on the fuel dock at the Port of Stornoway, at the far end of the visible dock, then moving to a berth in the recreational harbour to reprovision. The port is closed to recreational traffic due to the Scottish lockdown, but the Stornoway Port Authority has given us approval to land for a few days while we refuel and reprovision. We are very grateful for their support and assistance.
Fueling

Taking on fuel at the Port of Stornoway. It's a real relief to have full tanks again.
Fuel Dock

The fuel dock is in the commercial harbour, so we need to be well-fendered against the rough pilings. Note the large bolt sticking out at near the bottom of the picture (click image for a larger view).
Resident Seal

Stornoway's resident seal (one of many we're sure) was feeding and keeping an eye on us as we fueled.
Package

Opening a package from our satellite systems supplier

KVH

, that the Stornoway Port Authority had accepted for us.
Oil Change

Performing our 41st oil change on the main engine.
Garbage

A cart full of household garbage that we'd built up over the past couple of months and 10 gallons of oil for recycling.
Helping Hand

We'd asked the Stornoway Port Authority about recycling our waste oil, and were planning to get rid of the garbage ourselves. But a port employee came down and insisted on taking it all away for us. Stornoway is taking great care of us and we really appreciate it.
Fisherman's Co-Op

Our first time ashore in 79 days, since leaving Portland, UK on March 22nd. Stornoway, like the rest of Scotland, is very much still in lockdown. The Fisherman's Co-Op only allows two customers in at a time for social distancing, so we are waiting outside for our turn.
New Boots

The last time we were in Stornoway, James needed a new pair of boots and we got a great pair for him at the Fisherman's Co-Op. This year Jennifer needs new boots, so it was off to Fisherman's Co-Op again. We didn't realize this until looking at the photo, but Spitfire is taking advantage of our distraction to mooch some of our lunch.
Square Pails

We normally try to get cylindrical pails of oil, like those on the right. They no longer are the standard container of choice in the EU, with most suppliers favouring the square jugs of the same size, such as those on the left. The square jugs are actually slightly more space-efficient, and so a perfectly fine choice, but our storage system is setup to retain the round pails. We've decided to retrofit our oil storage system to fit either one.
First Groceries

Our first time grocery shopping for 81 days, since the Lidl in

Portland

. Here we are at the local Tesco superstore, waiting our turn. The grocery store is laid out in a one-way traffic pattern, with customers required to stay 2m apart. At the entry are disinfecting spray and hand gel for customers to use to clean the cart handles and their hands before entering.
Macleod & Macleod

Huge supply of Scottish beef being delivered to Macleod & Macleod in Stornoway.
Stornoway

The views from our berth in the marina at Stornoway. We're in a great slip in the

same location

we used last time we were here. We love the

RNLI

lifeboats, so its great to have the

Tom Sanderson

right across from us. Stornoway is an excellent stop, where we can refuel the diesel tanks, fully provision after being away from civilization for more than two months, and get the parts we need to repair the generator.
Click the travel log icon on the left to see these locations on a map, with the complete log of our cruise.

On the map page, clicking on a camera or text icon will display a picture and/or log entry for that location, and clicking on the smaller icons along the route will display latitude, longitude and other navigation data for that location. And a live map of our current route and most recent log entries always is available at mvdirona.com/maps.