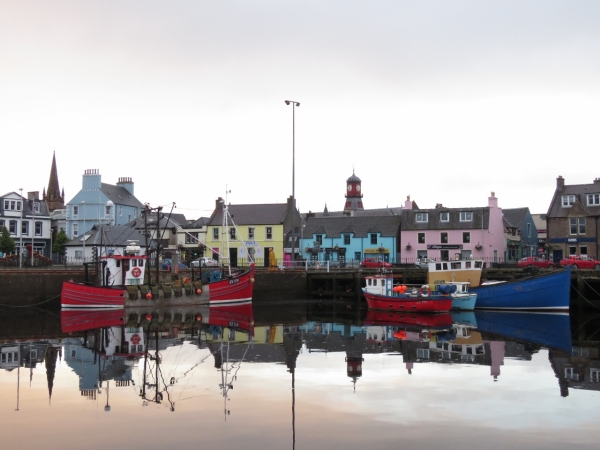 As is often the case, once we'd arrived in Stornoway we liked our berth and the town so much that we immediately extended our stay from four days to a week. We toured the Isle of Lewis, walked all over town, reprovisioned, visited the excellent Museum nan Eilean and, of course, checked out the local pubs.
Below are trip highlights from September 8th through 15th, 2017 in Stornoway, Outer Hebrides, Scotland. Click any image for a larger view, or click the position to view the location on a map. And a live map of our current route and most recent log entries always is available at http://mvdirona.com/maps
9/8/2017
Stornoway Arrival

Moored at Cromwell Quay in Stornoway Harbour for a few days beside the

RNLI

lifeboat

Tom Sanderson

. We spent the afternoon of our arrival touring through town, the largest center in the Outer Hebrides, then had a great evening with Nordhavn 68

Vesper

owners Bob and Kathy Valleau.

Read more …
9/9/2017
Isle of Lewis

In reaching the Butt of Lewis at the north end of Lewis Island, we'd been to both the most northern light in the Outer Hebrides and the most southern, on Berneray Island. Our day trip around Lewis Island also included stops at scenic Mangestra, the Standing Stones of Callanish, an historic roundhouse and several traditional Hebrides blackhouses.

Read more …
Chinese Food

Stornoway has several Chinese Food takeout restaurants, so we decided to try one and had an excellent meal from nearby Golden Ocean. We've not had takeout Chinese Food since we were in Palm Beach in 2016.
9/11/2017
Chain Bag

Scallopers drag a chain bag along the bottom to capture scallops. The bottom of the chain bag is constructed of individual iron rings connected by smaller iron rings. This fisherman is repairing the nets that form the top of the chain bag. In

Lunenburg, Nova Scotia

, we watched workers hand-crimp the rings together.
Fisherman's Co-Op

Shopping at the well-stocked Fisherman's Co-Op along the Stornoway waterfront.
Power Tester

To help isolate power problems when we are in a marina, we built a power tester pigtail (on the right) using a locally-sourced electrical tester. We had already

built several pigtails

, such as the one on the left, to adapt a local power system to our built-in main power cable. Now if we want to test the power in a marina, we can instead plug our tester into the pigtail and know we have 1) power, 2) ground and 3) correct polarity.
9/12/2017
Stornoway Harbour

A lovely calm morning in Stornoway Harbour. We never did get the big winds we were expecting, likely because the harbour is so well-protected.
Lunch

It was warm and calm enough today to have lunch outside.
Power Top-Up

Rather than having a power meter, the power pedestals in Stornoway Harbour operate on a top-up basis. Users purchase a card with a certain amount of power and top-up as necessary. When the top-up is consumed, the power goes out. We've seen this system once before, in Loch Swilly in Ireland. In both cases the marina didn't mention this, so we ran out of power. This is not a big deal for us as the generator will simply auto-start if the batteries get low, but it is a little unusual.

Power is included with the cost of our berth, but the marina only will add about 61 kWhr at a time, and someone has to come down to the dock to do it (pictured). We blow through that in barely a day and have to call them to top it up, so we eventually just purchased 150 kWhr of top-up for £20 to simplify things.
Bob Valleau

Bob Valleau

from Nordhavn 68

Vesper

with James in our engine room.
NFL Game Pass

This weekend is the start of American football season and in the UK we're back to being able to watch live games on

NFL Game Pass

. Game Pass is priced differently, and offers different features, all over the world. When were were in New Zealand in 2013, we could watch live games for free. In Australia we could watch live games at a remarkably low cost. When we were last in the United States, we couldn't watch live games, but all games more than 24 hours in the past were available. Here in the UK, Game Pass is reasonably priced at £160 ($215 USD) for the season, and it allows watching as many live games as we want and all games for the season are available. We had a great evening watching the New York Giants take on the Dallas Cowboys.
9/14/2017
| | |
| --- | --- |
| | Garbage |
Groceries

Returning with a load of groceries. The tarp protects the groceries from rain, allows us to pack the cart higher, and secures the load with the edges tucked underneath.
Raspberry Pi Zero

We have 3 Raspberry Pis running on

Dirona

implementing around 35 channels of digital input, 16 channels of digital output, and 10 channels of temperatures sensors. The digital input tracks device off/on state so we can show control system status on our N2kview display (e.g. furnace boiler on) and set warning indicator lights, sound audible alarms, and send warning emails (e.g. 240V inverter is on but the ship's service selector is not set to inverter).

The digital outputs allow the control system to control device off/on state. For example, it can shut off the hot water heater when the 240V load is close to exceeding the power available (avoids breakers popping or inverters shutting down due to overload) and it controls the generator warm up and cool down. When our generator starts, there is no load until it warms up to 160F and it always gets a 1 min cool down.

The temperature sensors are tracking the temperatures of all three inverters, the engine intake, exhaust, and main engine air intake temperatures. The Raspberry Pi 3 is only $35 from Amazon, is easy to program and is remarkably capable.

Pictured is a Raspberry Pi Zero W. This is much smaller than the standard PI 3 and a bit cheaper. We don't use any of these but we were interested in how capable they are. In the end, it'll do anything that we're currently using Raspberry Pis for, but it's a hassle to use because the 40-pin I/O connection needs to be hand-soldered. So our net conclusion is that it's a fun little part but we'll continue to use standard Raspberry Pi 3s for our uses.
9/15/2017
Castle Grounds

Walking through the woods on the Lews Castle grounds across the water from the Stornoway Marina.
Lews Castle

Lews Castle was built between 1847 and 1857 as a country house for Sir James Matheson who bought the island of Lewis in 1844. The island's name originally was spelt Lews.
Pier

The commercial pier and the outer harbor where we entered Stornoway.
Castle Interior

Following many years of neglect, Lews Castle was recently beautifully restored and renovated to include a museum, cafe and luxury accommodations.
Wedding Reception

A fabulous setting for a wedding in Lews Castle overlooking the harbour.
Museum nan Eilean

The new Museum nan Eilean celebrates the history and way of life in the Hebrides. This video collage was one of several engaging displays.
Hebrides Weather

We couldn't agree more with Peter May's quote, although we'd extend it to all of the west coast of Scotland.
Panorama

Another excellent display at the Museum nan Eilean was this video panorama, wrapping around three walls with seats in the middle, depicting Outer Hebrides scenery and weather.
Lewis Chessmen

In on our tour of Lewis Island we visited the area where the

Lewis chessmen

were found and got to see some of the real pieces in person today. The rest are on display in museums in Edinburgh and London.
Chess Games

A group of school children were playing chess in one of the castle rooms. The chess set second from the front is a replica of the

Lewis chessmen

.
Rabbit

After visiting Lews Castle, we walked a small portion of the extensive ground. The rabbit population here is quite healthy.
Town Hall

The Stornoway Town Hall building, with it's distinctive clock, was completed in 1929. The clock is prominent from our berth at the marina, but less obvious as we are walking around town.
Star Inn

The Star Inn bills itself as the oldest pub in Stornoway, so we pretty much had to stop in for a pint.
Click the travel log icon on the left to see these locations on a map, with the complete log of our cruise.

On the map page, clicking on a camera or text icon will display a picture and/or log entry for that location, and clicking on the smaller icons along the route will display latitude, longitude and other navigation data for that location. And a live map of our current route and most recent log entries always is available at http://mvdirona.com/maps.