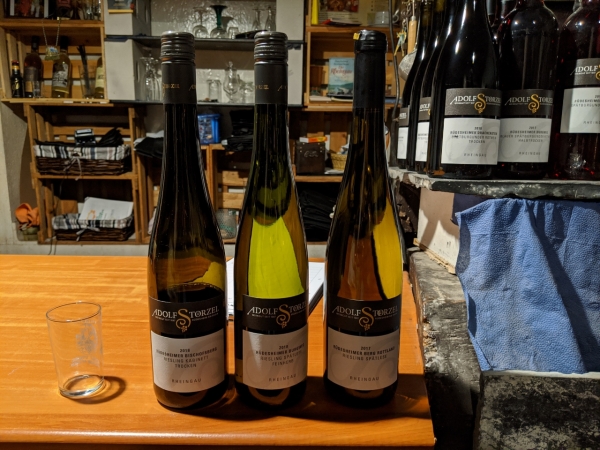 Rudesheim am Rhein has been a German winemaking town for a thousand years, and today is known especially for its high-quality Reislings. After touring Heidelberg, Germany, we arrived in Rudesheim that evening and enjoyed a post-dinner wine tasting. The following morning, we walked up through the vineyards to enjoy the views to the Rhine River and also see the famous Niederwalddenkmal monument that commemorates the 1871 foundation of the German empire.
Below are trip highlights from Dec 26th and 27th, 2019 in Ruedesheim, Germanyy. Click any image for a larger view, or click the position to view the location on a map. And a live map of our current route and most recent log entries always is available at mvdirona.com/maps.
12/26/2019
Rudesheim

We arrived into Rudesheim, Germany during dinner and will moor there for the night. With our starboard-side stateroom, we had a great view across the river to the nearby towns.
Train

Tourist train that will carry us into Rudesheim for an evening wine-tasting.
Adolf Storzel

The three delicious wines we tasted at the centuries-old Adolf Storzel winery in Rudesheim, Germany.
12/27/2019
Vineyard Walk

After overnighting at Rudesheim, the following morning we took a walk through the vineyards above the Rhine.
Ehrenfels Castle

The ruins of Ehrenfels Castle, built in the early 1200s for defense and as a customs control post to control shipping on the Rhine. The castle was destroyed in 1689 during the

Thirty Years War

.
Mauseturm Tower

The Mauseturm (Mouse) Tower, originally built in the 13th century to complement Ehrenfels Castle for customs toll control along the Rhine River. The name Mouse Tower derives from a folk tale where an army of mice chased the cruel castle owner into the tower and ate him alive.
Electric Shears

Throughout the vineyards, people were efficiently pruning the vines using electric shears.
Niederwalddenkmal

The Niederwalddenkmal, standing high above the Rhine, commemorates the 1871 foundation of the German empire from numerous independent states.
Niederwalddenkmal Close-Up

We walked up the hill for a closer look at the Niederwalddenkmal. The 34ft (10.5 m) statue of Germania, the personification of the German nation, holds the new crown of the empire in her right hand and the Imperial sword in her left.
Rhine View

Wonderful view east along the Rhine from the Niederwalddenkmal. Our boat, the AmaMora, is visible moored along this side of the river, slightly left of center.
Click the travel log icon on the left to see these locations on a map, with the complete log of our cruise.

On the map page, clicking on a camera or text icon will display a picture and/or log entry for that location, and clicking on the smaller icons along the route will display latitude, longitude and other navigation data for that location. And a live map of our current route and most recent log entries always is available at mvdirona.com/maps.