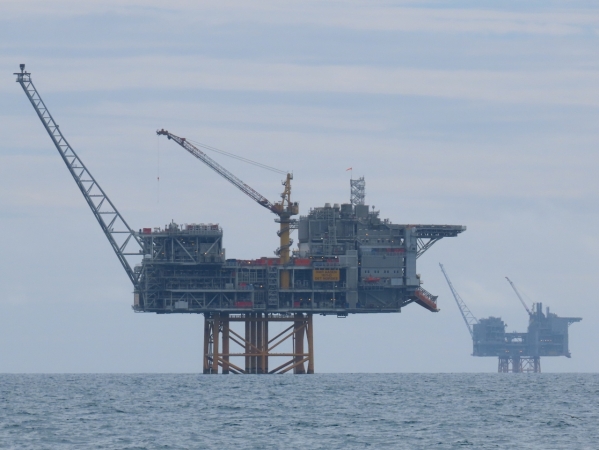 It's an unusual day when you get up in the morning to start a short coastal cruise, and end up making a 2.5-day crossing of the North Sea to an entirely different country. Given the current world situation, Norway was number one on our list of desired destinations, with its excellent hiking and abundance of sheltered anchorages. But we weren't allowed to enter under their COVID-19 restrictions, and instead were planning to cruise Scotland's Orkney and Shetland Islands. During our short day-cruise to the Orkney Islands, however, Norway announced eased COVID-19 entry restrictions and we learned we were now eligible to enter. So we abandoned our plan and headed across the North Sea.
One of the many aspects of our Nordhavn 52 Dirona that we really appreciate is its flexibility and capability. The only preparation needed for this major plan change was to check the weather. The forecast looked ideal for a North Sea crossing, so we plotted a course for Stavanger, Norway and continued east instead of turning north to the Orkney Islands. The route took us through the North Sea oil rigs that extend in a north-south line roughly midway between Scotland and Norway, and our charts were full of pipelines snaking away from the oil and gas fields.
Below are trip highlights from July 15th through 17th, 2020. Click any image for a larger view, or click the position to view the location on a map. And a live map of our current route and most recent log entries always is available at mvdirona.com/maps.
7/15/2020
Am Bhuachaille

The 213-ft (65 m) sea stack Am Bhuachaille off the Rubh' a Bhuachaille headland. Ascent of the stack is rated "Hard Very Severe", the second most difficult category. The few that have climbed the stack needed to make a 100-ft (30m) swim at low tide to access it.
Cape Wrath

Cape Wrath shrouded in fog and mist, with the lighthouse completely invisible in the clouds at top right. The headland is known for heavy seas that can develop quickly due to the strong currents that meet here and the exposed location. We're rounding in near calm conditions, and there's hardly even any swell.
Calm Seas

Wonderfully calm seas as we cruise through the North Sea en route to the Orkney Islands.
Dunnet Head Lighthouse

The Dunnet Head Lighthouse, high on the cliff. The light was built in 1831 by Robert Stevenson, grandfather of Robert Louis Stevenson, and was automated in 1989.
Buoy

Buoys marking fishing gear aren't as prevalent here as in some areas of the world, line in Maine, USA, but they are frequent in the area and we need to keep a watch for them. Fortunately the fishers almost universally use bright orange scotsman buoys, so they are easy to see.
Orkney Islands

A view to the southwestern tip of the Isle of Hoy in the Orkney Islands.
Pleasure Craft

The only pleasure craft we've seen underway today. The exposed North Sea run around Cape Wrath to the Orkney Islands in not a popular one for recreational boaters.
Stroma Lighthouse

Lighthouse on the Isle of Stroma as we pass through the Pentland Firth. The area is known for some of the strongest and unpredictable tides in the UK, with currents reaching 16 knots. Conditions here can be extremely dangerous for craft of all size when strong winds oppose the current. The navigation charts warn that laden tankers should not transit in restricted visibility or adverse weather due to the dangers here.
Tracking

We entered

Pentland Firth

at turn to flood (eastbound) on a small exchange. But even the relatively minor current build is making it difficult for our autopilot to track to our plotted route (known as

nav mode

). The blue line of our plotted route and the red line of our actual track are near identical until we entered the area, but now are diverging strongly.
Sooth Clett

The islet Sooth Clett off the southeast shore of Swona to our north.
Pentland Skerries Lighthouse

Pentland Skerries Lighthouse to our south. The light was built in 1794 by Thomas Smith and his stepson, the famed lighthouse designer Robert Stevenson, grandfather of author Robert Louis Stevenson.
Liddel Eddy

A major backeddy, known as the Liddel Eddy, forms off the tip of South Ronaldsay at turn to flood and eventually extends nearly all the way across to Muckle Skerry. Dangerous conditions can develop in strong current when the backeddy meets the opposing flood current. Even in today's relatively light exchange, the backeddy is pushing us off course and the autopilot is compensating by steering towards shore to keep us on track. You can see how strong the eddy is, in that we're travelling roughly 45° to the heading of the boat.
Positive Current

We're through the tidal races in the Pentland Firth and now are riding a 1-knot positive current into the North Sea.
Change of Plans

When we departed Loch A' Chadh-Fi this morning, our plan was to cruise the Orkney and Shetland Islands. But we just learned that we are eligible to enter Norway under the new COVID-19 rules that went in place today. Given the current world situation, Norway is number one on our list of desired destinations with its excellent hiking and abundance of sheltered anchorages.

The weather looked ideal for a North Sea crossing, so we plotted a course for Stavanger, Norway and continued east instead of turning north. Here we are lowering our UK courtesy flag as we depart British waters.
7/16/2020
Oil Rig

The first of many North Sea oil rigs that we'll pass en route to Norway. The oil fields extend in a north-south line roughly midway between Scotland and Norway.
Calm Seas

Wonderfully calm seas as we cross the North Sea. We don't expect the winds to reach much over ten knots the whole way to Stavanger.
Pipelines

The chart is full of rigs and pipelines snaking away to Scotland and Norway as we pass through the North Sea oil fields.
East Brae

The Scottish-owned East Brae platform came online in 1993 with a production capacity of 120,000 barrels of oil and 17.6 million standard cubic meters of gas per day. It stands in a depth of 380ft (116m) with a topsides weight of 20,000 tons. The platform is scheduled for decommissioning at the end of 2021.
Leiv Eiriksson

The Norwegian-owned semi-submersible rig Leiv Eiriksson entered service in 2001. The platform is designed to operate in waters depths up to 7,500ft and can drill to 25,000ft.
Stril Mar

The 298-ft (91m) offshore supply vessel Stril Mar standing off the rig Leiv Eiriksson.
Satellite Roaming

As we change countries, one of our cell phone providers sends us a text message with the roaming costs in the new country. This time we received one far out to sea, letting us know that if we roamed now we'd be on satellite at a cost of 6,150 euros per gig. We'd didn't realize you could even roam via satellite through a standard cellular plan. We are on a prepaid plan, so don't have to worry about such charges, but the bill could get very expensive very fast if you were on a monthly plan and didn't realize you were incurring satellite roaming charges.

Update 07/21/2020: Blog reader Alec Peterson suggested we likely were picking up a marine cellular base with satellite back haul from one of the nearby oil rigs. That makes perfect sense.
Maersk Integrator

The Maersk Integrator jackup-up rig in the Ivar Aasen oil field was completed in 2015. The platform has a maximum water depth of 492ft (150 m) and a maximum drilling depth of 40,000ft (12,200 m).
Det Norske

We've seen a a surprising variety of different oil rig designs as we've crossed the North Sea oil fields. These two in the Ivar Aasen oil field are of similar design, but they're both owned by Det Norske.
Johan Sverdrup

The Johan Sverdrup field is the third largest in the North Sea with an estimated 2.7 billion barrels of oil. Phase 1 of the massive,

interconnected drilling complex

went into production in 2019 with a second phase planned for the end of 2022. Total production with both phases in operation is expected to reach 660,000 barrels per day, or about 30% of all Norwegian oil production.
7/17/2020
Normand Arctic

We're back in the land of the X-Bow as we near Stavanger. The

Ulstein X-Bow

inverted bow design improves handling and fuel economy in rough seas. Since the 2006 launch of the first X-Bow vessel, the Norwegian anchor handling tug supply vessel (AHTS)

Bourbon Orca

, over 100 ships have been sold. The design is particularly popular in Norway with its extensive North Sea oil platforms.
Sleipnir

The

Sleipnir

, owned by Dutch company Heerema Offshore Services, is the world's largest semi-submersible crane vessel. The self-propelled platform is 220m long by 102m wide can, reach speeds of 10 knots, and has accommodation for 400 employees. Its two cranes each have a lifting capacity of 10,000 mT each at a working radius of 48m.

In September of 2019, the vessel performed the world's the largest lift by a crane vessel of 15,300 tonnes when it installed the topsides for the Leviathan development in the Mediterranean. On July 16th of this year, the Sleipnir set a record for the largest single lift removal of a steel jacket (a fixed oil platform made of tubular steel) when it remove the 8,929-ton (8,100-metric ton) Jotun-B platform jacket from the North Sea and transported it to Nodre Vats, Norway for decommissioning and recycling. Excellent photos of the operation are at Sleipnir sets record with North Sea Jotun jacket lift.
Q Flag

At the Boreviga marina in Stavanger with a yellow 'Q' flag flying to indicate we require clearance into the country. The last time we entered Norway we didn't require any formal clearance because we were already stamped into the

Schengen Area

in the Netherlands. This year we require immigration clearance because are coming from the UK, which is not part of the Schengen area, plus new COVID-19 entry requirements need to be checked on arrival. Until July 15th of this year, two days ago, we weren't even eligible to enter Norway. But new rules allow entry to those who have lived for the past six months in an EEA/Schengen country.
Politi

In Norway, the Politi (police) handles most immigration clearance. We'd been in contact with the Politi before leaving Scotland, so they were expecting us, and two officers arrived a couple of hours after we landed to clear us through. As an EU citizen, Jennifer's passport is not stamped, but James does require one to document his entry into the

Schengen Area

.
Boreviga Marina

View back to the marina Boreviga as we depart after clearing through. Mid-July is pretty much the height of the Norwegian vacation season and with fewer Norwegians traveling abroad this year, the marinas are particularly full. Both the Boreviga marina pictured, and the Vagan marina where we stayed on our

previous stop

in Stavanger, were jam-packed. Any space that opened up in Boreviga for the few hours we were there was immediately filled by an arriving vessel. We contacted the port and they gave us permission to moor on the wall perpendicular to the large white power boat at the right while we cleared through.
Oil Museum

View to the

Norwegian Oil Museum

adjacent to the Boreviga marina. The excellent museum details the history and technology behind Norway's growth as an oil nation through models, interactive displays and actual industry equipment. We spent most of a day there on our previous stop in Stavanger.
Rygerdronningen

The Rygerdronningen is one of several tour boats that take visitors on day cruises of nearby Lysefjord, among Norway's major tourist draws.
Fjordlys

The ferry Fjordlys passing close behind us as we clear the ferry dock.
Stavanger City Bridge

Following the ferry Fjordlys under the Stavanger City Bridge. When completed in 1978, it was one of the first larger cable-stayed bridges in the country. It's wonderful to be cleared into Norway with several months of cruising ahead of us.
Eagle Balder

View to the 157-foot (48 m) beam of the crude oil tanker Eagle Balder. When delivered in December, 2019 the Eagle Balder and sistership Eagle Blane were among the first LNG Dual-Fuel Dynamic Positioning Shuttle Tankers (DPSTs) and the most energy efficient. The ships emit 40-48% less carbon than equivalent vessels built in 2008 and also emit 85% less SOx, 98% less NOx, 98% less particulate matter and 93% less black carbon particulates than DPSTs burning conventional fuel.
Bow Load

The Eagle Balder has a latest generation bow-loading system, standard equipment for North Sea Dynamic Positioning Shuttle Tankers (DPSTs).
Sleipnir From East

A view to the other side of the massive record-setting semi-submersible crane vessel

Sleipnir

that we passed en router to Stavanger.
Lighthouse

One of the thousands of Norwegian lighthouses that mark the coast.
Anchoring

James installing the snubber after we dropped anchor at the south end of Vestre Bokn. Normally Jennifer handles this, but she was fast asleep. We run an unusual watch schedule where James has the helm from 5am to 10pm and Jennifer has the helm from 10pm to 5am, sleeping from 6pm to 10pm and from 5am until whenever she wakes up. Because we arrived into Stavanger shortly after 5am, Jennifer had only 4 hours sleep in the past 30 hours. So once we cleared the outskirts of Stavanger, Jennifer went to bed and slept so soundly she didn't even hear the anchor going down.
Vestre Bokn

Happy hour in the cockpit at Vestre Bokn. We're really excited to be back in Norway, particularly since we couldn't even enter the country until two days ago when Norwegian COVID-19 entry restrictions eased. We are looking forward to some great cruising with many view hikes and beautiful anchorages.
Click the travel log icon on the left to see these locations on a map, with the complete log of our cruise.

On the map page, clicking on a camera or text icon will display a picture and/or log entry for that location, and clicking on the smaller icons along the route will display latitude, longitude and other navigation data for that location. And a live map of our current route and most recent log entries always is available at mvdirona.com/maps.