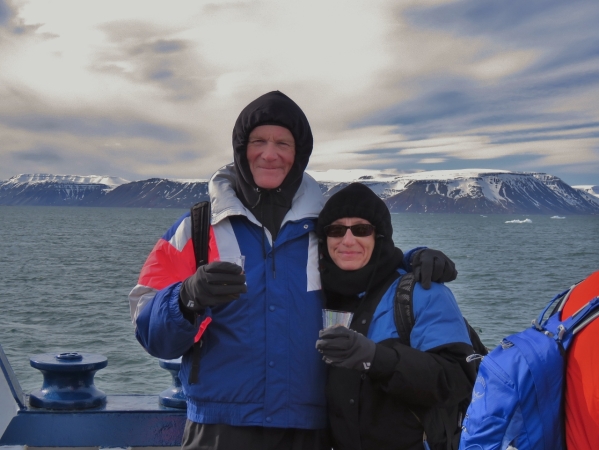 We began the year in Falmouth, UK and will end it in Amsterdam, NL. The cities are only 399 miles apart, yet we travelled 4,403 miles between them and have now covered 70,123 miles in Dirona. This year we also crossed the Arctic Circle and reached our farthest point north yet in Dirona, to 69°39'N at Tromsø, Norway.
We departed Falmouth on New Year's Day for a haul-out in restaurant-packed Southampton, UK where we completed a number of projects, including replacing the muffler, rebuilding the crane, and replacing the cutlass bearings on the rudder shaft and the wing and main propeller shafts. Although the yard visit kept us pretty busy, we did manage to fit in a crazy weekend trip to Seattle to attend a friend's 50th birthday party.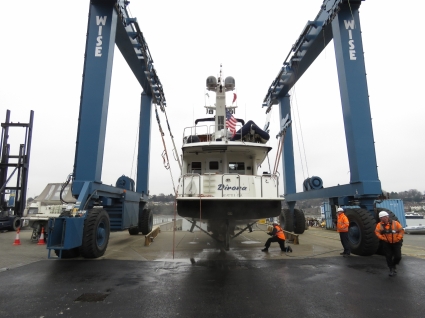 From Southampton, we travelled up the River Thames to spend two months moored at St. Katharine Docks adjacent to the Tower of London. While there, we had a fabulous time exploring the city, including watching the Changing of the Guard at Buckingham Palace and touring the Tower of London, the Royal Observatory in Greenwich, and Lloyd's of London. We also took the Channel Tunnel train to Paris to visit friends and take in the sights, including the Effiel Tower, the Arc de Triomphe, Notre-Dame Cathedral, and the Louvre.
| | |
| --- | --- |
| The Shard and the Tower Bridge in London | Viewing the Mona Lisa at the Louvre in Paris |
En route to Norway in mid-April, we stopped briefly in Harlingen, NL to take delivery of a new tender that we'd ordered late last year, and had a wonderful time touring the town and surrounding area on foot, by bicycle and in the new tender. From the Netherlands we made a 500-mile, 3-night run to Norway with a pit stop in Helgoland, Germany for duty-free fuel and enjoyed our first Norwegian anchorage near Stavanger on April 29th.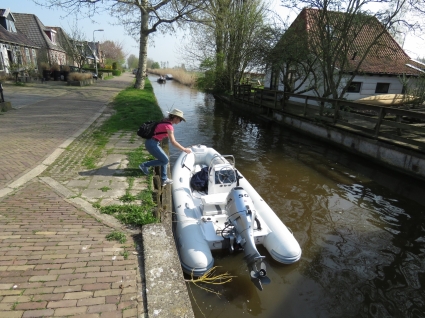 Our initial plan was to run straight north to Tromsø with few diversions en route, and then slowly explore on our return trip south. But we decided to spend a week exploring 115-mile Sognefjord, the longest fjord in Norway, to enjoy the still snow-covered mountains early in the season. While there, we took a trip on the Flåm Railway, considered one of the world's most scenic railway trips and rode our bicycles to Jostedalsbreen, the largest icecap in mainland Europe at at 188 sq miles (486 sq km). We also made the first of many spectacular Norwegian view hikes, up Nesahaugen to 2217 ft (675 m), where even in May we waded through snow past our knees.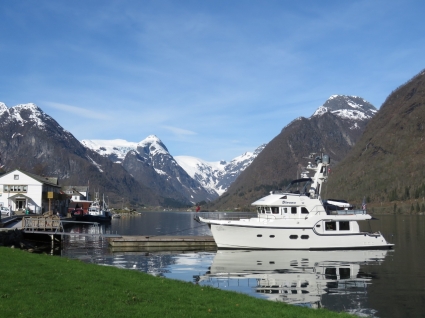 After spending a few days in the dramatic Træna archipelago, we made an offshore run across the Arctic Circle to Lofoten. There we made several view hikes, taking in the mountain scenery that draws a million visitors a year. In Lofoten we also visited Reine, recently voted the most scenic village in Norway and Svolvær, where we hiked Fløya and enjoyed the town's many excellent restaurants.
| | |
| --- | --- |
| Arctic Circle monument at Træna | Vaeroy, Lofoten Archipelago |
Continuing north, we cruised the exposed mountainous west coast of the Vesterålen Islands. Every Norwegian hike seemed better than the previous, and the 9-mile (15km) Dronningruta mountain loop trail definitely was the most spectacular trail we'd ever walked.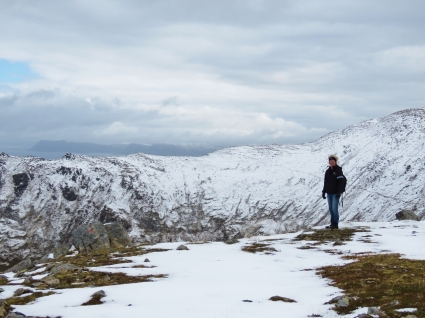 A couple of years after first planning it, we finally arrived in Tromsø, Norway. At 69°39'N, it is the most northerly location we've taken Dirona. We'd been enjoying the midnight sun for weeks and in Tromsø we experienced it in a unique fashion with a midnight sun concert at the Arctic Cathedral. We also took a 95-minute flight to Svalbard, 600 miles from the North Pole and as far north as a person is likely to get without being a polar research scientist. The photo at the top of this letter is taken from a cruise to Pyramiden, an abandoned Russian mining town there. We also flew to the mainland Russian border at Kirkenes and made a two-night return trip to Tromsø along Norway's north coast in a Hurtigruten coastal ferry.
| | |
| --- | --- |
| Arctic Cathedral midnight sun concert | Hurtigruten coastal ferry departing Vard |
We visited Narvik on the return south from Tromsø. The port there is ice-free year-round due to the warm waters of the Gulf Stream that run along the west coast of Norway all the way to Svalbard. This makes it an ideal shipping port for exporting Swedish-mined iron ore. The city's excellent museum describes the World War II Battles of Narvik where thirty-four ships were sunk and hundreds of lives lost as Britain and Germany fought for control over the port and its access to the valuable iron ore. From Narvik we took the scenic Ofotbanen railway and toured the largest underground iron ore mine in the world in Kiruna, Sweden. The 17,000-person town made headlines in 2004 when it announced the downtown core would need to move 3 km east due to ground settlement resulting from mining operations.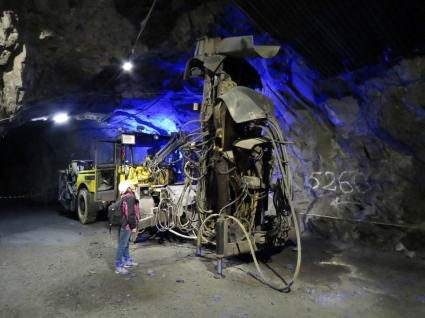 Our next stop was Bodø, the ultimate destination of American pilot Gary Powers' ill-fated U2 flight that garnered international attention in 1960 when he was shot down and captured over Russia during a high-altitude surveillance pass. The exceptional Norwegian Aviation Museum there has a vast collection, including an entire U2 spy plane. Another Bodø attraction is the nearby Saltstraumen Maelstrom, among the fastest in the world. They can run at nearly 20 knots on full moons—we ran the tender over to check them out at maximum ebb. And boy, did they ebb!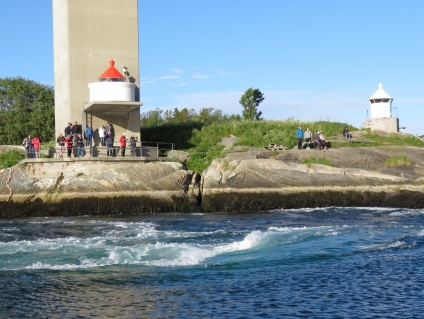 Svartisen Glacier, south of Bodø, is the second largest in mainland Norway and one of the most dramatic sights on the coast. Ending at only 65 ft (20m) above sea level, it's the lowest of any mainland European glaciers and among the most accessible. We anchored off the glacier and made the challenging hike up 4770 ft (1454 m) Helgelandsbukken for astonishing summit views.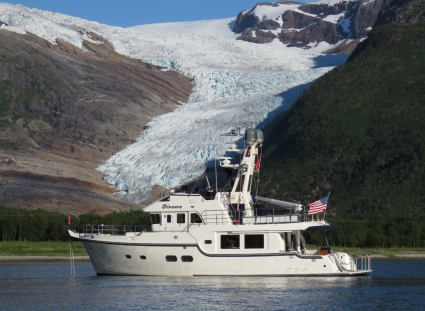 Returning south of the Arctic Circle, we spent a month in Trondheim for a two-week trip to Seattle. We also enjoyed exploring Norway's third-largest city, with its many excellent restaurants and attractions. Our next stop, Andalsnes, is close to some of Norway's most spectacular and unique scenery, including 5900ft (1800m) Trollveggen, the highest vertical mountain wall in Europe; the dramatic Trollsigten route, a narrow roadway that climbs at a gradient of 1:12 through 11 hairpin turns; and Geirangerfjord, one of the better known and popular fjords in Norway. And only an hour or two's hike from town leads to the fabulous Rampestreken view point, cantilevered out 1902 ft (580m) above the valley.
| | |
| --- | --- |
| Geirangerfjord | Rampestreken, Andalsnes |
After stops in Alesund, one of Norway's most beautiful cities, and scenic Norangsfjorden, we spent three days at Loen where we completed our first Via Ferrata course. Via Ferrata means "iron path" in Italian and is an increasingly popular mix of protected climbing and alpine hiking where participants use climbing gear to safely ascend exposed routes with spectacular views while attached at all times to iron cables, rungs, ladders and bridges. In the above right photo, Jennifer is walking on a wire thousands of feet above the valley bottom. At Loen we also made our highest climb to date, a mile in the sky to the summit of 6,062ft (1,848m) Skala.
| | |
| --- | --- |
| Via Ferrata Loen | The mile-high view from the summit of Skala |
Seven mountains surround Bergen and the city rises up from vibrant Vagan Harbour into the steep hills behind. We moored right downtown and spent several days exploring Norway's second-largest city. It was easy to see why many consider Bergen one of the most beautiful cities in the world.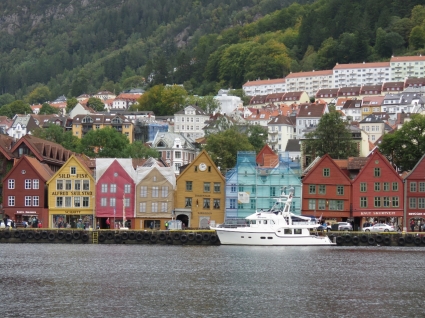 The oil-rich city of Stavanger was our final stop in Norway. The fourth-largest city in the country, Stavanger is a wonderful combination of working port, historic districts, modern street art, and excellent restaurants. We were excited to arrive, even if it did mark the end of our five-month Norwegian cruise. The excellent Norwegian Oil Museum there details the history and technology behind Norway's growth as an oil nation. While in the area we also cruised Lysefjord, one of the country's major tourist draws, where waterfalls plunge down cliffs that extend over a thousand feet above and below the water surface. We also hiked to another major Norwegian tourist attraction, Pulpit Rock, a spectacular formation that juts out over Lysefjord with a vertical drop of nearly 2,000 ft (600m), creating a dramatic photo opportunity for those willing to perch on the fenceless edge.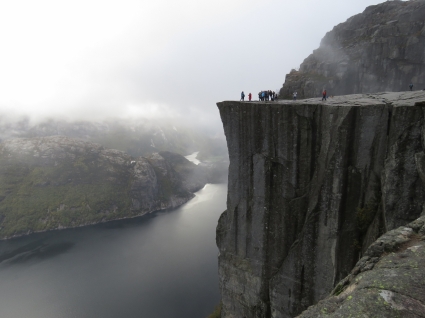 In early October, we made a 180-mile overnight crossing of the North Sea from Stavanger, Norway to Thyboron, Denmark. The North Sea has a fearsome reputation, but we had a blissfully easy run with winds less than twenty knots and seas on the stern most of the way. The largest naval battle in history, the World War I Battle of Jutland took place 55nm to the west of Thyboron and the Sea War Museum there describes the battle in detail. From Thyboron we cruised the peaceful and sheltered Limfjord across the Jutland Peninsula to Aalborg then continued south towards Germany.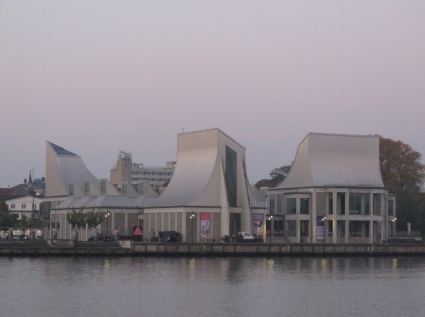 We returned to the North Sea through the Kiel Canal. Completed in 1895, the Kiel Canal connects the Baltic and North seas through northern Germany. It is the busiest artificial waterway in the world and annually carries nearly as many ships as the Suez and the Panama canals combined. In contrast to Scotland's Crinan Canal that we passed through last year, Dirona wasn't even close the Kiel's maximum dimensions of 772.6 ft (235.50 m) long, with a 106.6 ft (32.50m) beam and 22.97ft (7m) draft. We could have run the whole 51-mile distance in one day over about eight hours. But we wanted to take our time to enjoy the experience, and spent three nights en route. It was exciting to be operating in close quarters to such large vessels.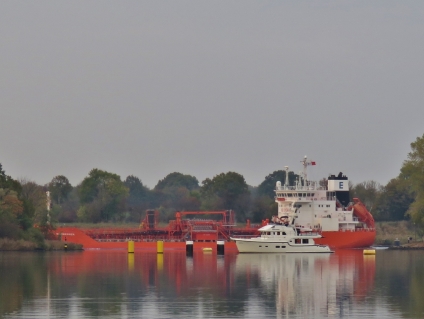 In late October, after a week-long stop in Cuxhaven, Germany, we made an overnight run across the German Bight and returned to sheltered Netherlands waters at Terschelling. Even in the Netherlands, a country of cyclists, Terschelling is known for its extensive and diverse bicycle paths. From Terschelling we cruised south towards Amsterdam, stopping in the towns of Enkhuizen and Hoorn, both major Dutch East India Company harbours with fantastic architecture and centuries of history. En route, we passed through three locks, including our first naviduct trip over an open road.
| | |
| --- | --- |
| Hoorn, Netherlands | Passing over road in Krabbersgat Naviduct |
We arrived into Amsterdam on November 1st and will winter here for four months while we explore the city and the surrounding area. One of the first major trips we made was in late November to the United Arab Emirates. We spent four nights in Dubai, exploring the city of superlatives and explosive growth. We then travelled to Abu Dhabi and had a fabulous time there watching the final Grand Prix of the season. One of our favorite bands, Guns N' Roses, were playing nearby after the race. They put on an excellent show (and actually showed up on time). From Abu Dhabi, we travelled half-way around the world to attend the annual AWS re:Invent conference in Las Vegas and made a quick trip to Seattle to visit with friends, catch a Seattle Seahawks game and pickup our mail.
| | |
| --- | --- |
| Abu Dhabi Grand Prix | Guns N Roses in Abu Dhabi |
After wintering in Amsterdam, we plan to return north next April to spend the summer cruising the Baltic Sea, particularly Sweden, and possibly return to Norway to visit Oslo. You can always see where we are at mvdirona.com.
Click below to view previous annual summaries: