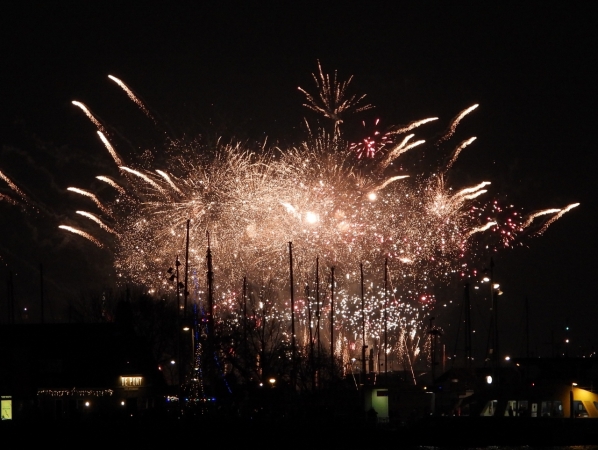 The Dutch LOVE their fireworks. The city literally erupted for several hours before and after midnight on New Year's Eve. The main show didn't exceed others we've seen, but the breadth of the displays was absolutely unrivaled. The entire sky was ablaze as seemingly every resident was setting off fireworks. We had a fabulous evening walking through the city taking in the pre-midnight festivities, then watched at midnight displays from a great viewing spot along the IJ River.
The streets were busy as thousands of people converged on downtown Amsterdam to enjoy the festivies.
| | |
| --- | --- |
| Nieuwendijk Street | Oudezijds Achterburgwal |
It seems that everyone had fireworks and was setting them off all over the city, in groups small and large.
DAM Square, normally crowded with people, was empty in front of the Royal Palace where people were setting off fireworks. Every thirty seconds or so, someone would dart into the open area and light one.
Away from the Royal Palace, DAM square was packed with thousands of people watching the displays.
East of Central Station, on the island of Oosterdokskade, some quite impressive displays were regularly being set off. Some were relatively simple rockets, but many were more complex boxes where a single lit fuse would set off a succession of near-professional effects.
We returned to the marina area to watch the displays across the IJ River. A half-dozen large river cruise ships were moored nearby to take in the fireworks. The docks they were on were only just installed in the past few weeks.
The city already was erupting in fireworks, but it really cranked up at midnight. We had a great viewing spot along the IJ River at the Palace of Justice. Several large cruise ships also were in town for the festivities.
The fireworks continued on a major scale well past midnight—we walked around the marina area a bit to take them in. As we walked across the bridge over the marina, multiple displays were visible not far away.
Several groups were lighting off displays on the street alongside the marina. The sidewalks throughout the city were covered with red paper debris from strings that burn in succession when lit like the one below right.